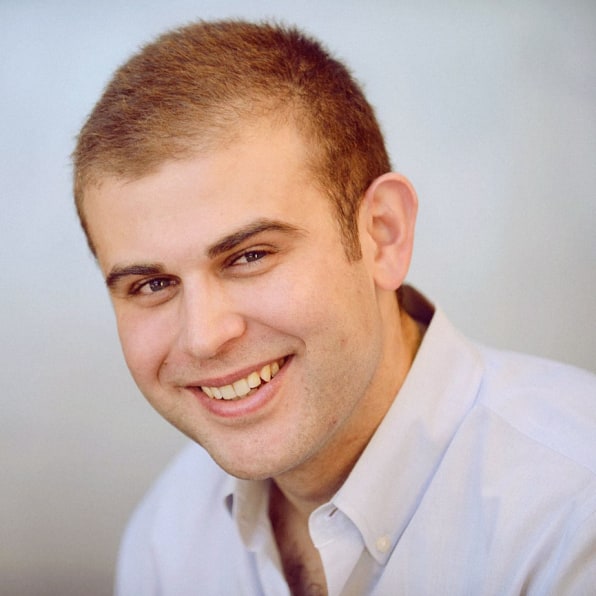 The workplace romance is a great American pastime. But hooking up with a coworker is a highly analog experience. What if there were a way to digitize the amorous feelings that arise in professional settings?
While BeLinked doesn't want to be known as the app that creates awkward mornings-after in offices or at conferences, it nonetheless derives from the insight that more and more people were using LinkedIn, which some consider the most buttoned-up and professional of social networks, to score dates. BeLinked taps into the LinkedIn user base, bringing a Tinder-like functionality to it (only for those who opt-in). A reboot of the app, which first began testing the waters in March under a different name, launches today.
We spoke with 28-year-old CEO Max Fischer about the new ways ambitious professionals are hooking up.
FAST COMPANY: What is BeLinked?

MAX FISCHER: BeLinked used to be called LinkedUp, which first went live in March. It's the first mobile dating app based off the LinkedIn platform. We've changed names. We're also offering enormous enhancements, including a new feature called BeIntroduced. BeIntroduced gives you the option to suggest a potential match, letting people act as matchmakers.
Why the name change? Did you get a cease-and-desist letter from LinkedIn?

We worked constructively with LinkedIn in order to delineate the brand. It was a constructive, positive dialogue. LinkedIn's amazing, and without them we wouldn't exist.
How'd you get the idea? Why did we need this next step beyond Tinder?

I had noticed more people going on dates through the LinkedIn platform itself. Some of my friends were searching for dates on LinkedIn. It'd start off subtly, but escalate to more of a romance. What's beautiful and amazing about LinkedIn is the unbelievably high quality of the user base. I myself have been on a LinkedIn date, and I noticed that we had more in common as a result of seeing more about each other.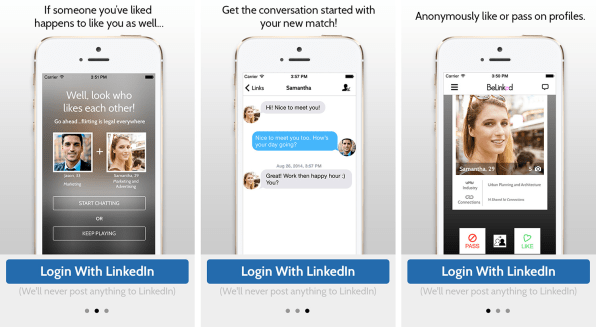 Was there a second date?

I'm going to plead the Fifth. I try to keep my personal life private. But it was very successful. That really sparked the idea.
Why would people start dating on LinkedIn?

It's just an extension of what LinkedIn could be used for. Sometimes you see that beautiful or handsome picture of someone else and you get a little be curious. "Who's looked at your profile" is one of the most used features on the site. You never know who might be admiring you.
What are some other features offered by BeLinked?

We allow people to match based on gender, age, and distance from themselves. On top of that you can filter what industry you're dating in, and what universities people have gone to.
In what way does LinkedIn offer a "premium" user base?

It's very reliable. People tend to give truer impressions of themselves on LinkedIn. People on there have a high sense of comfort interacting with each other. And people are usually professionals with high levels of education.
Should people date within their profession?

I think that people are looking to find more things in common with other people, and they can find that in many different ways. That they're happy is what we care about.
Isn't it dangerous to mix business with pleasure?

We're definitely staying away from that. Instead we're allowing people with like-minded personalities to meet each other through a more trusted platform. If you want to avoid people you know, you can easily see them and click away.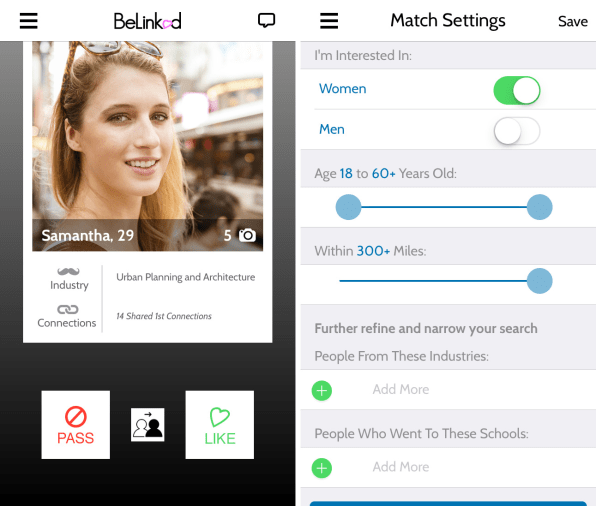 Are certain people more attracted to certain professions?

I think that most people have a type, and I think this is allowing people to get in touch with that and to find people they're interested in. People spend a great deal of time doing their profession, and it can really shape a lot of their personality.
Any success stories on the platform so far?

I can say I've had friends that have met people they have more in common with, and have been able to search and match based on better data, rather than just a picture.
This interview has been condensed and edited.