In July, punk rock fashion icon Vivienne Westwood debuted a line of '40s-inspired blood-red uniforms for Virgin Atlantic's crew. Airline owner Richard Branson called them "extremely glamorous." But according to some of Virgin's 7,500 flight crew members, they're also extremely uncomfortable. The Sun reports (subscription required) that the footwear, a glossy red take on Westwood's signature hourglass heels, is giving flight attendants blisters. Crediting the union Unite, the Sun also reports that "the collars are so tight some of [the flight attendants] have been left bleeding." (!)
We reached out to Virgin Atlantic for comment. A spokesperson for the airline didn't deny the complaints, but insisted that these issues didn't come up in six months of user testing on 150 staff volunteers and subsequent design tweaks. The airline's full response: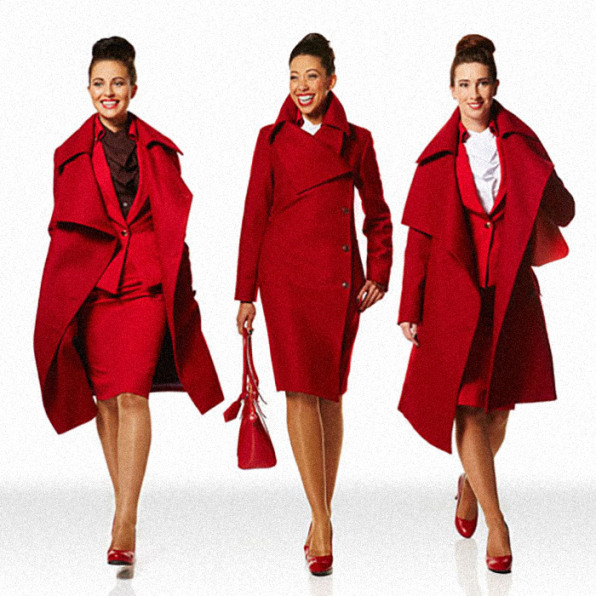 Virgin Atlantic is extremely excited to launch its new uniform collection and initial feedback from staff has been fantastic. To ensure the uniform was fit for purpose across our network, we conducted wearer trials globally for six months with over 150 staff volunteers who provided daily feedback on the fabric, fit, practicality and wearability of the uniform. Adjustments were then made accordingly before the designs and fabrics were finalized.

We recognize that the fit is different to the previous uniform and to ensure correct sizing, all staff tried on the uniform and were fitted by our expert team upon collection. We have uniforms available in sizes from 6 to 30 and garments can be tailored to fit all shapes and sizes. We also understand the importance of comfortable footwear therefore the shoes were trialed extensively on the ground and in the air. We offer a choice of low, medium and high heels for the women and based on feedback, looking to bring in a wider-fitting shoe. However, with all leather footwear, it will take time for them to wear in and be comfortable. We take all feedback very seriously and are working really hard with our uniform wearers to offer a uniform they feel proud to wear and to ensure they are happy and comfortable in their working environment.
Surely, making the cabin crew suffer for fashion wasn't in Westwood's agenda. As a committed political activist, she made the uniforms from polyester yarn made from recycled plastic bottles. Apparently the fabric is not as good for human skin as it is for the environment–but at least bloodstains will camouflage discreetly into the uniforms.
[h/t the Daily Mail]