In print, she acknowledges waves of self-doubt ("days like that, when I feel most defeated," she writes of losing a vote on a bill she sponsored to reform military prosecution of sexual assault, "I start to question whether I should be a senator at all"). She talks about her choice to be public about her postpartum effort to lose weight ("My hope that I'd reach more women offset my fears of humiliation and rejection"). She admits changing her son's diaper on the Governor of New York's conference table ("I was never going to be a typical senator"). And in conversation, she is similarly blunt about the state of women in the workplace: "Women suffer a chronic and constant pull to the lowest-wage jobs in their industry."
The release of the book made headlines thanks to a pair of truly repellent anecdotes about sexist behavior in Congress: A fellow member of Congress saw her on the elliptical in the gym and said, approvingly, "Good thing you're working out, because you wouldn't want to get porky!" ("Thanks, asshole," she writes in the book.) Later, after she lost 50 pounds, a senator approached her and warned her against slimming down too much, saying he prefers "my girls chubby."
Gillibrand has refused to name those colleagues but the insanity of those stories shouldn't overshadow many other fascinating stories and lessons from her unusually candid memoir. This kind of transparency has been the hallmark of her meteoric career. Before she even took her seat in the U.S. House in 2007, she pledged to publish her full daily schedule online–the first member of Congress to do so–so that constituents would be able to see whom she was meeting with and how she filled her days. (The New York Times praised it as a "quiet touch of revolution.") She made public every earmark request that she received. Little more than a year into her term, she welcomed her second son, Henry, becoming only the sixth woman in history to give birth while serving in Congress.
The book's title comes from a campaign that Gillibrand began after the congressional elections in the fall of 2010, the first in three decades where the percentage of women elected declined. As one of Gillibrand's aides says, "That pissed Kirsten off." Her anger planted the seed of her "Off the Sidelines" campaign–her effort to encourage women to raise their political voices and to raise both money and visibility for female political candidates across the country.
Later this month, Senator Gillibrand will sit down with for a live event with Fast Company–in the first Kering Talk, a series of conversations with some of today's most influential people–to discuss "Off the Sidelines," her innovations, and her inspirations. Ahead of that event as well as yesterday's publication of "Off the Sidelines," she spoke with us about the challenges that face America's working women, her personal inspirations, and her son Henry's best mommy-targeted insult. Here are edited excerpts from our chat.
The idea to put the Off the Sidelines campaign into book format was Random House's. When they pitched it, I began to think this would be a great tool and a whole new medium for me to take my Off the Sidelines campaign broader. It could be a way to engage people who would never turn on the TV to watch what's happening in politics. I thought: If I write the right way–an accessible book, not a policy book, something that's funny and makes you cry, where people could get to know me and why I care–it could reach a lot of people. I wanted to take this story and this call to action to a place that could bring more women into politics and into advocacy.
Women suffer a chronic and constant pull to the lowest-wage jobs in their industry. Women often have to ramp off their careers or change jobs. When someone has a baby and no paid leave, she may have to leave her job. She may have to ramp off her career because her mother is ill or dying and needs 24-hour care. She may reduce hours when she's got an ill family member or a child who needs constant care. Across industries and professions, because there's no structural support for women in the workplace, they're often pulled down into lower-wage jobs and jobs with less responsibility. Two-thirds of all minimum wagers are women, because of all this stop-and-start and pulling down. So while we want to look toward shattering the glass ceiling, we also need to try to create policy change to support all women in the workplace so that all can rise.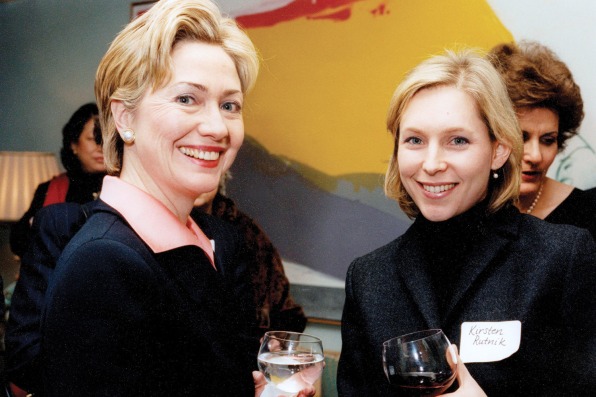 Women often are selfless. We often put ourselves last in all categories. We will put the children first, then our job, then our husband. Something that makes you happy and helps you thrive gets lost. My mother was a great role model because she not only had a career but also was a very hands-on mom who made dinner for us every night. But she also took time for herself. She took time to train for karate. She took time to go hunting. She had all sorts of passions, and that was an important thing to watch. We do well if we have someone to model ourselves after. If you've seen someone accomplish what you hope to accomplish, it's somehow easier. As a politician, it's been vital to have Hillary Clinton as a role model and a mentor–as someone to watch succeed and take on challenges and overcome them.
Can we help women do it all? Women have been providing for their kids and working full time for a very long time. In four of 10 households today, she is the primary or sole breadwinner. My call to action is to ask women to help them by advocating for equal pay for a start. I think the most urgent issue is raising the minimum wage. Women are working 40 hours a week, but they're still under the poverty line. We have to provide support for when they have children–paid leave and affordable daycare would go a long way. If you're an African-American woman, you're earning 68 cents on the dollar [compared to men]. If you're Latina, it's 58 cents.
Men have to fight for these reforms too: If your wife is only getting 77 cents on the dollar or you can't have paid leave when your mother is dying, men should be fighting these things.
He says it regularly! It's his best insult. He knows what buttons to push. I wanted women and men to see themselves in the story. I wanted them to see I've been there. I've cleaned the toilet. That really sucks. By speaking out, it's really valuable. I'm hoping to get the reader to understand how important their life experience is and how their voice can make a difference. You're only going to be able to see that if they can see themselves in you. You have to build a relationship with the reader.
We try to go to places where people normally spend their time. So we do "Congress at Your Corner." We go to coffee shops, farmstands, grocery stores. As a senator, I make sure I go to every one of New York's 62 counties every year. Politicians don't spend as much time reaching out to women specifically. So one of the things we did early on–which I talk about in the book quite a bit–is to reach out. I've done a lot on the Mommy blogs. Women's magazines. Unconventional places like Vogue, to talk about why I'm in Congress. That's important.
We try to have a very aggressive online presence so that people never have to leave the house to know what's going on. Not everybody has a computer and is online, but social media has been valuable. I really like Twitter because it's short. I feel like politicians are very long-winded, so I love it–short, sweet, to the point. I also like something as simple as Facebook, where we can post a lot of pictures. We've tried a couple of others: We don't have a huge Instagram presence. We just started on Instagram, and we're trying. We will try all the platforms because we like to be accessible.