Many startups have sprung from dorm rooms, garages, and other similarly humble spaces. Doug Quint and Bryan Petroff of Big Gay Ice Cream may be the only successful entrepreneurs, however, who can claim a rented Mister Softee van as the launching pad for a rapidly expanding venture.
Quint, a one-time professional bassoonist, wanted to "do something unusual" for the summer of 2009. "I was looking at Craigslist for weird opportunities, like to work for a butcher or something like that," he said, when he saw a friend's Facebook post about the possibility of renting an ice cream truck for the summer. She put him in touch with some people who rented out Mister Softee trucks, and Quint proposed the idea to Petroff, who thought it sounded like a fine idea.
They came up with the name practically by accident. Quint posted on Facebook, "I've got a big, gay ice cream truck this summer. I'm going to start a Facebook page. Follow along on my misadventures because I'm sure we're going to royally f**k up something, and it will be fun for a laugh." They didn't really have a business plan then, and they still don't, according to Petroff. That first summer, "the only thing that we did I think stupidly was that we bought all of our ingredients retail."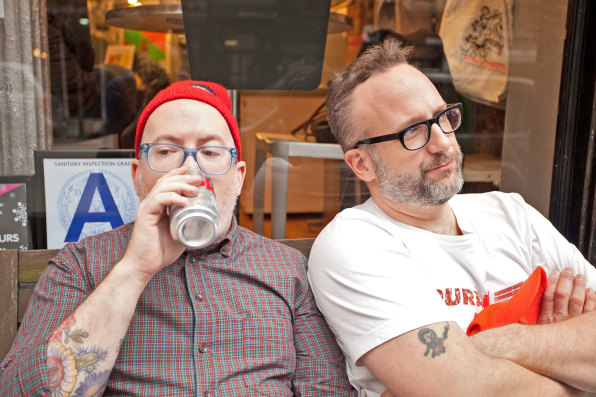 What the duo was much smarter about was social media. At first, Quint began using Twitter just to let everyone know where he'd be parked and what the daily specials were. Of course, tweeting twice a day isn't the best way to build a brand, and besides, Quint began getting a little stir crazy from being in the van by himself all day. "I started getting weird, and people liked it," he admitted. "I was kind of losing my mind." Customers came for the ice cream and stayed for Quint's sense of humor, food porn, occasional celeb appearances, and photos of their dog Buster.
Even when their truck was off the road that winter, BGIC's Twitter following grew. Petroff said, "That's when we realized, okay, we need to take it a little more seriously. Doug's onto something here, and people are really responding to him, the business, his sense of humor, which became the business's sense of humor and tactic, I think, for marketing itself."
As it often happens with social media, customers became fans, proselytizers, and even friends. "We treated them in a way as de facto marketing agents. These people were our brand ambassadors. They were talking about us as much as we were talking about them, so it was important for Doug to interact with them much more than just where I am and what's the special of the day," Petroff explained. "We used a nonsensical, humorous approach to how we treated ourselves, how we talk about our product, and how we marketed ourselves, and I think that was really refreshing for people."
"We wanted you to feel like you'd been slapped in the face with flavor, and we wanted your eyes to bug out and we wanted you to smile," Quint added.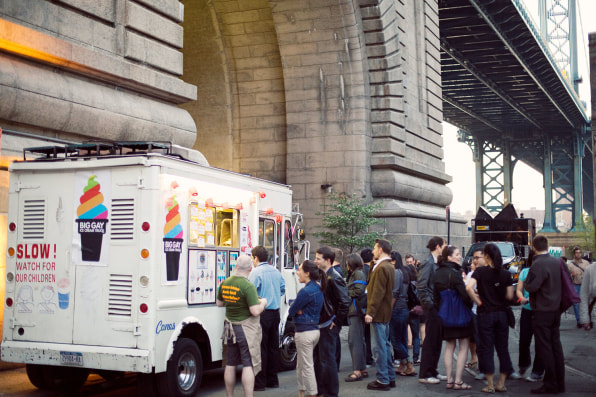 That was easy to do as soon as you spotted the truck and its unmistakable logo, a perfectly swirled dollop of rainbow-colored soft serve, with "BIG GAY ICE CREAM" emblazoned across the top of its cone. That playful creativity extended to their menu, which is stocked with ingredients from places like Kalustyan's specialty market, which sells a dazzling array of foods, spices, and sweets from around the world. "We basically would shop everywhere except the ice cream aisle of the supermarket, for what to do. And we started thinking of international flavors, Asian flavors like curry coconut and ginger, and things that you just would not get on an ice cream truck," Petroff noted. Since the truck's debut, their menus have evolved and become more fine-tuned, but treats like the Salty Pimp–a vanilla soft serve topped with dulce de leche, dipped in chocolate, and sprinkled with sea salt–have become mainstays. There are also a wide variety of toppings to choose from, like ground-up wasabi peas, ginger syrup, toasted curried coconut, and olive oil and sea salt, and an ice cream shake of the day.
As the business took off, it was more difficult to experiment in the truck and keep on top of customer demand. By the second summer, "the job became more about regurgitation and less about creation because I got the truck and opened it at noon and stopped at 10 p.m. and didn't stop for a second the whole time," Quint said. Limited time and space meant that fan favorites like the Choinkwich–slices of caramelized bacon and chocolate ice cream sandwiched between chocolate cookies–weren't always readily available. Plus, New Yorkers don't always have 45 minutes to wait in line for an ice cream cone, no matter how delicious.
"All the people who the previous summer had supported us would walk by and wave and smile and point at their watch and say, we're really happy for you, we wish we could get some but we can't. Which was seriously a heartbreaker because, yeah, I [felt like] I was ditching our supporters," said Quint. They opened their first brick and mortar shop on 7th Street in the East Village in 2011, followed by a shop on Grove Street in the West Village the next year. None other than Anthony Bourdain himself, dressed up like a priest, blessed their East Village store in an opening ceremony that included an all-bassoon band (Quint conducted), roller-derby girls, and drag queens.
Petroff kept his day job until they opened their first shop in the East Village. As a musician, Quint was already used to the freelancer lifestyle, but it was a big leap for Petroff to leave his corporate gig, even though he'd already been laid off and rehired on a month-to-month basis by the same company. "It was a little bit of a coup on my part to be able to finally say, you know what, I'm out of here," he said. "This started out being a creative outlet for both of us and a fun outlet. Maybe it was a mid-life crisis. I don't know. But we say instead of getting a convertible, we got a jalopy, secondhand ice cream truck to drive around in."
Big Gay Ice Cream plans to open shops in Los Angeles and Philadelphia in the next few months–"If they're not open by the end of the year, we will have murdered everyone in sight," Quint quipped–and they're working on a Big Gay Ice Cream book, which will be a cookbook split up like a yearbook, full of recipes, anecdotes, and assorted weirdness. That one summer with a rented clunker has turned into a party hosted by Quint and Petroff (and Buster!), and we're all invited.