Once upon a time, mobile phones rendered wristwatches obsolete. Or at least that's the juicy and convenient narrative that's been out there in recent years.
Now, there is some data suggesting that fewer people see the need to strap a timekeeping device to their wrist–particularly millennials weaned on smartphones. But those survey samples are small, or imperfect and tractable. The fact is that the wristwatch industry has been doing just fine for years, and might even be experiencing a post-recession Renaissance.
Sales figures bear this out. Research from Euromonitor International in 2013, for example, found that watch sales were actually growing year-over-year, and have been increasing steadily since 2009. In fact in 2012, the global wristwatch industry crossed the $7 billion sales threshold, thanks, mostly, to luxury watchmakers like Rolex. Another venerable brand, Movado, even considers teens to be "a major part of the strategy," and its sales have risen accordingly.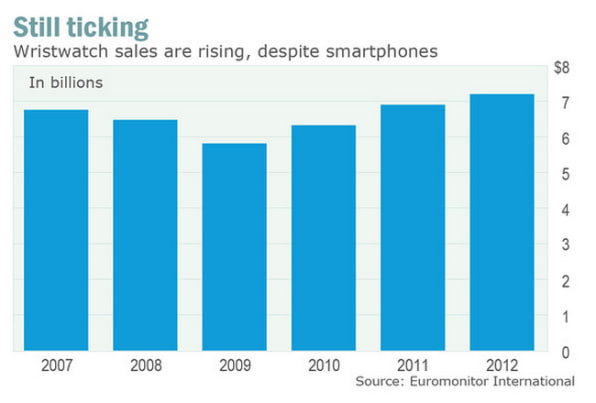 Wristwatches are at least as much about fashion as about functionality, and always have been. That raises interesting questions about the new Apple Watch, a feature-packed mini computer that consumers can strap to their wrist. For all the neat things its latest gadget is capable of, Apple will have the challenge of trying to convince the fashion world's influencers that it's worth proudly wearing in the first place.
In a way, the optics problem confronting the company is the same one Google is facing with Google Glass; wearing an Apple Watch could scream "early adopting tech dork" and not "self-aware" or "stylish." (Unintentionally hilarious Vogue spreads aside.)
"It's unlikely the the device will ever be regarded as a fashion item," Bradley Quinn, an analyst at Stylus, a fashion/technology research firm that represents brands like Intel, Adidas, and Swarovski, tells Fast Company in an email. "Apple has not established a fashion following per se, but Apple's recent appointment of executives who formerly worked for fashion brands implies that they could be planning initiatives to gain [traction]."
It certainly looks like Apple is trying to buy its way to fashion respectability. Last October, the company hired Angela Ahrendts, the former CEO of Burberry, to beef up its retail stores and lend the company some sorely needed fashion cred. In 2013, it also hired former Yves Saint Laurent CEO Paul Deneve to work on "special projects," as well as Nike design director Ben Shaffer, who specializes in new materials.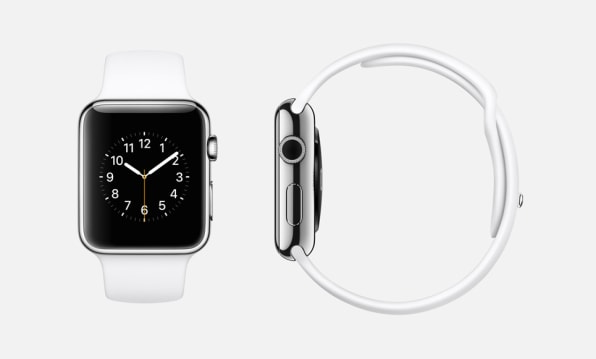 At $350, the Apple Watch certainly has all the trappings of a luxury object. No one really needs a computer on their wrist that will beam heart rate data to their friends with quirky animations, in much the same way no one really needs an iPad. Or a Burberry trench coat.
Indeed, the Apple Watch wants to shade the Venn diagram in between the very particular tastes of the fashion world's influencers and the Jetsons-esque sci-fi fantasies of schlubby tech geeks. While Apple has long branded itself as one of the most stylish companies in the world–how a company helmed by dudes in untucked dress shirts with an obsession with U2 manages to do that is beyond me–you don't wear a Mac or an iPhone on your body. And it isn't that tough to be more fashionable than the average computer or smartphone.
With the Apple Watch, the company is asking for you to change deeply ingrained social behavior about something you wear–or maybe don't wear! But in order to make the proposition irresistible, the device will have to start by looking good. Right now, it's a little bulky. Maybe you even find it ugly. (I do.)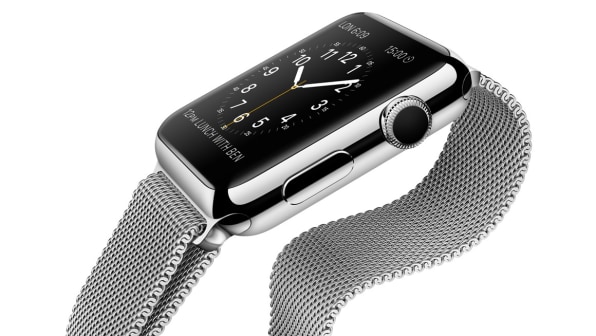 Still, this is Apple we're talking about. Even if you think it sometimes gets far too much credit for reinventing a product category–strolling into the party late, better dressed than anyone–the company is unrivaled at nailing the details that make gadgets tolerable.
In one or two generations, when the Apple Watch's price drops and the hardware shrinks down to something that looks less like a steampunk clunker found on Etsy? It may be like the leap from the brick-like original iPod to the tiny, high-style iPod Nano, when you woke up one day, and suddenly everyone had one.