Amid the horrors of the September 11, 2001, terrorist attacks, there was an amazing tale of resiliency. As the Twin Towers crashed into a tangle of concrete, iron and rubble, a pear tree was trapped within. Nearly a month after that fateful day that changed the world, rescue workers found this charred arboreal victim and vowed to nurse it back to life. Now, as American gets ready to commemorate the 13th anniversary of 9/11, the "survivor tree" stands strong at the 9/11 Memorial and Museum, intended as a living reminder of hope and the ability to overcome darkness.
This unlikely survivor features in a new commemorative campaign from BBDO New York that included an animated film and a Twitter-powered fundraising effort.
"Survivor Tree," narrated by Whoopi Goldberg, is a simple animation and poem that tells the story of this remarkable tree, and serves as the centerpiece for a campaign from the 9/11 Memorial and Museum that encourages people to visit and support the newly opened memorial.
The film, which was animated by Elastic, grew from a very honest reaction. When contemplating how to commemorate 9/11, a very difficult anniversary, BBDO president John Osborn was in conversation with Jane Rosenthal, founder of the Tribeca Film Festival and 9/11 Memorial board member. When the topic of the survivor tree came up, she said it would be an amazing story for kids. "We all lit up. She was totally right, and by the end of the meeting we had resolved to write an animated children's poem and book," say creative directors Rick Williams and Marcel Yunes.
"Turning the Survivor Tree into a story for parents and kids allows the The National Sept 11 Memorial & Museum to talk to both children and adults alike about a difficult topic, but in a simple, more innocent and approachable way–a way that celebrates how we as people bounced back," says Williams. "It's a metaphor for the human spirit and testament to the healing power of caring.
That direction also opened the door for the creation of a full children's eBook, an important tool for parents to communicate the story of 9/11 for children and young people, many of whom were not yet born or are too young to remember for themselves.
Yunes says that creating the corresponding eBook gives schools and parents a chance to read the story to kids at their own pace. "The story has a sense of wonder and softness to it that lets kids focus on the good that came from the valiant efforts of workers and the community," says Yunes. "The tree grew back bigger than ever, and that's a message everybody can get behind. It's more than a history lesson. It's a lesson about how we take care of each other."
In addition to the film, the campaign encourages giving via Twitter with Donate-a-Tweet, a "pay-per-character" fundraising platform and social way to support the National September 11 Memorial & Museum. With Donate-a-Tweet people are able to donate $0.25 cents per character to the 9/11 Memorial by typing a message at tweet.911memorial.org. The Memorial will then tweet the message on the user's behalf, and generate a custom link highlighting the tweet, which users can also share. The effort effectively combines awareness and raising money in one seamless experience.
"We know that people love to share the fact that they've contributed to a cause–consider the recent ALS ice bucket challenge and success of cause bracelets–so Twitter seemed like a great place to start in order to get the most public reach for our fundraising efforts," says BBDO creative director Peter Albores, who worked on the campaign with CD Hunter Fine. "The 9/11 Memorial & Museum is hallowed ground…a place to honor and remember lives' lost. It is a symbol of courage, compassion and resilience but it also needs to keep the lights on. Donate-a-Tweet was conceived as an easy way for people to get involved and contribute. It's a way to turn those who are cause-minded into cause active, as well as a means to reach a new audience who may not be as familiar with the events of that day."
That's the exact challenge that BBDO has managed to deftly navigate: build awareness and raise funds for an important cause, but one that's rooted in so much pain and loss. That, says Williams, is why the survivor tree is the perfect symbol to achieve that goal.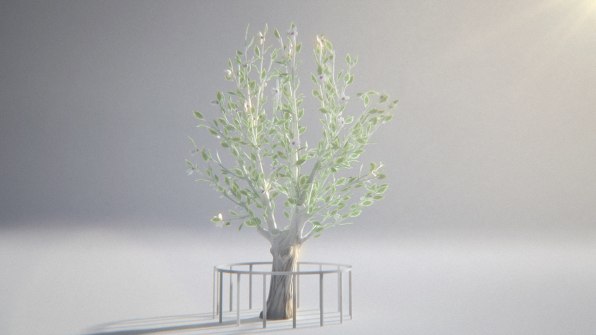 "The anniversary of 9/11 is always an important but also sensitive time of year," says Williams. "It's a time to honor the lives of people we lost; acts of heroism, selflessness, kindness, and sometimes to just plain miss people who were our friends. But it's also a time to remind each other we're still here, and that even in the face of the remarkably bad, with hope and togetherness, we're going to be okay." Or, as Whoopi's compassionate and emotive voiceover intones: "There's nothing so bad that we can't overcome it."