The last time Apple jumped into a brand-new product category was in April 2010. For context, Peyton Manning had just lost the Super Bowl as a Colt, and Conan O'Brien had just been yanked by NBC as host of the Tonight Show. And the iPad, at least when it was first introduced, became the target of countless jokes comparing the tablet to a certain kind of sanitary napkin.
Now the jokes have long subsided, and Apple has sold 225 million-plus iPads, a category-redefining product that helped Apple become the most valuable company on the planet.
But over those four years, Wall Street and investors have been bullish on Apple to release something–anything–in hopes of taking over a new product category like the iPad and iPod before it, whether that be a television set or, well, something else.
Today, that "something else" turned out to be a smartwatch. It's called… Apple Watch.
Why isn't it called iWatch? As my colleague Rebecca Greenfield points out, Apple may have run into trouble copyrighting the name; Swatch was one of the big objectors, and owns the rights to the name iSwatch.
"Because you wear it, we invented new intimate ways to connect and communicate directly from your wrist and it works seamlessly with iCloud, and it's also a comprehensive health and fitness device," Apple CEO Tim Cook said of the new Watch.
The Apple Watch's form factor is, to the dismay of some Apple fans, similar to the design found on Samsung's Gear smartwatches, and not, say, a svelte Nike FuelBand. Its tiny screen is made out of sapphire, an ultra-durable material that's resistant to cracks. You can read all about sapphire here.
One of Apple Watch's notable features is something the company calls the "Digital Crown," a small toggle on the right side of the device. The Digital Crown allows wearers to zoom in and out of apps, the thinking being that pinch-to-zoom on a tiny screen isn't a convenient way to navigate. (For what it's worth, I think Apple is right here.) Here's what the home screen looks like: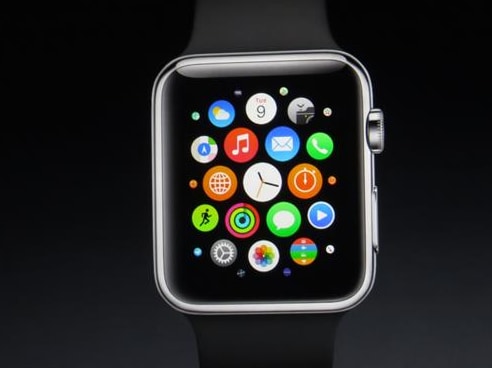 The software built into Watch comes with multiple faces. It seems Apple is big on pushing personalization options, which are all shown off on a small Retina-quality screen.
Inside Apple Watch is an S1 chip, a gyroscope, and accelerometer. In order to use GPS, Apple Watch has to tether to your iPhone. Instead of plugging the device in to re-juice it, you can charge the battery using inductive charging, which snaps together with your watch-using magnets.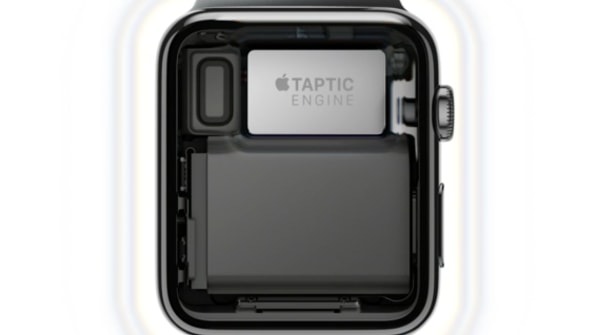 What can you actually do with this thing? In order to feed wearer's contextual information, Apple Watch utilizes a feature it calls "Glances," which is similar to the notices in Motorola's smartwatch, the Moto 360. Glances can show you your next calendar event, your location, the weather outside, stock market information, world time, and music playing on connected devices–whether it's stored locally on your watch, or on your Mac or iPhone.
You can also send messages using Siri, or, if you're so inclined, with a simple emoji, which takes up your whole screen.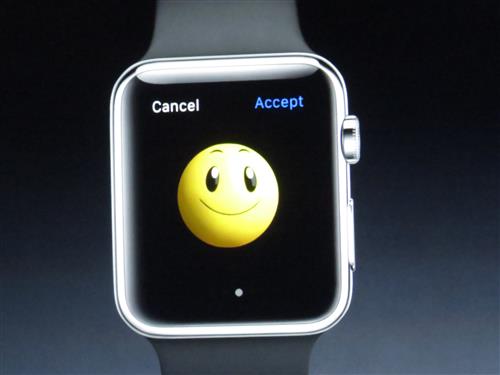 One of the more interesting features is that the watch uses haptic feedback (think: tiny vibrations) to send users smart alerts. For example: If you're going the right way using Apple Maps (I know, I know), you will feel a small but benign tingle against your wrist.
Of course, fitness is one of the key focuses behind the device, and that's why Apple is pushing Watch hard to the Nike-wearing athlete crowd. Apple Watch can even read your heartbeat. It includes an official "Workout" app that can monitor calories burned or miles ran, and an "Activity" app that monitors the same metrics–but over the course of your day, including how often you're sitting versus standing.
"Apple Watch required some deep innovation. It's a precise timepiece with an incredible ability to customize. It's a new, innovative, intimate way to communicate directly from your wrist. And it's a comprehensive health and fitness device, and it is so much more," said Cook.
While the (Apple) Watch can do a lot of things–we didn't mention that it can control your Apple TV or act as a shutter on your iPhone camera–the question remains: Does its value proposition appeal to anyone outside of the hardest-core tech dweebs?
There are other big questions too, especially about battery life, which Apple didn't mention anything about, and which I argued is any smart device's most important feature.
Apple Watch will be available in 2015. Pricing starts at $350. It will come in two bezel colors: silver and gold, with a range of different leather and sport bands.