We've all heard it: The number of women in tech is bleak.
The percentage of women graduating college with computer science degrees in the U.S. has dropped from 37% to 14% since 1985. But there are a few things we know about how to move the needle: Get girls excited about learning to code at a young age; create more opportunities for women-run startups to access funding; mentor girls and young women.
Here's another: Get women working in tech around the world together. A program called TechWomen, that's focuses specifically on women working in tech in Africa and the Middle East is trying to do just that. Sponsored by the State Department, it brings 78 women from 16 countries in the Middle East and Africa to Silicon Valley for a month, pairing them with women mentors working in the industry. "It's created this network of women in tech supporting each other," says Heather Ramsey, senior director of the program.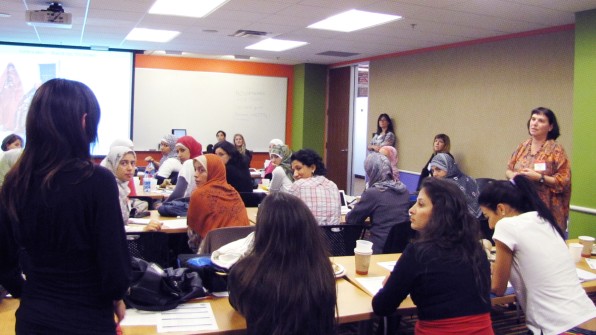 It's also created a better understanding of what some of the issues facing women in the industry are around the world–and how to go about addressing those challenges.
When Nihal Fares was studying computer engineering at Ain Shams University in Cairo, there were plenty of women in her classes. "In Egypt most parents encourage their children to study engineering in top universities," says Fares. "But then there is a problem after college. … Not so many women are encouraged to work in the field."
Fares, 28, who participated in TechWomen last year, worked as a software engineer for two years after graduating college before cofounding her own startup, Eventtus, an event planning and networking app. "I meet some people who are intimidated by women and who are insecure to work with women," she says. "What makes the problem more difficult is that people are not even trying to talk about it. … It's not only in Egypt. It's all over the world."
Last year, Fares had her first mentoring experience at Google during her TechWomen trip. "When I saw how powerful those communities are, I tried to bring back that spirit and vision to Egypt," she says. She's since started mentoring girls in Cairo. "These mentorships are extremely important for women, especially early in their careers," she says.
When Zimkhita Buwa, 33, came back to Cape Town from Silicon Valley last fall, she knew she had to make some changes. She moved from her job as a Business Intelligence consultant to a management role at a new company and started getting involved in programs to help teach girls about coding and technology. In February, she helped run a Technovation Challenge program with a group of Techwomen Alumnae includingSandra Tererai, a Techwomen Alumni from Zimbabwe. The program taught high school-aged girls how to build apps and launched a program called Taugana Africa with a group of women, which brought girls from rural areas around South Africa to Johannesburg for a week to meet with tech company executives and get exposure to the industry.
But what Buwa was surprised to discover there were only a few companies who were willing to actually help fund these programs. The Taugana Africa's Indiegogo campaign, for example, raised just over $1,000, far under it's $10,700 goal.
To offset transportation and other operating costs for the program, Buwa and the other women organizing it had to use their own money to make it happen. "One of the things [TechWomen] stresses is that when you get back to your host country, you pay it forward and mentor other girls," she says. While it wasn't in their original plans, contributing what they needed to make the program possible seemed like their only option. "That's where a lot of initiatives fall short," she says. "You can have all these great ideas, but if you don't have funding, you can't move forward."
The best advice Angel Bisamaza got from a mentor was simple: "Be bold." Easier said than done, of course. Bisamaza, 28, who works as a product development manager at Millicom, a digital services company in Rwanda, did not have women mentors to look to when she was getting into tech herself.
She is trying to change that. This year, Bisamaza organized an event that brought 200 women working in tech in Rwanda together to meet with a visiting group of women from Silicon Valley. She is also starting up a program in Rwanda to teach young girls to code. "In my country, there are not many role models in terms of women in tech," she says. At 28, she's trying to give girls the kind of example she didn't have when she was starting out.
Correction: A previous version of this article neglected to credit Techwomen Alumnae with creating the Technovation Challenge