Products for the breast cancer market are, generally speaking, hideous. One in eight American women will develop breast cancer over the course of her lifetime and yet, when a woman gets the dreaded diagnosis, she will have few fashion options during her treatment besides paper-thin hospital gowns and ugly postoperative bras.
After breast surgery, many women experience swelling in their arm from lymphedema, forcing them to wear a compression sleeve. Until recently, those sleeves came in only one color: beige.
A company called LympheDIVAs is trying to reimagine life after breast cancer by creating sleeves in colorful patterns that look like tattoos. It was founded in 2007 by Rachel Troxell, who burst into tears the day she was diagnosed with lymphedema and realized that the only sleeve options were thick, coarse, and ugly.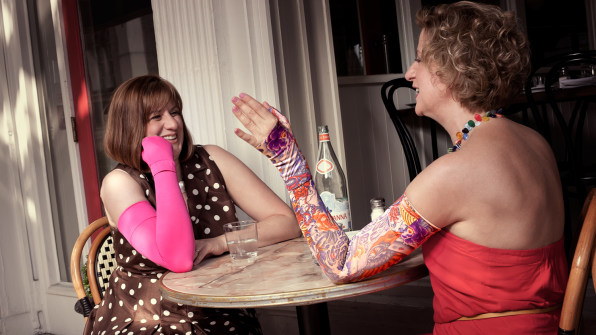 "She cried and was very angry," remembers her brother, Josh Levin, who became the company's president after Rachel passed away in 2008. "She thought it was awful that companies were not putting care and investment into the products that women use in the hardest, most painful moments of their lives." At that moment, Rachel decided to change the breast cancer product market, by creating compression sleeves that would compete with big established manufacturers like Jobst, Sigvaris, Juzo, and Mediven.
At first, the company's goal was to create sleeves that were more comfortable, breathable, and lightweight. But several years later they decided to create tattoo-like sleeves that have been hugely popular. (The sleeves cost around $70 each.) Levin tells me that breast cancer boutiques were initially hesitant to stock the products, worrying that older customers might not be into the edgy patterns. But today, LympheDIVA now sells 20,000 sleeves a year and customers range from women in their twenties to those in their seventies.
"The assumption that an older woman would not want something stylish is a little ridiculous," Levin says. He recently received a phone call from a 72-year-old woman who was rocking the Lotus Dragon Tattoo sleeve, LympheDIVAs' most popular pattern right now. "People were coming up to her saying how much they loved her tattoo and asking who her artist was," he says.
Levin tells me that one of the goals of the product is to allow women to shift the conversation away from having to explain their illness to discussing how cool their sleeve pattern is.
"It's made dealing with lymphedema easier," he says. "It's still a compression product which means it will always be a little uncomfortable, but we are making the experience as positive as we can." He points to research that says women who have a positive mindset are more likely to survive the disease.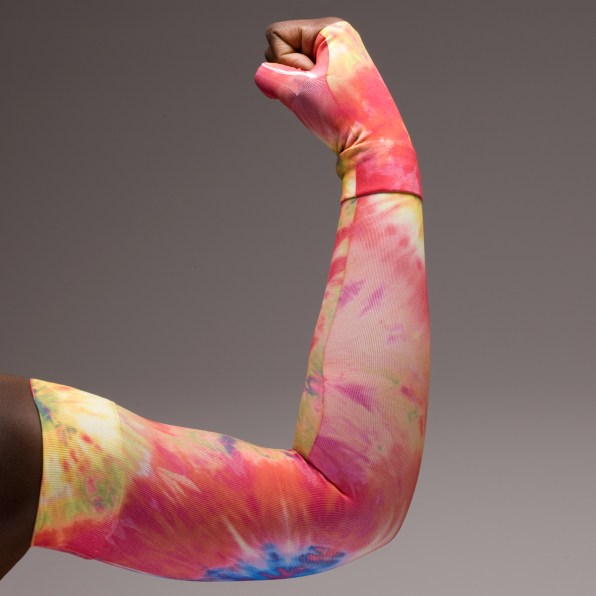 Levin is keen to make the company's website a repository of useful information about lymphedema. Many women are taken by surprise by the illness, since it is not a well-known side effect of breast surgery. The actual process of fitting a sleeve is also rather complicated: the arm needs to be measured in several places to ensure the sleeve is tight in all the right places. To help women with the process, the company has created a free "fitters aid" app that walks them through the process.
LympheDIVAs is now in good company, with online stores like Cure Diva and Cancer Be Glammed popping up over the last few years to offer breast cancer patients fashionable accessories during their treatment and recovery. Women can now purchase cute gowns for their hospital stays and pretty head coverings for hair loss. Companies like Wear Ease and American Breast Care have developed a range of mastectomy bras that range in style from comfortable to sexy.
Since LympheDIVAs launched these tattoo sleeves five years ago, other big medical companies have followed their lead, slowly expanding their lines of compression sleeves to include more colors and designs. Is Levin worried these other companies will swallow his eight-person family business? "My sister's goal was to change the industry and to give women more options," he says. "If we're able to continue our company that's great, but if not, as long as women still have choices, then we've still achieved what we set out to do."