In September of 2013, Microsoft agreed to buy Nokia's phone business. After clearing the necessary regulatory hurdles, the deal closed in April. Which means that what were once Nokia smartphones are now Microsoft smartphones.
And yet, they haven't stopped being Nokia phones.
That's true in a literal sense: Microsoft has the rights to use the Nokia name during a transition period, and is still releasing new Lumia models that bear the Nokia name on their backsides. More important, the company is rolling out new phones which began development before the acquisition, and which therefore don't reflect its long-term strategy for being in the phone business.
That's certainly true of the Lumia 830 and 730, two new models which the company just announced at the IFA electronics conference in Berlin. With their colorful cases, emphasis on photographic features, and compatibility with an optional wireless-charging pad, they're very much in the same mold as previous Nokia Lumia models of recent years, almost all of which ran Microsoft's Windows Phone operating system, as these ones do.
The Lumia 830 aims to be a midrange phone with at least a little of the pizzazz of a high-end flagship model. It has a case in polycarbonate (i.e., nice plastic) and aluminum, a 5-inch display, and a 10-megapixel camera with Nokia PureView technologies such as optical image stabilization. Its unsubsidized price is 330 euros, or about $427.
The Lumia 730 is much more basic: It's only a 3G phone in its standard version, with an LTE variant called the Lumia 735. It has a polycarbonate case, a 4.7-inch display, a 6.7-megapixel rear camera, and a 5-megapixel, wide-angle, front-facing camera that Microsoft is pitching as being ideal for Skype and selfies. The 730 is 199 euros, or about $257; the 735 is 219 euros, or about $283.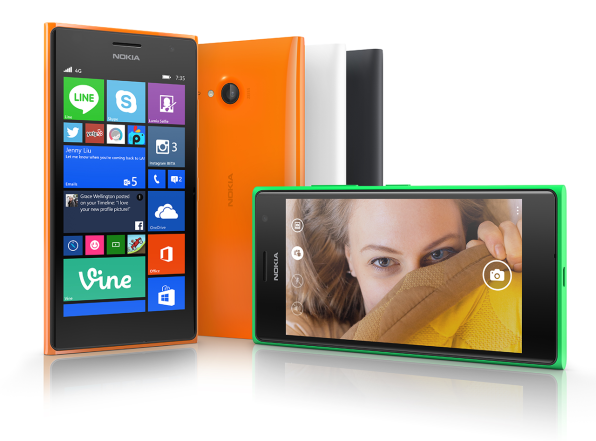 As you can tell from the fact that Microsoft is quoting prices in euros, it isn't yet announcing any details about these phones' availability in the U.S.
Both phones use a new Lumia-specific version of Windows Phone known as the Denim update, which will also be available for existing Lumia models. It incorporates Microsoft's Windows Phone 8.1 Update, including the Cortana voice assistant, and offers a variety of Lumia-specific tweaks.
The Denim improvement I'm most excited about by far: Microsoft says that it makes the camera app, now known as Lumia Camera, much faster. Even though previous Lumia models have some of the best optics around, they've been hobbled by shutter lag and general sluggishness. If Microsoft has eliminated that downside, it's big news.
Microsoft is also announcing a device it's calling (deep breath) Microsoft Screen Sharing for Lumia Phones HD-10. It's a hockey puck-shaped gizmo you hook up to your TV. Using NFC technology, you can tap your Lumia phone on it to establish a wireless connection, and then display stuff from your phone–videos, photos, games, presentations, and more–on the big screen, a bit like you can do with an iPhone or iPad, Apple's AirPlay technology, and an Apple TV box.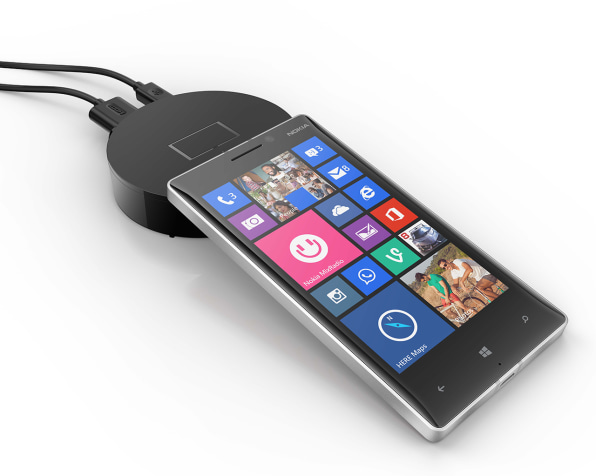 All of this looks nice, but it's the sort of stuff you would have expected Nokia's phone group to do if it were still Nokia's phone group rather than part of Microsoft. If the company has plans for any radical integration of hardware and software that it couldn't otherwise have accomplished, they aren't reflected in these devices. Nor has Microsoft put its own design imprint onto the phones, as it's done with its Surface tablets.
If the company plans to break away from what Nokia had been doing, it hasn't yet explained how. Still, it is starting to talk about its overall philosophy for the Lumia line.
Microsoft phone marketing honcho Ifi Majid–formerly a Nokia phone marketing honcho–told me that Nokia was in the business to make money by selling phones. As part of Microsoft, the Lumia line has new, overarching goals: It's there to help bolster the Windows platform and to drive use of Microsoft apps and services such as Office, OneDrive, and Skype.
You can see glimmers of this vision in the new phones, such as the fact that the Lumia 730's front-facing camera is optimized for Skype, but only glimmers. Maybe we'll get a clearer sense of things to come at the phone industry's biggest bash, the Mobile World Congress show, next March in Barcelona.