With the holiday season around the corner, that might not even be an exaggeration. But while manufacturers like to tout the specs of their smart watches and fitness bands, most of them are pretty clueless when it comes to designing products women actually want to wear. With a new smart bracelet unveiled on Wednesday, Opening Ceremony and Intel are the latest entrants into the "not too ugly to wear" smart fashion sweepstakes.
It's already getting to be a crowded field. Fitbit recognized the need for style to match substance and tapped Tory Burch to design more stylish holders for its activity trackers. Google's been trying to broaden the appeal of Glass beyond techies by teaming up with Diane Von Furstenberg. Rebecca Minkoff also showed off tech-enabled jewelry at a fashion show earlier this summer.
First announced at CES, the new bracelet is named MICA, short for My Intelligent Communication Accessory, and designed to look more like a fine piece of jewelry than any smart wristband on the market. To highlight the style element and downplay its tech, the bracelet includes a curved 1.6-inch sapphire touch screen on the underside and comes in two versions: one featuring black snakeskin with pearls and lapis stones from China, and the other in white snakeskin with tiger's eye from South Africa and obsidian from Russia. "When you wear this, it looks like you have a piece of jewelry on," Humberto Leon, Opening Ceremony's cofounder and creative director, tells Fast Company. "Normal passersby will not even think this is a [smart] device."
While Opening Ceremony and Intel were happy to talk about its design, what's inside MICA remains largely shrouded in mystery. Many details remain unknown, including its price point, components, or even its functionality. The two companies intend to announce more details at launch–but as to when that is, we still have no clue except before the end of the year. Select Barney's and Opening Ceremony stores will carry MICA in time for the holiday season.
Here's what we do know (and inferred from reading between the lines):
"We're defining it as a communication accessory," says Aysegul Ildeniz, Intel's vice president and general manager for business development and strategy. "It is intended for use for women who would want to be connected to their loved ones all the time and not have to take their phones out of their pocket."
What this means: It's a wristband that will alert wearers to notifications (likely calendar reminders, social media alerts, text messages), probably with vibration feedback. If this is its main functionality, it reminds us a lot of the MEMI smart wristband we wrote about last fall (down to the four-lettered name), except MICA includes a display.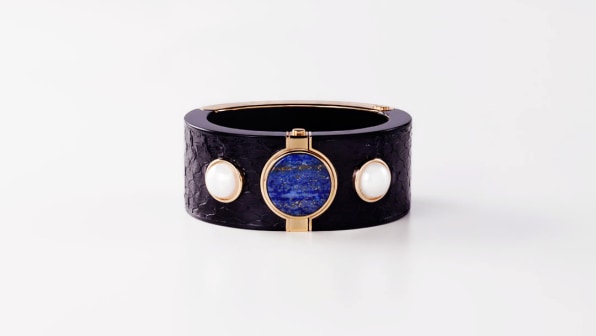 "Today what we see on the market is very technology oriented in the sense they're either connected to a cell phone and there's a ton of functionality crammed into this device, or it's very geared toward fitness and sports," Ildeniz says. Asked to clarify, she said it's "definitely meant to be a luxury statement jewelry piece and not so much a health monitoring device," which means in terms of functionality, it's probably not competing with Fitbit or Jawbone.
No specific price point yet, but a representative said it'll land under the $1,000 threshold, probably closer to $500.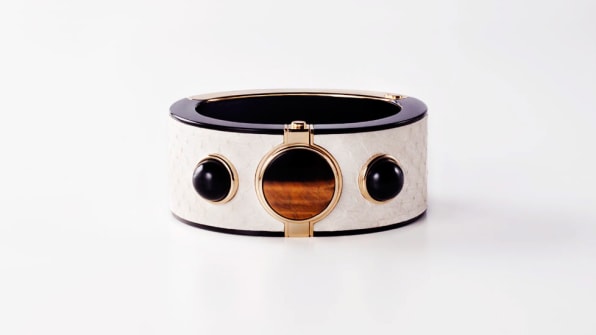 The device contains a 3G radio, so it doesn't require a smartphone tether to work. (It might, however, require its own data plan.) We know wearers will be able to receive communication, but Intel declined to say if it's capable of sending messages directly from the bracelet.
"We want it to not feel so light that it didn't feel like a piece of jewelry, and we didn't want to weigh it down," says Leon. Though Intel is not disclosing its weight, a representative compared it to the iPhone 5S. The cuff measures 7.7 mm, almost a third of an inch, thick.
One of the reasons Intel is keeping mum is that many details (outside of the external design) have yet to be finalized, including what apps will run on MICA.