Nestled in an empty lot between a motorcycle shop and an air compressor company in an unassuming, industrial part of town is one of Pittsburgh's most interesting nightspots. Enclosed in pallet-board walls and capped by constellations of hanging lights is an outdoor space to which in-the-know locals bring their own libations, consumed while crowding around an open fire pit or makeshift picnic tables, after grabbing some grub from a visiting food truck or throwing their own on a grill. Then, patrons might catch a live band. There are old boom boxes and found mixtapes, and you'll find the cool kids hanging with thirty-something creative professionals. There will likely be a few dogs, and maybe even kids, roaming around. Admission requires a membership but once inside the vibe is super-chill–and totally Instagrammable.
This is Bayardstown Social Club.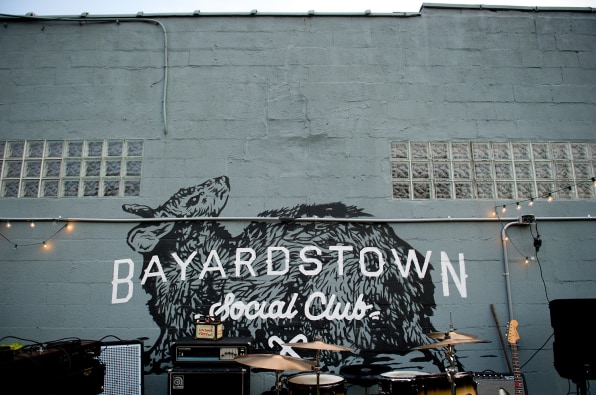 The immediate assumption would be that Bayardstown is an extension of a restaurant or club or even a local arts group. But in fact, Bayardstown is the brainchild of Nathan Martin, CEO of Deeplocal, a Pittsburgh technology company. And what started as a fun summer side project has bloomed into a bona fide hot spot and, perhaps more important, a significant marketing tool for Deeplocal.
But first, the beginning. Martin started the social club on little more than a whim. Wanting a chill space in town to hang that was more backyard than bar patio, he invested a small amount of money, enlisted the intellectual capital of his colleagues and brought his pie-in-the-sky idea to fruition in a matter of weeks.
"We started this project for fun. Summer in Pittsburgh is so short and you don't want to sit inside at a bar or restaurant but there's nothing casual," says Martin. "Also, we do so much work with clients and we don't have much time, especially with technology projects, to do our own stuff any more. This was something that we could do where we could take our skills and really design and brand a space, but not have a lot of technology commitment either."
With a design inspired by the outdoor BBQs of Austin–and Martin's own backyard–the space was conceived to stay on the right side of the laws while skirting the need for any official permitting. For instance, Bayardstown sits on an empty lot, which the owner was willing to see transformed, meaning it's treated like private property and patrons can bring whatever food and drinks they like. It's also in an industrial part of town, so there are no neighbors to complain. The neighbors that do exist are members–and one even donates a power source. The pallet walls and open-air space avoided the need for building permits. And membership waivers, policies that only patrons touch their food or drink, and the fact that Bayardstown is registered independent of Deeplocal, protects the company from liability. Martin says it was all built, with the help of his parents, in a matter of two weeks.
As if to prove the adage "if you build it, they will come," Martin's lark was a success. Bayardstown was promptly embraced by the super-hipster crowd looking for an underground haunt to call their own–the fact that the name and its entire branding was based on an old-timey gang, The Bayardstown Rats, that ran in the hood in the early 1900s likely helped the cause. Every once in a while bands would show up and with some begging, Martin says local food trucks would show up from time to time. It was rag-tag and a hustle, but with 250 members and positive word-of-mouth, Martin was happy because his vision became reality.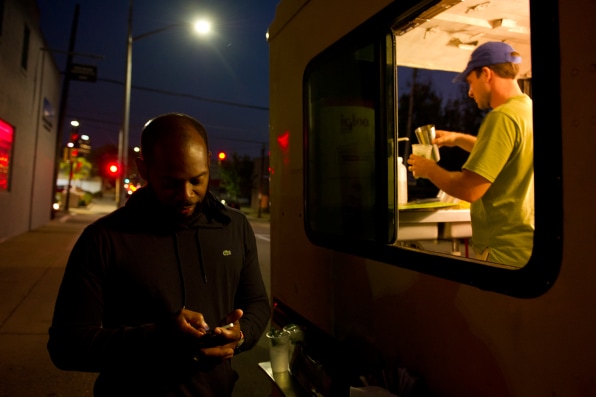 Now in its second summer, Bayardstown draws capacity crowds of upwards of 200 people most Thursdays, Fridays and Saturdays and had to cap off its membership (which is $20 for the season) at 1,500 to keep things manageable. Martin says they've also introduced corporate memberships which allows companies, such as the local agencies and startups who've signed on, a block of tickets to share with employees and clients, as well as the ability to hold a private party–all for a mere $1,000. There are happy hours on Fridays sponsored by local restaurants, they've hired an event manager and now pay bands to play, and Bayardstown Social Club has partnered with a local brewery to release an eponymous big bottle brew. And for the super-hip crowd that started frowning on its newfound popularity, Bayardstown keeps it edgy with out-there activities like Stump.
But something else has happened with Bayardstown Social Club. It's started building some serious street cred for Deeplocal, which was already a pretty cool shop in its own right (this is the company behind such high profile digital-meets-physical projects as Nike ChalkBot). The first inkling that something was happening beyond facilitating one great big backyard cookout was when the company decided to hold a recruiting event at the social club rather than in its office. "We had people lining up around the block," says Heather Estes, Deeplocal's director of marketing. "250 people showed up for five jobs. We had people drive from Buffalo, Cleveland, New Mexico . . . the response was overwhelming. A lot of people are finding out about Deeplocal by way of Bayardstown."
The Bayardstown side project has also netted the company new clients. Martin says the shop's relationship with Google–now the company's biggest–came to pass because of Bayardstown. "We pitched to work as an innovation partner and they said they chose us over other companies based on Bayardstown. They said this showed our different thinking, and that compared to technology projects this was a place-making project. It's all the stuff you want with software–users first, experience design–but it was just so different. It's demonstrated our ability to create an experience."
All of this momentum has shifted what Bayardstown means to Deeplocal. While the social club is flirting with profitability, Martin is clear that it's not a profit center or a standalone business. It's marketing. "It's one of the cooler things we get to talk about and one of the things our employees are proud to be a part of. You need to have a brand that people want to be a part of," says Martin.
The great irony, of course, is that as a marketing play for a tech company known for its adventures in robotics, Bayardstown Social Club is as analog is it gets. But that, says Martin, is why it so perfectly demonstrates what Deeplocal is all about.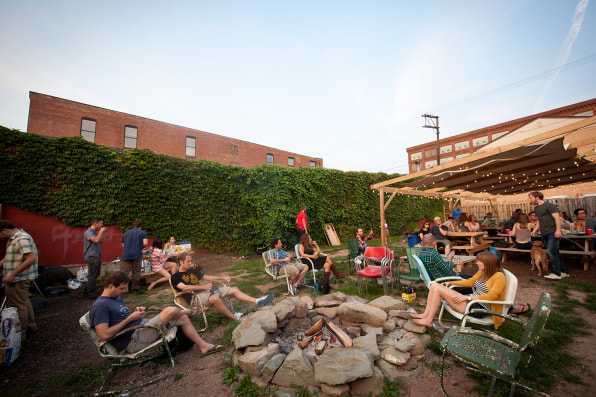 "A lot of agencies are creating labs. They create these labs not because they do anything for their clients, but because they're sales tools for recruiting. Or clients think there's some amazing thing going on and they get to play with stuff. Bayardstown for us is way better than a lab because we already do that stuff. This is a better expression of the creative process than a 3-D printer is. A 3-D printer doesn't represent anything about us–it's just a tool," Martin says. "For us, as a technology company, taking a stance to create something that has no technology in it is a much better statement and I think that's why it helps us stand out. It's totally exemplary of our total mindset and our total culture here: that there is this huge world, we're not pro-tech or anti-tech, we just care about the human experience and doing things that are awesome."