If you're under the age of 30 and living in the U.S., there's a good chance you're not planning to vote in November's midterm elections (let alone primaries next week). A recent poll found that young people are more cynical about the political process than ever before, and only 23% say they "definitely plan to" vote.
That's not to say millennials and their younger siblings don't care about the issues; they're more focused on the environment than their parents, for example, and the majority are willing to pay extra to buy from sustainability-focused company. Now one of those companies is hoping to lead them back to the polls.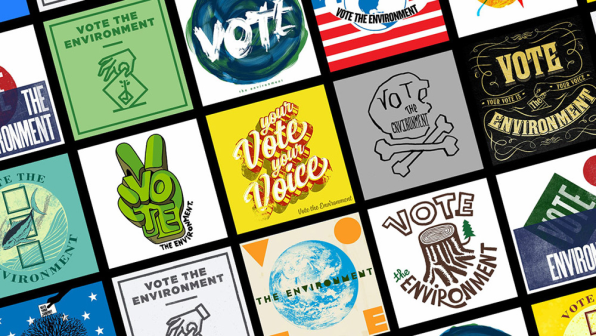 In a new campaign, Patagonia partnered with the Creative Action Network and Canary Project to crowdsource designs with a simple message: "Vote the Environment."
As artists turn in new designs with the message, each is available for sale as a screenprint that raises money for the artist, the project, and HeadCount, an organization that helps register new voters. On the project's website, Patagonia also links to information about the candidates' environmental records and voter registration.
Patagonia has been pushing similar campaigns for each presidential election since 2004, but decided that because of the urgency of issues like climate change, they wanted to invest marketing dollars in midterm elections too–when already apathetic voters are even less likely to vote.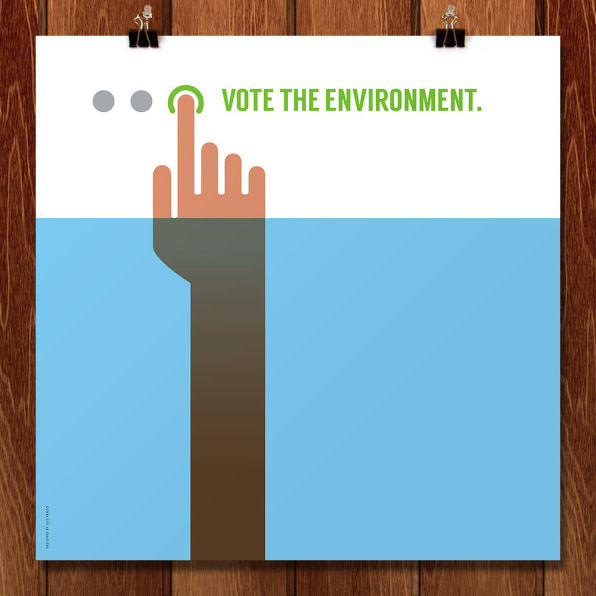 "We recognize that there's an environmental crisis going on," says Lisa Pike Sheehy, Patagonia's global environmental initiatives director. "I feel like we're at that tipping point, and that's another reason why we decided to put resources behind the midterms and not just wait another two years."
As a company, Patagonia hopes to reach consumers who might not otherwise pay attention to the standard get out the vote campaign. "I think it's coming from an unexpected place," Sheehy says. "Unlike all the environmental organizations and NGOs that will be working on this, as a company, we have unique communication channels that are available to us–like our regional stores where we can engage people on the floor, a massive email list, and a catalog."
The fact that the campaign is based on art may also help. "I think the best way to get people out to the polls is to make people feel an individual connection–so they want to go, and don't feel that it's an obligation, but it's an opportunity," says Max Slavkin, co-founder and CEO of the Creative Action Network, a website that specializes in crowdsourcing art focused on causes.
"Art can inspire people to remember why they care about the environment, memories of experiences they've had in the environment, things that reports and talking points and press releases don't necessarily surface in the same way," he explains. "Especially young people who get so much information and news online by scrolling through images, rather than by reading articles. It's a great way to reach a new generation of people who typically are under-involved in politics in general."