More than 100 million people play Minecraft, building virtual worlds out of virtual blocks. What if some of them started to use the same skills to redesign actual cities?
A new video game in development at the University of Southern California's School of Architecture is designed to make anyone a city planner. Using real city data, the game will start with Los Angeles but has the potential to be tailored to any city in the world.
"Gamescapes research seeks to democratize the design of the built environment through the use of video games," says Jose Sanchez, assistant professor in architecture at USC, who is working on the project with Satoru Sugihara and Sergio Irigoyen.
In the game, called Block, players build neighborhoods from components like housing, businesses, and parks, continually rearranging the pieces to find the optimum arrangement that citizens would most want to use and that would have the least cost for the city.
The game also measures environmental costs and benefits–like whether a particular arrangement can generate energy or produce food for the neighborhood. Sanchez was particularly inspired by a Chicago vertical farming project called the Plant, which connects a system of businesses so that each can use waste and energy from another.
"The Plant's great innovation is to look at how the different elements of production feed into each other," says Sanchez. "If we have hundreds of different elements that you can combine in different ways, people could just start finding interesting combinations–let's say combining a bakery with something else that would eliminate waste."
The game is not about details of architecture or aesthetics, but about how various parts relate to each other. "That's kind of the ultimate goal of the game, to empower people to speculate on what a city really needs," says Sanchez.
As much as possible, Block includes real data about each part of a system. "If we know, for example, how much a certain solar panel costs and how much energy it produces roughly, we can give a quick estimate," Sanchez says. "Those are indicators that an audience could use to start playing the game and really coming up with creative solutions."
The game will be open-source and free to play, and as players come up with various designs, they'll be able to add to a growing database of designs that a city could actually implement. The researchers will also be able to pull data from the game and look for patterns in citizen ideas that official urban planners might be overlooking in their own work.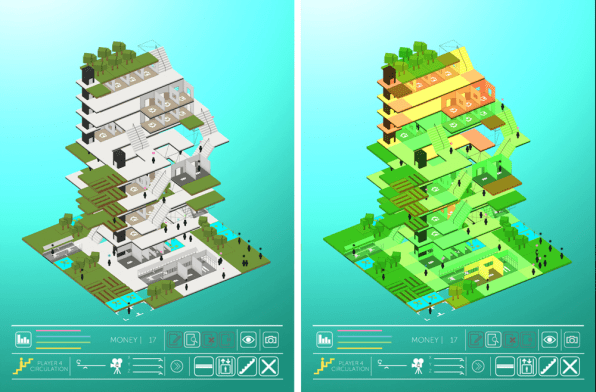 The researchers say the game would be open to everyone; a 10-year-old could have ideas as interesting as someone with a degree in planning. "If we present things in an easy way, but they potentially have a lot of complexity if you dedicate time to the game, you could have a very low entry level but really accumulate a large audience," says Sanchez.
An early prototype of the game was first developed a few months ago for a conference in Hong Kong, where the researchers looked at different factors like vertical growth and rooftop farming. The designers hope to develop it for multiple cities. The focus now is on L.A., and the design is currently one of the finalists in the LA2050 grants challenge, a contest that will award $1 million to 10 projects that help improve the city.
The game will be released in about a year, but a very early prototype version is available for download now.