"Breathe," says David Lauren, Ralph Lauren's executive vice president for advertising, marketing and corporate communications, to a muscled male model standing nearby.
A smartphone screen in Lauren's hand, open to a Ralph Lauren-branded app, displays breaths per minute, and a yellow bar gives a slight jump forward when the model changes his breath. "They said if I just squat," the model says, bending down to demonstrate, "heart rate should go up." And indeed, a separate yellow bar revs forward. If we navigated elsewhere in the app, we would also see data about his energy level, workout habits, and calories burned.
He's not wearing a mess of sensors, just the same black Ralph Lauren compression T-shirt that ball boys are wearing at select matches at the U.S. Open. If the brand has its way, the rest of us will also wear some version of that shirt in our daily lives.
The shirt's fabric is woven with conductive threads that allow it to sense breathing and heart rate. Those sensors are not attached to the shirt, but rather, "the shirt is the sensor," says Stephane Marceau, the CEO of the Montreal startup OMsignal that created the technology.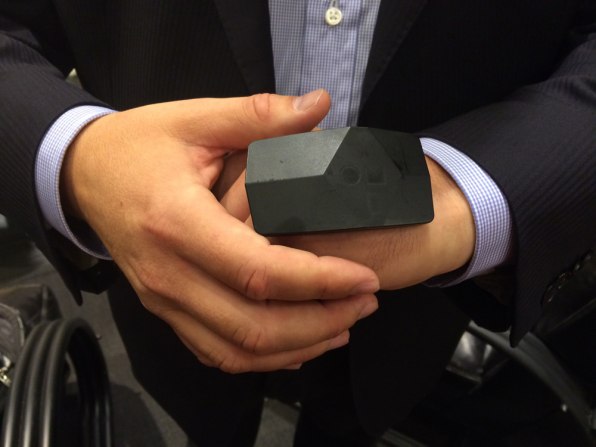 A lightweight black box, meanwhile, contains the battery and Bluetooth technology necessary to transmit data to a branded Ralph Lauren app as well as an accelerometer and gyroscope for tracking steps and activity. About as big as a credit card, it snaps onto the shirt below the wearer's left pectoral muscle ("We spent all this time looking for the best way to attach it to the shirt," says Marceau, "and in the end, [the best way] was just snaps.") Once you remove the rechargeable box from the shirt, you can wash the smart shirt with the rest of your laundry.
Ralph Lauren plans to make a similar athletic shirt as part of its spring line. "We're starting with sports because [wearable technology] is already in use there," Lauren says. The conductive thread technology needs to be touching skin to work well, making a compression shirt ideal. But plans for looser-fitting styles using different types of sensors are in the works.
Marceau argues that baking sensors into garments is preferable to smart watches and other wearables because a sensor on your chest is more accurate than one that takes your pulse from your wrist (and because you have been wearing clothes since you were born). "This has been in your life forever," he says.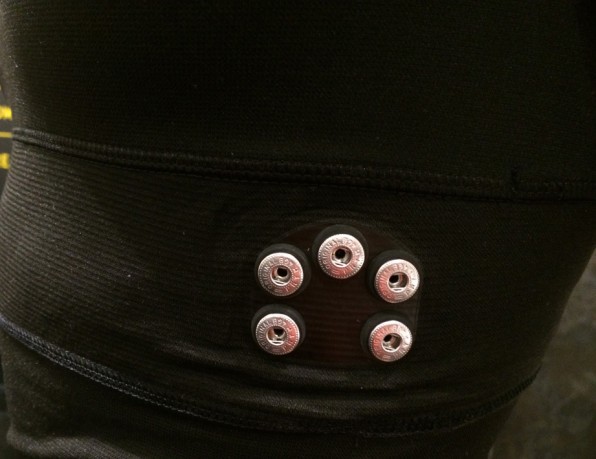 Ralph Lauren is not the first company to release smart clothing. OMsignal, for instance, has its own version of the black compression shirt, which you can preorder on its website for $199 (Ralph Lauren has not yet released a price for its own design). Another company called Hexoskin sells a line of athletic shirts with similar sensor capabilities. And Under Armor experimented with a biometric shirt with a removable sensor back in 2011 (it now sells a chest strap sensor instead).
But David Lauren is hoping that a brand with the size and scope of Ralph Lauren adopting the technology makes a statement. "This is not just for athletics," he says. "Eventually it will just be part of your outfit. You won't even think about it."
Ralph Lauren's venture into smart clothing could be good for business–and a good way to get people talking about Ralph Lauren–but that only works if consumers are interested. Wearable fitness trackers have not necessarily been enough to hold people's attention. One study found that one-third of people who bought them stopped using them within six months, and sales have been unremarkable. Will consumers respond differently if they can ditch their fitness bands for an everyday shirt that tracks their breath and heart rates in addition to their steps? Could buying a whole closet of smart clothes possibly be more convenient than wearing the same wristband or accessory every day?
Ralph Lauren seems to think so. Lauren says the brand plans to eventually expand its "Polo Tech"concept to all types of styles.
For now, though, Marceau wears his sensor compression shirt underneath his suit.