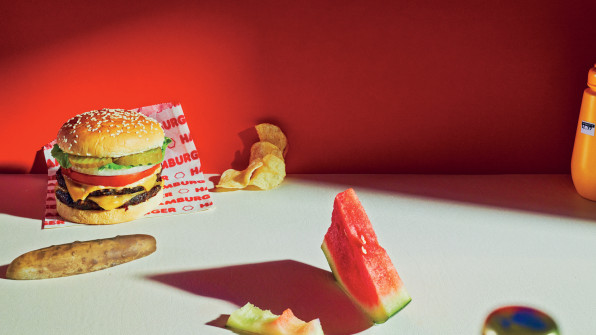 Ethan Brown, Beyond Meat
Imagine that you had to describe meat to someone who's never encountered the stuff. It would be hard to do because meat is, you know, meat. You'd begin with where it comes from–the muscles and flesh of chickens, cows, pigs, etc. You'd offer characteristics (the sunset-pink of a medium-rare steak, the savory flavor, the chewiness, the grill marks when you cook it over fire) and the things you can make from it, such as burgers, nuggets, and cold cuts. If you wanted to describe what meat isn't, the top category on your list would clearly be plants.
But if you were Ethan Brown, a man who has given this topic as much thought as anyone on the planet, you'd come at it from a totally different angle. Ask Brown what makes meat meat, and he'll break out charts illustrating the environmental, ethical, and health challenges posed to the U.S. by the $186 billion industry. He'll describe its chemistry and physical structure–the way amino acids, lipids, and water align in a unique fibrous arrangement. He'll suggest, as if it's the most obvious idea in the world, that if you got the same amino acids from plants and combined them with lipids and water in more or less the same way they're combined in animals, well, wouldn't that be meat? Then he'll offer a bite of his midmorning snack.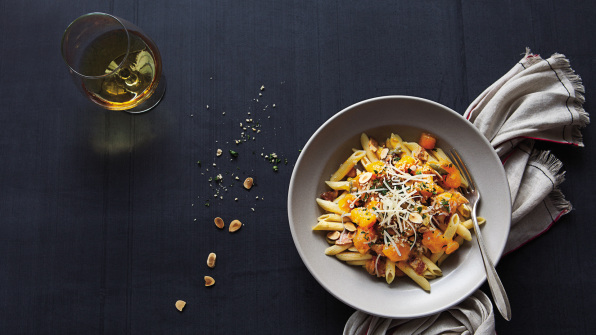 Cold takeout might not sound exciting, but West Coast delivery service Munchery is betting it's the next hot thing. With a menu designed by a rotating cast of chefs, the company–which launched in 2011 and has raised $32 million in financing–sends out food chilled, which preserves freshness, for customers to heat. Munchery offers 60 to 75 items a day (dishes have included tofu Parmesan and grilled flank steak Kabayaki), and the menu changes constantly. "Data science is really important," says cofounder Conrad Chu. "We try to predict what you will like. It is part of the secret sauce."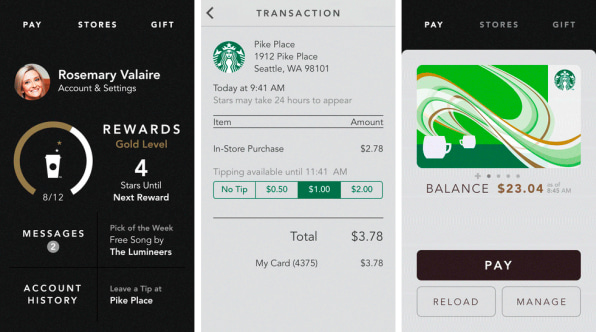 Sure, you can use Starbucks's mobile app to pay for your coffee, but you still have to wait in those lines. That could change next year, when the coffee giant plans to introduce a new app that lets customers order before even entering the store. When you get there, your drink will be waiting… and paid for. The feature was created in response to customer requests and designed with their feedback in mind. "We've never done anything like this before," says Starbucks's chief digital officer, Adam Brotman. "It has to be as seamless and integrated and on-brand as everything else we do to build the Starbucks experience." 6 Top Baristas On How–And Why–To Make A Great Cup Of Coffee.
Ben Lamm, Chaotic Moon Studios
Could ordering pizza soon be as fun as eating it? Pizza Hut and mobile-software developer Chaotic Moon have created touch-screen tabletops that let diners design pies from their seats (it will be tested in a few locations this year, with a larger rollout possible). To order, just drag toppings onto a blank crust. The info is then sent to the kitchen, and customers can play on-screen games while waiting. "It's [based on] the purpose of the kitchen table: to bring us together," says Chaotic Moon CEO Ben Lamm. "Pizza is inherently social."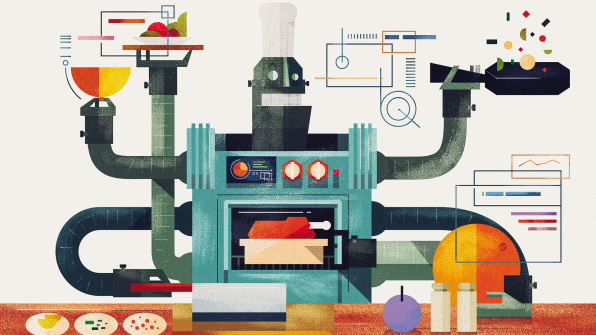 IBM
If you were to open your fridge one night and find a measly 10 items inside, you might decide to order Chinese. But the truth is that you could craft 3,628,800 dishes simply by mixing those ingredients in various combinations. Factor in different preparation styles and methods of cooking, and the options quickly reach the quintillions.
But first you'd have to invite Chef Watson, a new web app created by IBM and Bon Appétit magazine. It's designed to reveal the creative possibilities lurking inside your fridge and cabinets, bringing what IBM is calling "com-putational creativity" to the kitchen. To make a dish with the free app–which launched in beta on bonappetit.com in June–you simply type in the ingredients you'd like to use, the kind of dish you'd like to eat (paella or quiche, say), and the style you'd like to try (Portuguese, French, or even something called Mad Men). Then Watson goes to work, using its cloud-based processing power to produce not one but 100 full step-by-step recipes for you to try.
Chipotle
When was the last time restaurant marketing made you cry? Chipotle's Scarecrow went viral last September when burrito fans took to its pro-sustainability message and straw-stuffed protagonist. The company is also getting attention for its comedy web series, Farmed and Dangerous, which debuted in February and spotlights issues in the agriculture industry. The campaigns' pro-environment messages "benefit any restaurant company, not just Chipotle," says Chipotle CMO Mark Crumpacker. The projects earned 13 Lion awards at this year's Cannes advertising festival.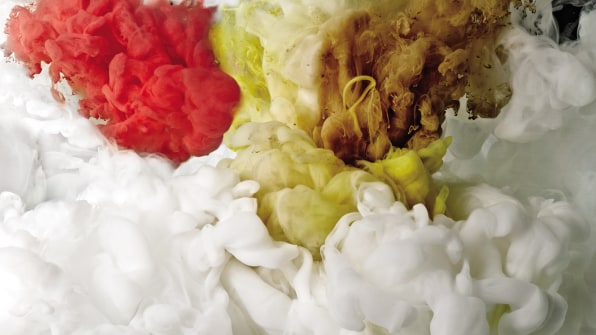 Mike McCloskey
Indiana dairy farmer Mike McCloskey dissects milk. He takes it apart, adjusts the components, and reassembles them into a tastier, more nutritious version, as well as other completely new beverages (such as his company's popular Core Power protein drinks). Fairlife, which McCloskey and his wife founded in 2012, launched a milk this year that has almost 50% more protein and calcium, half the sugar, and no lactose. It's currently available in Denver and Minneapolis; a national rollout is planned for sometime next year. "People need a more nutritious milk," says McCloskey. "It's like my wife said: 'If you can give me a product with the calcium and protein I need, I'll drink it every day.' " Even Coca-Cola is impressed; it bought a minority stake in Fairlife in 2012.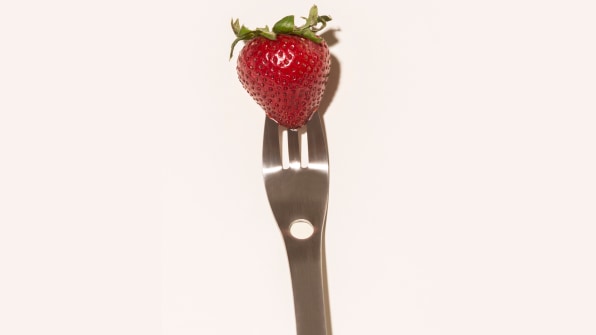 Molecule-R
Much of how we perceive food comes from smell, not taste. That's why Montreal-based kitchenware company Molecule-R created the Aromafork, a $53 utensil that uses odors to enhance the eating experience. Place a drop of one of 21 liquid aromas (vanilla, basil, smoke, etc.) on a bit of paper near its head, then inhale while taking a bite. (The aromas are made from natural and artificial ingredients.) "It allows you to make pairings that would be difficult to create in traditional cooking," says Molecule-R's Sophie Boivin, who cites wasabi-chocolate as a flavor example. Enjoy…?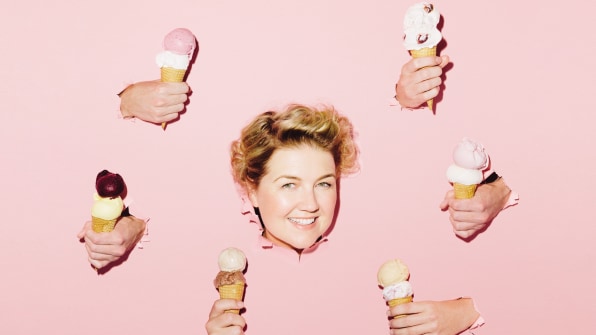 Jeni Britton Bauer
Jeni Britton Bauer's ice cream is a hit thanks to painstakingly sourced ingredients and carefully crafted flavors. And unlike many of her competitors, she makes the base from scratch. She also goes to extreme lengths to ensure quality, such as baking cakes herself for her pineapple upside-down cake frozen yogurt. The Columbus, Ohio, company's product is sold by more than 1,700 U.S. retailers, and it's on track to sell more than a million pints this year. (Jeni's Splendid also operates 16 shops in six cities.) Here's how she's won so many converts.