Imagining the future can be tricky, but one thing's awesomely clear about the future of concert-going: It won't include paying a "convenience" charge to print your own ticket at home.
More and more, seeing your favorite band play live revolves around your mobile phone. Now Ticketfly, a venue and promoter ticketing platform, is announcing the acquisition of WillCall, a point-of-sale platform and consumer app that aims to define the new concert experience.
Ticketfly currently provides the backend services for venues and promoters, but WillCall gives it an instant and direct reach to fans. The company is hoping it'll be able to further modernize the concert experience even more.
"The combination of the two companies is sort of the reimagining of live events," says CEO of Ticketfly Andrew Dreskin. "We have a very rich roadmap in front of us with technologies around really changing how people experience events, reducing friction, and it's a very mobile first experience."
Mobile is at the heart of the live show's future. It's where all the innovation is currently happening. The phone is the new ticket window, entrance at the door, and method of payment inside. It's allowing everything to be streamlined.
As concerts evolve with mobile at the forefront, fans are hoping not to relive the frustrations caused by the Ticketmaster era. New ticketing companies are trying to distance themselves from the tactics used to blatantly exploit customers.
Ticketfly does have service fees–it's currently how the company makes money–but efficiencies in operations usually keep them low. There also aren't extra charges for print-at-home or mobile tickets. The company is also exploring alternative revenue sources to further minimize fees that fans pay.
It's not just extra fees that need disrupting. Ticketmaster, the dominant force in the business, took too long to make the show-going process easier. Things like storing your concert ticket on your phone to have scanned at the door is low hanging fruit, it's now become the bare minimum.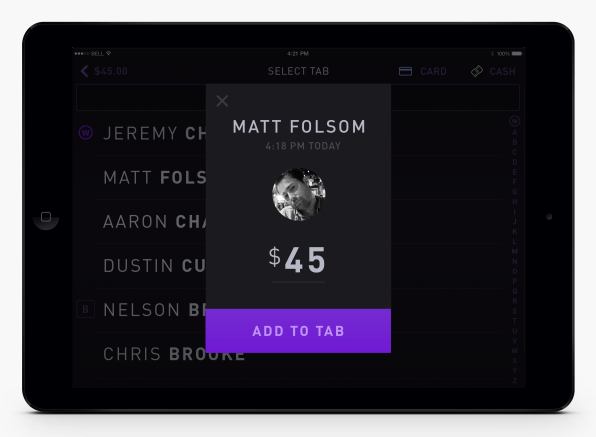 WillCall has started deploying Bluetooth beacons at certain venues, which allow them to capture sales in all sorts of new ways. Drink tabs pay themselves automatically when you walk out the door. If a fan stands next to the stage while a specific band plays, their phones can be pushed discounts on merchandise, or tickets to see similar acts.
Together, Ticketfly and WillCall are really interested in changing the concert experience from the time someone walks up to the venue, until they leave. The proposition is great for the fans, but it's also not altruistic–it's a way to get more money out of consumers. Venues with beacons would be able to start collecting data to mine: Which type of music has the biggest draw? Which artists bring in fans that buy a lot of concessions?
"We're starting to hear from segments in the industry that all things being equal they'd rather play a Ticketfly venue than a non-Ticketfly venue," says Dreskin. "We think that's going to continue in the future and this is really driven by data."
While Ticketfly is focused on the roughly 80% or 90% of tickets set aside for the venue and promoter, the other side of the coin is tickets the artist can sell. That's what another startup, CrowdSurge, is focused on. It's a ticketing platform building and improving the ticket-selling experience for artists.
"By enabling artists to go direct-to-consumer with a portion of their tickets, CrowdSurge is able to collect data on their behalf that is generally unavailable to them from traditional ticketing companies," says CEO of CrowdSurge Matt Jones.
This type of rich data is crucial to artists. It gives them insight into where their fans are and better ways to monetize their music. The band R5, as an example, used CrowdSurge's collected data to strike better deals in markets they'd never played before.
Using a platform like CrowdSurge is also about taking control of the fan relationship. Improving the process of buying tickets, and possibly merchandise in the future, goes along way toward making fans more comfortable spending money–but today, it takes a trail of data to put on a killer show.