Jessica Thomas, a 24-year-old resident of Brooklyn, is as tech-savvy as they come. She juggles her busy calendar on her BlackBerry (though her friends make fun of her for still having one) and often uses an iPad to work on school assignments.
Mobile technology helps her manage her jam-packed life, in which she struggles to avoid burnout while working one full-time and two part-time jobs, in addition to pursuing a degree in accounting at LaGuardia Community College. For her, Google Calendar and Gmail are excellent tools, but in a world where most app creators are bent on easing the problems of the lazy and privileged (order pizza with only one tap, instead of two!), she finds there is little smartphone software truly tailored to her needs.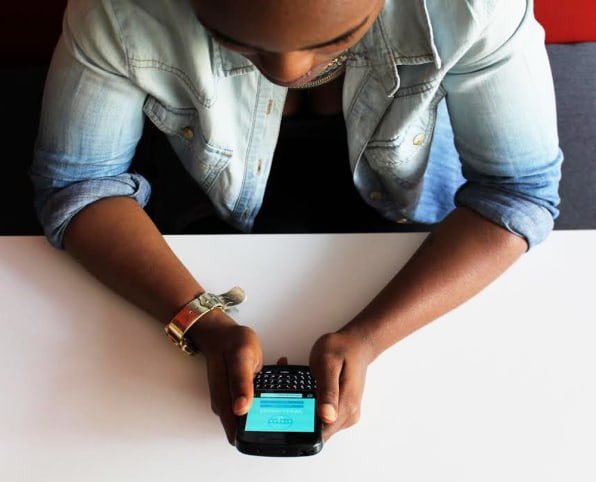 Thomas was a participant in Significance Labs, a New York City technology incubator that is working to change this situation as a growing percentage of low-income individuals come to own smartphones or tablets.
"We see lots and lots of ways in which technology is improving our lives. It's making our day-to-day lives more convenient," says Significance Labs co-founder Hannah Wright, speaking of her general cohort of relatively well-off, educated urban professionals. "The question we want to answer now is: How do we build technology for low-income Americans?"
One reason for the lag in software serving the 25 million U.S. residents who earn less than $25,000 a year is a knowledge gap, says Wright. Despite good intentions, the fellows and developers coming to Significance Labs from companies like Facebook and LinkedIn don't have much intuitive knowledge of, say, the needs of a working mom or the technology habits of a domestic worker.
To fill in this lack of data, the incubator program began its work by conducting broad surveys and focus groups with low-income device users like Thomas, learning things that weren't obvious to them. Many people they talked to, for example, were Android users who didn't have data plans, but connected to the Internet on their devices via public Wi-Fi hotspots like at their local McDonald's. Some deeply distrusted giving out their email addresses, billing information, and other personal details in a way that's not commonly seen in higher-income youth, but their distrust is not misplaced. There's actually a long history of scammers that target vulnerable populations, says Wright.
Each of six Significance Lab fells had three months, $50,000, and a team of designers and programmers to help them build a prototype app. Importantly, each team member earned the same amount for their participation–$25 an hour–as the low-income individuals like Thomas who helped them develop and test their concepts.
Thomas, who has worked for the last six months as a self-employed housekeeper, specifically advised one Significance Lab fellow, Ciara Byrne, as she developed a mobile site called NeatStreak, a bilingual tool that helps domestic workers manage their own clients–even doing a mock cleaning to show what her day is like.
"It's so awkward to communicate with clients," says Thomas, who is excited about the prototype product that Byrne and her team developed (Full disclosure: Byrne has written for Fast Company as a freelancer). "It was nerve-wracking when you had to talk to clients about money. I was letting things go because I didn't know how to communicate effectively in a normal, not nervous way."
Through a simple web form and checklist, NeatStreak helps a cleaner and her client form agreements on the list of cleaning tasks and their cost, avoiding misunderstandings that come with language barriers and messily scrawled notes left on the kitchen counter. It aims to change perceptions of the nation's 1.5 million domestic workers who are often viewed as a menial labor class in an unregulated industry but are just as often entrepreneurial professionals who take pride in their work.
"It makes it simple for us," says Thomas. "I can say this is how much I'm charging you for this week, but it might be extra for this next week."
Like the other projects from this first class of Significance Lab fellows, which include an app for filling out food stamp applications and one to help busy students organize their priorities to get to graduation, NeatStreak does not yet have a full business plan. Wright is looking to help each continue to develop their project–whether by raising money through grants or investments or creating a sustainable revenue model.
Significance Labs, which is funded by the Blue Ridge Foundation, will be running additional programs next year and is considering expanding. But its main goal is to see more developers take an interest in serving the low-income demographic on their own. Says Wright: "The most important thing that we can do is use this project to demonstrate to entrepreneurs and tech firms and the folks that are building all the great technical innovations that are currently aimed at middle- and high-income Americans that this is a viable model."