RedBrick is a health care company built by people who have been working for a decade to hack human responses. "Everyone knew engagement was a key measurable," says Eric Zimmerman, RedBrick's chief marketing officer, of the tech community then and now. "But changing behavior was a different battle."
The Minnesota-based startup is part of a growing list of companies working to monitor and influence patients. California's MC10 and Proteus use wearable tech and ingestible sensors, respectively, to let doctors track their patients. Instead of getting into your body, RedBrick gets into your head, working to help people do anything from quit smoking to lose weight en route to better health and cheaper premiums.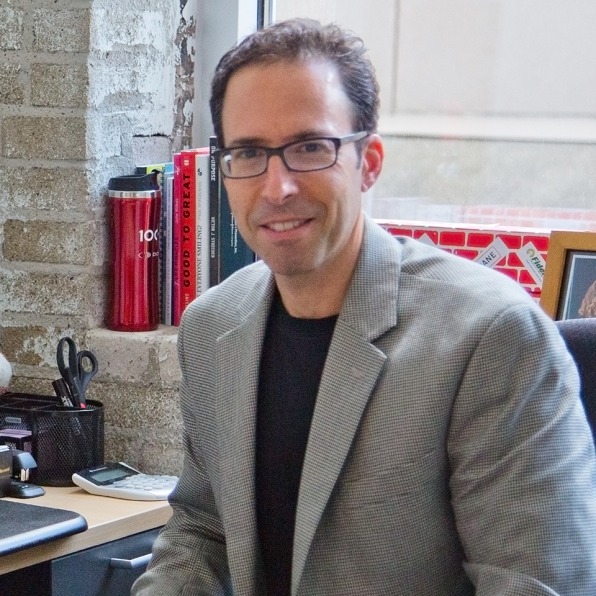 Major regional employers have incorporated RedBrick into their health care plans: Clients include health care giants such as Medica, as well as regional employers like Cargill and American Family Insurance.
In addition to making employee coverage cheaper, "A healthier workplace meant increases in productivity, in morale and a better place to be employed," Zimmerman said during a conversation at the company's headquarters in downtown Minneapolis.
The framework came in the mid-2000s, when RedBrick founders Kurt Cegielski and Kyle Rolfing founded Definity. The company provided users with personalized health care road maps for selecting health care plans and medical procedures. While that was gobbled up in a merger with UnitedHealth Group, the group had found a key piece for changing the way people looked at health care.
"You had to make people feel in control," Zimmerman said. "They had to think they were really spending their own money, that health care wasn't just some benefit they had for working their job."
To understand the evolution from Definity to RedBrick, it helps to understand the the Fogg Model of Behavior, something Cegielski and Rolfing would eventually bake into the new company's DNA. Professor BJ Fogg of Stanford University, determined "triggers" are the key to changing behavior, and the most effective triggers lie within the reach of that individual's ability: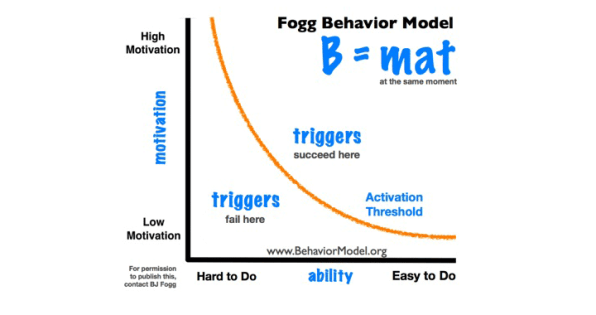 So, whereas Definity focused on supplying information, RedBrick focused on finding triggers wherever they might be. The user can get behavioral triggers via text, a phone call from a support person at RedBrick, or a social media post–users can join a Facebook page designed by RedBrick for a specific company or request prompts via DMs.
"Someone who is a floor worker and doesn't do a lot on social media at home isn't going to utilize a support group online," Zimmerman pointed out. "But what might really help is a phone call each week for that person." Put that trigger outside of his ability–a tweet to that floor worker or a voicemail to a millennial who relies on texts–and the customer never gets the message to throw their cigarettes in the trunk of their car. (One of RedBrick's specific and actionable directives.)
To identify the proper trigger, the company surveys its users about their life, their health, and how they like to communicate. From that, the company engages the users by creating an experience just for her. For example, if she thinks she's experiencing too much stress in her life RedBrick invites her to commit to 15 minutes of meditation into her day, reminds her to plan a healthy dinner that morning (instead of 15 minutes prior to 6 p.m.) and suggests other calming experiences–such as white noise while she sleeps. If she needs a doctor's visit, RedBrick can help her find, say, the cheapest or nearest place to take stress test, using data RedBrick collects data from around her geographical area.
"A lot of different platforms will offer one of these things, then perhaps another," said RedBrick marketing director Melissa Hohertz Foat. "This ties it all together."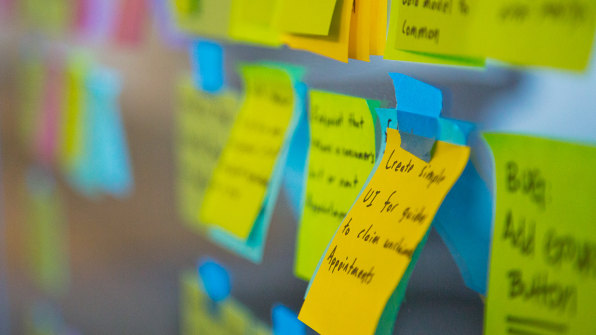 The triggers worked for Christine Kenson, who was able to use RedBrick to drop 18 pounds and bring her cholesterol down. For her, conversations work. "They've been patient with me," Christine said of the coaches. "They don't make me feel like I'm dumb. I've had four different coaches, and they're all wonderful ladies. [The program] is a beautiful way to introduce people to a healthier lifestyle."
Zimmerman, for his part, gets a text each night to remind him to turn off his electronic devices. "Otherwise I'm in bed reading a tablet until who knows when," he says. The tablet itself knows–and that's why it may be the best tool to nag Zimmerman to hang it up for the night.
The process may not stop at health care. RedBrick is researching ideas to apply its system to such things as financial planning, where information, ideas, and behavior triggers might help provide solutions to money problems–such as the upcoming wave of Baby Boomer retirements, or Generation X's amazing lack of savings savvy.