GIFs have been around forever, but have recently exploded in popularity thanks to Reddit, Tumblr, and the advent of GIF-making smartphones. But hot as they may be now, GIFs are like wild animals roaming free in the digital plains–there's no centralized hub for them, a la YouTube, and just the act of storing and rendering lots of these things can take a shocking amount of compute power. Those challenges (and others) have led to something of a cottage industry in GIFs, hoping to capitalize on the boom.
But can GIFs be wrangled into something useful or profitable, or are they more elusive, like the Internet's own graffiti?
"Every product or service has this period where it's like–okay, you've made something awesome. How do you make money off of that?" says Drew Dahlman, creator of GifMe, the browser extension and mobile app. Dahlman, 26, is a web developer from Denver who created GifMe after inspiration struck during a lazy Friday afternoon at the office.
"I went home and spent the weekend not sleeping and writing the initial prototype. I launched it on Monday morning," Dahlman says. GifMe started in 2013 as a simple Chrome extension to save, tag, and search GIFs online but has since grown to include a Safari extension along with iOS and Android apps. Today GifMe has over 30,000 users with an average of 2,000-4,000 GIFs being saved and tagged each day.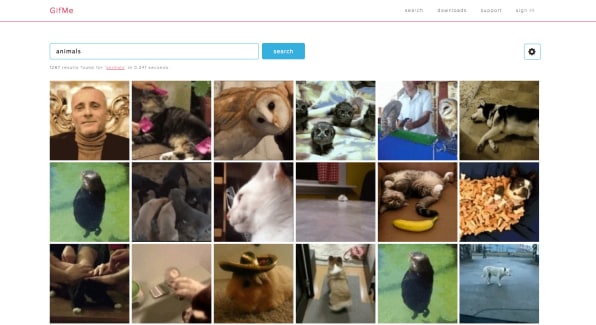 Immediately, hosting became an issue. "Instead of linking those GIFs, do I just save those GIFs and become an image host? Do I take on that responsibility?" And the cost? How do you know if a trend like this is worth the investment?
GifMe's consistent growth has made Dahlman confident in its staying power. He's turned to advertisements to offset the cost of server space. "So many people hate advertising, but it's the nature of the beast," Dahlman tells me. "If you create something and make it great people will come. As more people come and use the service you can create a perfect spot for monetizing and making it even better." Hosting images also provides Dahlman with a way to build brand recognition. "Seeing a GIF with 'gifme' in the URL is a super-subtle way to interact with the brand."
Joseph Mueller is another developer dabbling in the GIF economy. He actually taught himself to code just to make Gifit, an iOS GIF repository. "If you have the drive to learn, app development is the best way to learn how to code," Mueller says.
Ever-increasing data speeds help Mueller bet on the future of GIFs. "I like to use Harry Potter as a reference, with the moving image newspapers and paintings. I can see media outlets paring animated images with their headlines," he tells me.
The 21-year-old University of Minnesota student had never touched code before developing Gifit. He recruited some freelance developers to create the framework and learned to tweak it along the way.
Because the GIF trend could evaporate as quickly as it appeared, the MVP concept is really useful for these two developers. Mueller decided not to spend lots of resources testing his. To hone usability, he didn't canvas strangers or use feedback apps. "I would hand my phone to friends at a party and not tell them anything about it just see what their reaction was," Mueller told me. Preliminary development for Gifit took around two months. "To get it to a point where I could hand it to [a friend] and they would say 'wow this is really cool' without saying anything to them. That was the goal." And it was free.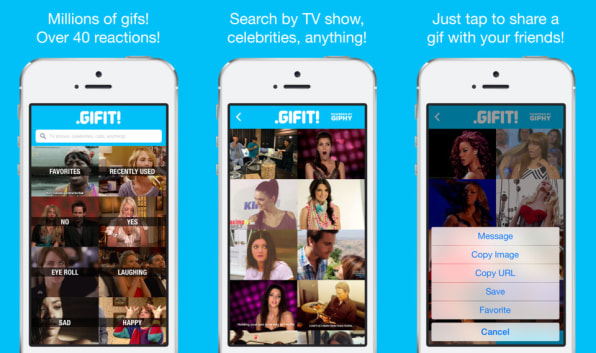 Promotion on Twitter and Reddit helped download numbers for Gifit grow from 300 downloads per day to 6,000. Gifit rose to the top of App Store categories in countries like Spain and France. Mueller estimates 2,000 people arebusing Gifit daily and hopes to achieve 100,000 daily users in the near future.
Dahlman harnessed Reddit's vast user base to promote GifMe, gaining 3,000 users within a week of posting in /r/chrome. Reddit turned out to also be an effective, free resource for bug reports and user support. By utilizing a dedicated subreddit for GifMe, Dahlman is avoiding the cost of outsourced app testing while simultaneously creating a community for his users.
Chat apps like Facebook Messenger and Line are making millions selling stickers as in-app purchases. Stickers are proprietary, simple, and easy to sell. GIFs, on the other hand, are messy, with large file sizes and no quality control. Most importantly they're still free to make, use, and search for. These GIF apps will need to offer an exclusive experience in order to see profit.
"There is no money to be made with GIFs, not directly at least," says Dahlman. "The money that can be made comes from services that surround them. People love to collect things. People who love GIFs know that there is something special about them." His goal is to create value by streamlining GIF discovery and usability. Whether sharing GIFs with friends in a text conversation or engaging in a GIF battle with a stranger on the Internet, Dahlman is banking on GifMe being the go-to source for users who need the perfect GIF at the perfect moment.
Mueller has no delusions of grandeur about striking gold on GIFs. "I don't think there's necessarily millions to be made with an app like this, but there's a potential that I don't really know how to assess quite yet. [But] to have thousands of people using something that you made, every day, is pretty cool."