America's restaurants and bars cater to a thousand different varieties of palate and preference–lovers of offal, whisky aficionados, those who prefer things pickled and on small plates, and so on. But the humble menu has not caught up in terms of variety and inventiveness. Far too many of them, in fact, look exactly like this.
And then there is Trick Dog, a relative newcomer to San Francisco's dense and varied bar scene, which has become a local darling thanks in part to its menus. Not what's on the menus (though that rightfully gets many excited), but the menus themselves.
Rather than place the evening specials on a chalkboard and laminate regular offerings on a piece of paper, Trick Dog has employed everything from Pantone color wheels to maps of must-see destinations in the city and albums full of old 45s to advertise its offerings. The bar's seasonal menu updates have inspired a social-media gold mine of posts, tweets, and pins.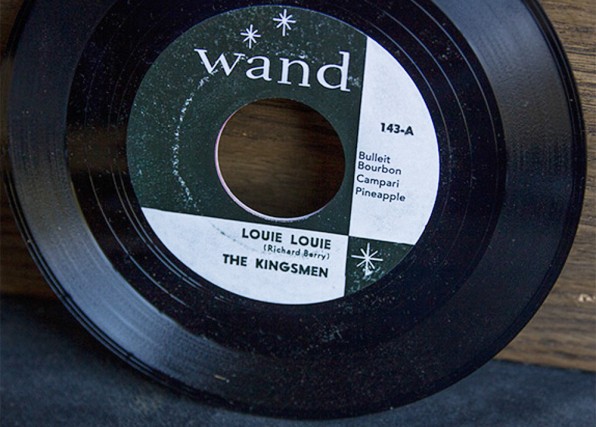 "The thing we come back to in talks about the next menu is we never want it to be just drinks written on a piece of paper," says Morgan Schick, a designer and bar manager. "But drinks written on a piece of paper are functionally the best; that's why everyone does it that way–it works. So we want the utility of things listed on the piece of paper plus the added experience of having the menu tie into the fabric of the room you're in. That's the crux of good design."
The initial Pantone wheel allowed customers to compare multiple drinks side by side, but it was frequently stolen by admiring patrons. Schick riffed on the wheel idea again with the menu's next iteration, an album full of 45-rpm singles–still round (and with drinks printed on the center labels), but harder to swipe. Next came a Zodiac wheel. "The process is refined every time," Schick says.
Trick Dog, a modern, minimalist Mission District spot, is the first brick-and-mortar bar for The Bon Vivants, a local hospitality consulting group specializing in the world of booze. The group just won the 2014 Spirited Award for Best Bar Team in America at the annual Tales of the Cocktail conference; its work was nominated in three other categories, including best American cocktail bar and world's best cocktail menu.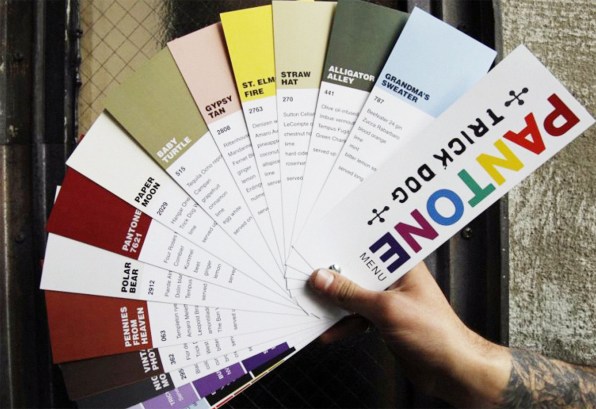 Josh Harris and Scott Baird, the cofounders of Bon Vivants, met the way you'd expect two sip savants to–while working behind the bar at San Francisco's 15 Romolo. Baird had a more traditional background in cooking (though also in floral design); Harris was on his way to law school.
Early Bon Vivants' work focused mostly on bar and restaurant design, including Quince, a Michelin-star restaurant in the Bay area. David Lynch, Quince's wine director at that time, told Food Arts that the duo was the restaurant's "tunnel to what's cool.")
Currently the Bon Vivants team walks the delicate line of designing for others and their own space, but Schick sees it as a positive. "One of the nice things about having multiple outlets is we all have more ides than you can use in one place," he says. "And ideas aren't necessarily good for one place. When a project comes a long, now we can say 'Oh, what's that thing we were talking abut four months ago? It's perfect for this,' or 'That thing that wasn't right for Trick Dog, this is the project for it.'"
After opening their own bar last year, the group has taken on everything from label design to the massive undertaking of creating events around the country, working with major industry players like Absolut, Pernod Ricard (which owns Absolut alongside brands like Malibu, Kahlua, Seagrams, and Jameson), and Tales of the Cocktail.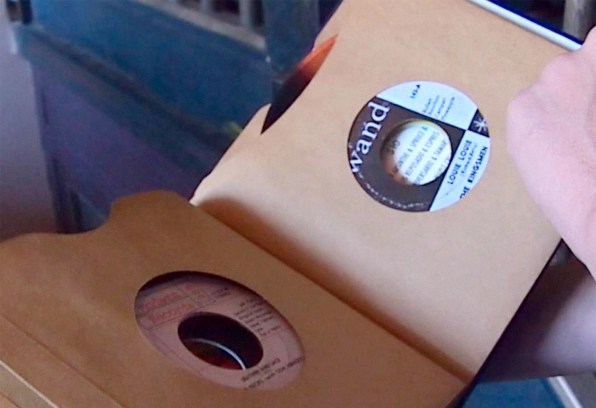 "It started with 'We need you guys to come up with a competition and run it,'" Harris says. "Now it's evolved. 'We're coming up with a new product, here's the idea. Will you guys come up with multiple iterations, write the back-label story, consult us on the packaging, and then help us bring it to market? Then let's talk about taking it international.' It's scary, but scary in a good way. It's a compliment to your hard work when people give you a call like that."
Whether dealing with bar or brand, Harris says each design element must work together or it feels off to customers. That's especially true in savvy, scene-obsessed markets like San Francisco, where a menu can be Instagrammed and shared before a first sip is even taken. Looks are everything, and a lame-looking menu is just as bad as a gin and tonic with yesterday's limp lime wedge. "Before you drink it, you're like 'Ah, man, this place is weak,'" Harris says.
"A majority of people get to a place where they love or won't love the cocktail they're going to try before the drink ever hits their lips," Harris says. "The menu plays a role, but also what your front door looks like, what your doorman says, what the bartenders are wearing, what the drink looks like, what glassware or garnish is used–all that is critically important. You're setting customers up to have a flavor experience so they can put a drink to their lips and say, 'Ah, man, I love this.'"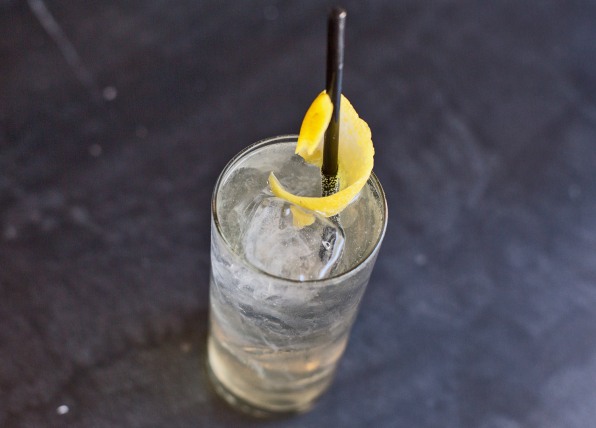 While there are a plethora of analytics available for hospitality professionals, like studies on how people move through a space or what menu language may work best, Bon Vivants ultimately relies on experience. It's why they aren't afraid of using lesser-known ingredients in house cocktails (what better way to engage with a bar than to talk with a friendly bartender?) and their barstools come with three different places to rest your feet (after all, they had friends of four different heights do trial runs).
"All of the things you put into a bar, or restaurant, are there to facilitate social interaction," Harris says. "So you watch and respond, and watch how they manifest in other bars as well. When we started Trick Dog, we did a list of the bars we loved and didn't love out of this well-regarded group, and the good ones had really honest, natural energy. We want to facilitate that, because the last thing you want to do is be uncomfortable at a bar because of some file on a computer."