When Rabbit, a video chat application that lets far-flung friends watch Netflix and YouTube together over the Internet, debuted last year, it was plagued by a not-insignificant problem that snowballed into something mission critical: It was Mac-only.
Originally, the team behind Rabbit wanted to avoid the fragmentation that comes when you build an app for too many platforms. But, in order to use the it, you had to install plugins and accept a bunch of permissions, including logging in with your Facebook account. Using it wasn't easy. It was bloated, and, well, clumsy.
So the team went back to the drawing board with the goal of launching a new, more lightweight Rabbit that played nicely across different platforms. If you were going to build a product around the concept of sharing an experience, the thinking goes, you needed to strip it of as many of the old version's barriers as possible.
Hence the new Rabbit, launching today: a web app that anyone with a browser can access thanks to WebRTC. "We watched how people interacted with it," Rabbit CEO Michael Temkin tells Fast Company. "We needed to make the experience completely frictionless, and WebRTC was quickly becoming standardized across browsers."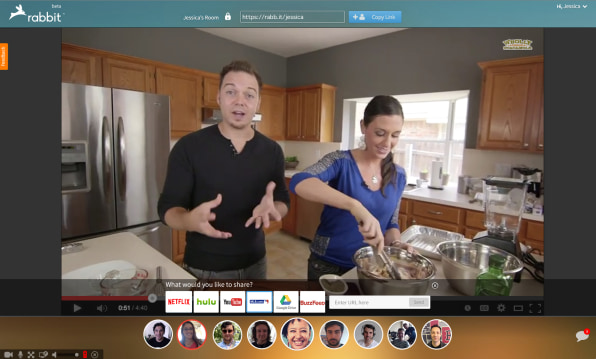 The goal was to create an online experience that re-created what it was like to watch a movie with friends IRL. "We saw that the ability to see people's faces while watching something causes them to stay and interact," says Temkin. "We've been doing a friends and family private beta, and we found that the average chat time is 77 minutes."
Yes, seventy-seven minutes.
Rabbit works like this. Once you fire it up in Chrome and grant it access to your webcam, you're ferried into a room. Once inside, you can share all kinds of in-browser media: Netflix, Hulu, YouTube, MLB.com, and even collaborative documents in Google Drive.
All the while, Facebook-style Chatheads remain at the bottom, and the service automatically lets whoever wants to talk, talk. Text-based chat is an option if you'd like. No plugins or logins are required. To share a room with friends, just copy a link and send it to them.
The potential applications are broad; businesses can use it to host conferences, Temkin stressed. But part of the difficulty for Rabbit will be playing nice with content providers while toeing the delicate line between sharing in the act of watching stuff together and violating copyright in the form of a broadcast. Interestingly, HBO isn't an initial option to screen-share.
"They [Netflix] allow account sharing for up to six people," says Temkin. "In the current version we don't have public rooms, anyway. You can't share it outside of a small group of friends. Right now we respect their rules."
Pre-roll ads and other revenue-makers are still forthcoming, but nevertheless, Rabbit–which I've had the opportunity to try out for a few days–is speedy and easy to jump into. If all proceeds as planned, it could make it easy for couples to binge-watch Twin Peaks together–even if there's a continent in between them. The most promising part about Rabbit is it preserves the forgettable minutiae that only comes when you experience something with someone close to you; someone you can do boring stuff with. It gives you the intimate ability to turn to them and say, "Holy shit. Please tell me you saw that, too."