An IT guy, Ed Konowal, wanted to bring a bit of the analog world back to his office; he stared at computers for too long every day. So, rather than tracking his clients' Internet usage on digital graphs for hours on end, he created a system called the Internet SteamGauge, to let him track bandwidth on an antique steam pressure gauge that he found on eBay. That way, he could break up the time he spent staring at his screens.
"When the Internet SteamGauge makes an unexpectedly large move, the subtle sounds it makes while moving are enough to attract my attention and find out what happened to cause the large change in our network traffic," Konowal says.
This past week, SIGGRAPH's art gallery displayed Konowal's steam gauge at its annual conference in Vancouver, having beat out other arts submissions. Now, he's raising money to be able to make his system available to anyone who wants to set up his or her own steam gauge to monitor how much Internet bandwidth he or she is using.
As the "Internet of things" becomes a reality, this sort of comfort–disguising digital acts as part of the friendly, familiar analog world–might become more commonplace.
For the SteamGauge to work, a Raspberry Pi computer reads out the Internet bandwidth from an Internet router, where it retrieves a readout every 10 seconds. It then sends the signal to an Arduino microcontroller, which relays it to a servo. Finally, the servo moves the gauge's needle. The steam gauge then reflects the bandwidth in megabits per second.
Konowal wrote a Python program to get the Raspberry Pi to communicate to the router. The bandwidth is averaged over 10 seconds and normalized to the pressure gauge's measurement range. Funders can tweak the program to average over different time intervals, and depending on what type of steam gauge a funder chooses to use, the scale can vary.
The steam gauge that Konowal uses is a one-of-a-kind. His specific steam gauge starts at zero megabits per second and ends at 200. The gauge's supplier in Scotland guesses that it dates back to 1914 and was either used on a boiler or steam generator.
When Konowal conceived of the SteamGauge five years ago, he wanted to have the steam gauge measure his clients' Internet bandwidth wirelessly but realized that it would eat up the batteries with the 24/7 monitoring. He shelved the project for a couple of years. He took it back up last year, but getting new-age devices to comply with old-world gadgets didn't come without its trials and tribulations.
The trick to getting the steam gauge to link up to the Internet router is SNMP, or the simple network management protocol. Konowal uses commands of this type for the Raspberry Pi to communicate with his Internet router.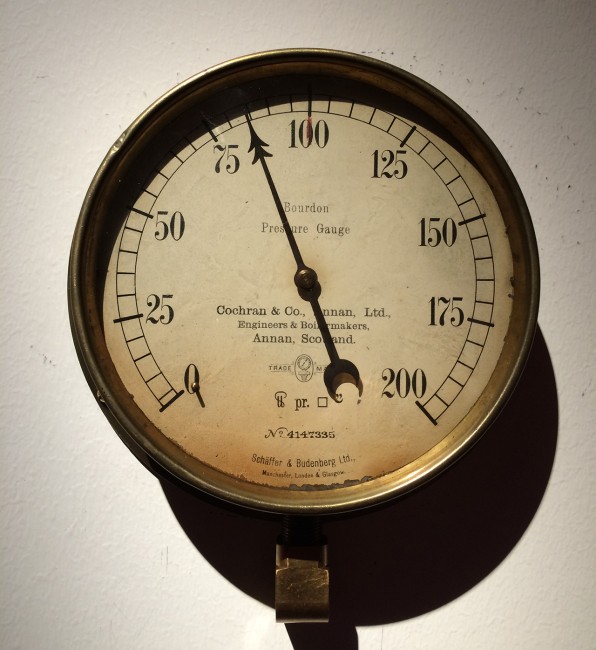 Once funded, the ideal product would be an all-in-one kit. But a couple of things are preventing that from happening. The first is finding a manufacturer that could create replicas of Konowal's antique steam gauge. And second, setting up the SNMP communication with the user's Internet router is not one-size-fits-all. Either Konowal or a network expert would have to help the user set up the SteamGauge. Mainly, though, finding a manufacturer to make beautiful steam gauges has proven difficult.
"I don't think a kit is appealing without including an attractive gauge," says Konowal.
For now, select Kickstarter contributors will receive piecemeal components of Konowal's SteamGauge system. Most everyone will receive the Python program, and others will receive a card to use directly with an existing Raspberry Pi. Some funders will receive a sleek Raspberry Pi enclosure that Konowal found on an earlier Kickstarter campaign. And mid-level contributors will receive everything but the gauge, inclusive of the Raspberry Pi and Arduino hardware. Of course, Konowal can just build one for you.