People move to Los Angeles every day to embark upon careers in the promised land of show business. Most of them end up dwelling in entertainment purgatory. Nobody knows exactly which factors set people on the path from nowhere to somewhere, but talent is only part of the equation. The rest of it seems to involve some dark-arts combination of making connections and working your ass off. For Matt Mira, both happened once he became a Genius.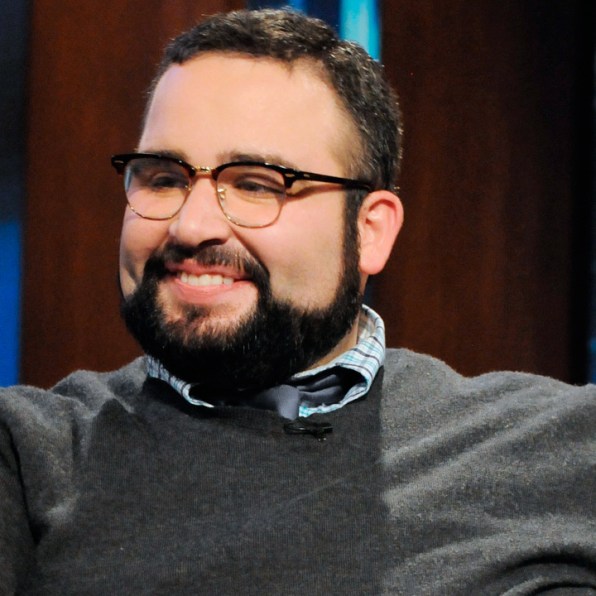 Like many other ambitious young writers who have bills to pay, Mira began working at a job completely removed from the field he hoped to conquer. He was an Apple Genius Bar employee, toiling away the hours with dysfunctional iPhones. Amazingly enough, though, it was this very gig that indirectly launched Mira's writing career and took him where he is today.
It's tough to say how Mira is currently best known. Over the last four years, he has become familiar to comedy fans as one-third of The Nerdist–both in podcast and, later, TV-form–alongside cohosts Chris Hardwick and Jonah Ray. He also divides his time between another podcast with film producer Scott Mosier, and a writing job on Comedy Central's @midnight, which Hardwick co-created and hosts. As the projects he works on continue evolving, it will probably get more difficult to pin him down.
Mira's story is one of not only creating opportunities, but also rising to meet the ones that happen along. Recently, the writer and comic talked to Co.Create about chance encounters, gradually quitting a day job, and why figuring out how to work the comedy machine is harder than getting an iPad to work.
Mira moved to L.A. from Boston to become a comedy writer. While he was working at the Apple Store during the day and performing at open mics around the city at night, he met two people who changed the course of his life and career. "I sold Chris [Hardwick] an iPod case one day, and then we just started talking about comedy. He said he was doing a show that night at UCB [L.A.'s Upright Citizens Brigade Theater] and asked me if I wanted to come. I went and then we stayed in touch and started having lunch sometimes. He helped me figure out how to get booked on shows in L.A. and further my standup. Not too long after that, [comedian] Jimmy Dore came to the Genius Bar too and we had a nice little rapport. When he was starting a podcast, he thought to ask me how to do it. What was funny was I had no idea how to produce a podcast–I had to buy a book and learn how to do it in about three days.
Jimmy Dore's podcast, Comedy and Everything Else, achieved a moderate amount of success. Taking a chance with an upstart competitor was a big risk, but it ended up paying off. "After I started doing the podcast with Jimmy Dore, I sort of stopped with stand-up. I figured I was getting my fill doing the podcast. At about 80 episodes, though, the show was turning into something of a chore. I felt like creatively I wasn't really doing anything. At the same time, Chris had asked me to write some stuff for the Nerdist site, which was in its infancy, and then I hadn't heard from him in a while. I was actually in the middle of drafting an email to get back in touch with him the moment he emailed me, asking if I wanted to be on a podcast and help him produce it. I had been trying to get him to do a podcast for years.
We met up right away to figure out, like, 'What should this be?' 'What kind of guests should we have?' Then we launched. There was about a week of overlap where I was still doing both podcasts, but then I told Jimmy this was going to be taking up more of my time."
Before Mira could fully commit to writing comedy and doing podcasts, he had to do some serious thinking about his day job. "The real change in my life was when I decided to go part-time at the Apple Store. I looked at the minimum amount of money I could get by on, and cut down my hours accordingly. Every other minute was focused on what I actually wanted to do in life. I feel like a lot of people are afraid to take that step, and I was afraid too, but it just came to a point where I realized I have to do this. I can't keep going home with no brain power because I'm dealing with shitty people with broken iPads. You can't let a day job stop you from doing the thing you're most passionate about. For me it was, 'I'm gonna keep doing this podcast, doing standup at night. If I'm tired at work, I'll work fewer hours, but I've got to do this.'"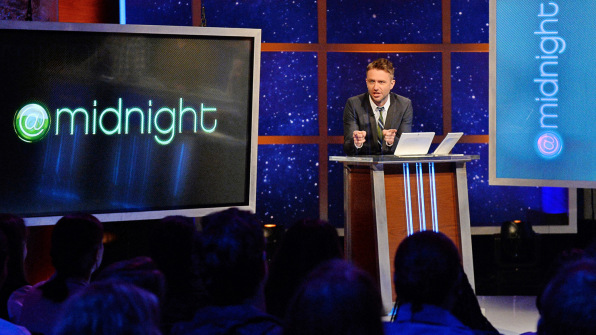 By 2011, the Nerdist podcast had become popular enough that BBC America wanted to shoot a pilot for a TV show version. Mira wrote for that project with Kristen Rutherford, whose husband Vinnie was executive producer of G4's Attack of the Show. After meeting socially a number of times, Vinnie invited Mira to apply for a senior segment producer position on the show. (It was during a genius bar appointment, naturally.) He took the job and left the Apple Store, but soon found himself working more than ever.
"Attack of the Show was the single greatest training ground for television. We were on TV 50 weeks a year, doing four live one-hour shows every week. Everything was at 100 mph over there and you had to get it done regardless. There was no better way to learn than to go there and just crank out, week after week. A lot of it is stuff I'm still proud of, too. There's some filler, granted–I mean, how many times do you have to hear about an Angry Birds game? But it was really the best training ground. After leaving that show I felt like I could do anything in television. Because you had to do everything over there. You had to come up with concepts, write your segment, be on camera. As far as TV is concerned, I now think I can do anything. And I'm waiting to be proven wrong."
Chris Hardwick collaboratively developed and hosts the hit Comedy Central show @midnight, and Mira earned a job writing for the program after a trial run at the Meltdown theater in L.A. (The show's original title, according to Mira: Tweeterdome.) A chance encounter with film producer and podcaster Scott Mosier in line at customs for entering Montreal lead to Mira's other new gig: a second podcast called Four Eyes and a Beard . . . and perhaps some other opportunities.

"I've just found the more I write, the more my voice is sort of honing itself. I'm working on stuff with [Scott] Mosier right now that you may be seeing soon. He and I have a very similar sensibility and our writing is sort of growing out of that. But like with anything, I think it's all about repetition. Those @midnight shows are so much easier to put together now, because we finally figured out how the machine runs. The process is evolving. When you start a show, nobody knows how the show works. The show tells you how it works the more you do it. You just have to keep doing it."