Last February, Tory Burch got a gift from her staff to mark the 10th anniversary of her first store: a coffee-table book chronicling the company's first decade. Every detail was perfectly on-brand, from the volume's cloth cover (in a blue hue called "Tory Navy" that appears in every collection) to the numerous photos of family and friends. Though it contained few words, the book illustrated perfectly the cornerstone of Burch's success: "It's all about storytelling," she said one morning as we sat at the kitchen table in her apartment, where the brand began. "It's years of stories."
This has been Burch's great strength and true innovation. While she had no formal design training or prior entrepreneurial experience, she spent a decade in PR and marketing, working for Ralph Lauren, Vera Wang, and Narciso Rodriguez. "When there's a wonderful story about the product, it tends to resonate with customers," says Neiman Marcus CEO Karen Katz. "From the beginning, Tory has understood what women's lives are about. She lives the life herself–she's a busy working mother. She has walked in those shoes."
Burch struggled at the start with her brand's personal nature; it was originally called "Tory by TRB." "Honestly, I'd tried to get 10 other different names that had nothing to do with my name, but there were copyright issues," she says. One night, she sat next to the jewelry designer Kenneth J. Lane at a dinner. "He said, 'The name is ridiculous! Change it!' He was right. It took me two years, but I changed it. It was a learning experience, and it was especially hard for me because I'm not one to always love being in the spotlight."
No other major lifestyle brand so reflects its founder's personal history season after season. Her main muses have been her parents, Buddy and Reva Robinson–and specifically, the 1960s and 1970s incarnations of them. Burch's anniversary book indicates how important Buddy and Reva have been: Its first spread celebrates Buddy, who died in 2008. The second honors Reva (for whom Burch's famous ballet flats are named). The third: Buddy and Reva. Tory doesn't even appear until page 9, and even then, it's just in a grainy, black-and-white photo with Reva.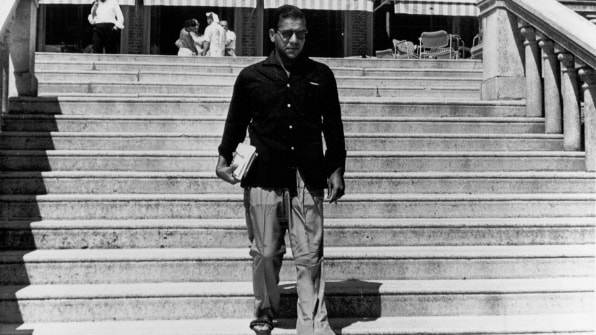 Buddy and Reva were both stylish dressers who imported inspiration. "We took a six-week Mediterranean cruise every summer," Reva recalls. If they had any guilt about leaving the kids with Grandma, they bought their way out of it with souvenirs–one especially luggage-heavy year, it was a dozen sheepskin coats from Morocco. Though they couldn't have known it then, this helped provide Tory's informal education in global design.
Click through her online properties and social-media feeds and you'll find numerous products bearing loved ones' names–Robinson handbags, a picture frame honoring her twin sons, home products named for her grandmother. It all adds up to an unusual sense of access. "Consumers worldwide have significant distrust–and growing distrust–of organizations," says Stanford marketing professor Jennifer Aaker. "But people do trust people. What she tweets about and blogs about and talks about–it's not just about her clothing. You don't feel sold to. She's very authentic."
When your brand is your name, it's also an invitation into your story, so a great storyteller must be a great host. Hayley Boesky, one of Burch's roommates at Penn, recalls that Burch would sit down in the dining hall "and she'd pull this really great salad dressing out of her purse," ready to share. Her family farmhouse, 40 minutes from campus, had an open-door policy. "It didn't matter if it was stray animals or stray people, or two people or 50," Boesky says. "Tory's family took them in. Reva would house and feed everybody."
This instinct pervades the brand of Tory Burch. Over the months I spent shadowing her, there wasn't a day when she didn't ask if I was thirsty or hungry. Often, she didn't wait for me to answer; she'd just fetch water or ask her assistant to order us lunch. I wondered whether it was the mom in her–or just the media-savvy entrepreneur. But whenever I visited her stores incognito–I even put on grubby clothes to see how shop staff would treat the atypical Tory Burch customer–I encountered similar hospitality.
Retail chief Matt Marcotte, whom Burch hired from Apple, says his goal is "to make the customer feel better about themselves," whether they buy anything or not. Step into a store–all designed by Daniel Romualdez, who also did Tory's homes–and you'll find mini-fridges stocked with Coronas, soft drinks, and juice boxes, plus iPads for non-shopping visitors loaded with Sports Illustrated and games like Angry Birds. The overarching idea: You're Burch's guest. "You feel like you're getting a peek inside Tory's house," says Marcotte. "It's warm and happy."
Tory Burch's social-media team has carefully cultivated numerous points of potential connection for consumers. Burch "is all about the 'and'," says creative director Honor Brodie, who oversees the Tory Blog and social media. "She's a tomboy and she's feminine. She's an entrepreneur and a philanthropist. A mother and a sister. The person who went to Penn and studied art history and the person who loves to play tennis and the person who throws great parties. So consumers can enter the brand all different ways."
The diverse dinner party may be the best metaphor for the strategy that Brodie's team deploys daily on the Tory Blog. "One day, there might be an interview with a musician. Another day, it might be a conversation with an author or something about an artist. People love the entertaining stories–flowers, style, that sort of thing. But we often cover philanthropy–those are our vitamins–which is an essential part of the brand," says Brodie, who spent 12 years as a journalist at InStyle. "What threads it all together is that they are all people that Tory finds interesting–and Tory finds a lot of things interesting."
The heavily visual blog, Instagram, and Pinterest have become particular assets as the brand has sought overseas growth. "You don't need to translate a picture," Brodie says. For instance, the spring/summer 2014 collection, which was inspired in part by the film La Piscine (the Swimming Pool) and visions of life in the south of France in the 1960s and 1970s, inspired a feature on the 10 best pools.
And always, always: optimism. "Tory doesn't like to complain, and she's very optimistic. Her mother has a saying: 'If the glass is half full, add water,'" Brodie says. "We constantly do a gut check: Is this who we are? Does it feel like us? I would never dream of putting anything negative."
Deft editing and careful cropping have been essential to Burch's storytelling. In her social-media feeds, she carefully considers what not to tell, because part of giving good story is leaving room for the recipient to imagine the rest.
Last spring's collection featured floral prints inspired by the gardens of her 10-acre Southampton, N.Y., estate. The Tory Blog offered glimpses–a boxwood hedge here, a trellised walkway there–but never a wide-angle shot that would show how rarefied it all is. On Instagram, there was a blue-and-white Delftware vase spilling over with daffodils, the orange blooms of the dwarf Poinciana, and, one Saturday, an extraordinary bouquet of burgundy peonies.
This is how Burch makes luxury accessible. Will I ever have a $16 million Hamptons estate? I can dream, and you can laugh. But a few days later, I was in a flower shop, and I remembered her peonies. There, on the counter, were some just like Tory's. I bought them.