Talk about putting your money where your mouth is: food world stars Joe Bastianich and Tim Love will have invested more than $1 million of their own cash in fledgling restaurants and specialty food shops by the time the first season of CNBC's Restaurant Startup (airing on Tuesdays at 10 p.m. ET/PT) ends its run later this summer.
Bastianich, who is a judge on MasterChef and MasterChef Junior, also serves as one of Restaurant Startup's executive producers and had a hand the creation of the reality competition series produced by Shine America. "I'd been working with Shine on MasterChef for a while, and I'd always wanted to do more of a business show, which is what I do," says Bastianich, who, via a partnership with his chef mom Lidia Bastianich and chef Mario Batali, owns numerous restaurants, including New York City's Babbo Ristorante e Enoteca, Otto and Del Posto, and has a stake in the high-end Italian market Eataly. "We fooled around with a couple of formats and came up with this one when CNBC was also looking for a similar format, and Shine was able to put it together."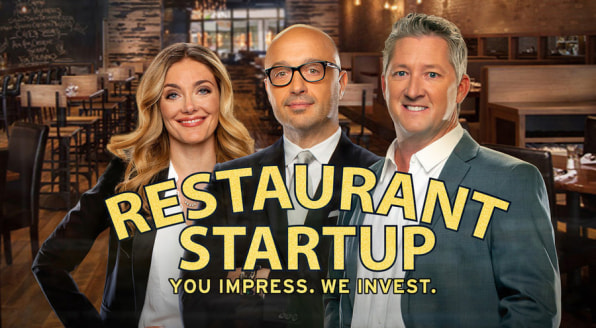 Each episode of the show has Bastianich and another serial entrepreneur, Texan chef Love, who owns Fort Worth restaurants including Lonesome Dove Western Bistro, Woodshed Smokehouse and Love Shack, as well as a line of rubs, sauces and cookware, hearing pitches from two teams of budding entrepreneurs who are absolutely convinced they're behind the next big thing in food whether it's a congee restaurant or a line of alcohol-infused marshmallow and brittle treats.
As passionate as the contestants are, the restaurant veterans are not easily convinced. Bastianich and Love grill the prospects about their businesses and then choose the one idea they agree is most tempting, putting it to the test by giving the people behind it 36 hours and $7,500 to bring their concept to life in the form of a pop-up version of their dream establishment in a space on Melrose in Los Angeles, with pastry chef Waylynn Lucas, who owns fōnuts, a shop that sells baked and steamed doughnuts, mentoring the teams through the process.
"It's our chance to see how they can handle a project under pressure and if they can accomplish a task in a certain period of time. We mess with them a little bit, make them do a couple of tasks we know are going to be challenging, and then we see how they perform," Love says of the grueling test runs, pointing out, "The restaurant world is going to be ten times as hard as decorating a room in 36 hours with a bunch of consultants because, when you get right down to it, you're not going to be able to afford consultants when you build your own restaurant. You'll have to do it yourself."
The idea is to give people a reality check given that it seems as though everyone with a great recipe for risotto thinks they can open a restaurant. "Nobody thinks about the business," Love says. "They just think about how fun it is to hold court in their own restaurant and drink champagne."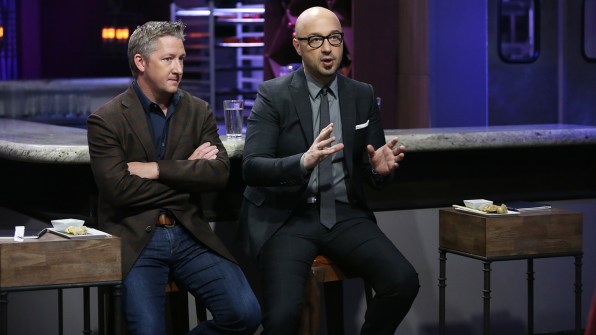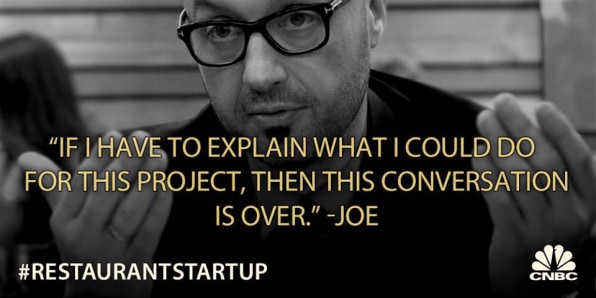 If Bastianich and Love like what they see and taste during the test runs, it's let's-make-a-deal time on Restaurant Startup. The two men compete against each other to invest in the businesses they like, and the negotiations can get heated, though sometimes they do decide to partner up and invest together.
"Every part of the debates and evaluations are real, both on the pitch side, but more importantly, on the deal table–that happens in real time, and that happens organically. There's no plan. It's just very knee jerk," Bastianich says, "and there is either conflict between us or accord between us. It's something that is completely unproducible, and I think it's that real business edge that makes [the show] very powerful and compelling. People feel very emotionally involved in the deal because they feel it is real, and it is real."
Love chimes in, "We don't need a 'produced' business because that's never going to make me any money or make him any money. I don't throw $100,000 around for fun."
He is open to the unexpected, though. To wit: Initially skeptical of the idea, Love was impressed by a pitch from three Seattle line cooks for a restaurant that would serve all kinds of congee, a rice porridge that is a staple in Asia, and decided to invest in it.
Bastianich sums up what captures his interest in one word: viability. "I am very interested in making investments that will make me money," he says. "So I like people who walk into that pitch room with an idea that can actually be executed, versus a lot of entrepreneurs, or potential entrepreneurs, who just have pie in the sky ideas without serious numbers behind them and some serious ability to execute."
Sticking with the theme of viability, Bastianich and Love, who are currently in the process of realizing the partnerships established on the show, offer Co.Create readers a few tips on what it takes to launch a viable restaurant:
"This is an apprentice-based business, and it's one of the great aspects of our business," says Bastianich, who began his career washing dishes at the red-sauce joint his parents owned in Queens before heading off to Italy to work in restaurants and at vineyards in his early 20s. "People very much teach the art form to other people, and apprenticeship is alive and well in the restaurant business, and you should definitely spend as much time as you can with people who are great at it."
"You got to make the rent right, and making the rent right means taking risk in going into an area that may not be as well developed, making a statement in a new neighborhood," Love says. "That's the first thing you've got to do. The old saying used to be, 'Location, location, location,' which it still is, but it's the opposite of what it used to mean [due to escalating real estate costs in cities all over America]. You need to be able to go into a neighborhood where you feel like you can be viable there, however you're taking some risk and saying, 'Okay, are the people going to come to this neighborhood to eat here?' "
"I would say to first-time food entrepreneurs, 'Don't worry about your brand. Don't worry about all that shit.' I think you should just worry about making great food and about making sure you somehow have a competitive advantage just like in anything else," Bastianich says. "Look around you. Is your fried chicken really twice as good as everybody else's? If it is, then you have an advantage. You have to make something that will distinguish you from everything else. So put the food first. Make sure your food is great. Make sure your setting is nice and comfortable. Make sure you're nice to people, and worry about all the other bullshit later."
"So, listen, this is what you need to know about the restaurant business: Thirty percent of your cost is your food. Thirty percent is your labor. Twenty percent is miscellaneous shit like rent, bug spray, and insurance. Twenty percent needs to be left for you. Your rent should be what you gross on your slowest day of the week, and if you're not making double what you made in the job that you gave up to open your restaurant, then you just bought yourself a job, and you're not really in the restaurant business," Bastianich says. "That's what everyone needs to know."