Since the horrific shootings at Sandy Hook Elementary School in Newtown, Conn., American schools have participated in an average of more than two dozen lockdowns a day. In neighboring Massachusetts, schools have responded with a three-pronged attack of gun control legislation, teacher training, and security technology.
Case in point: Weymouth, Massachusetts-based ELERTS built a system that allows teachers trapped in a volatile situation to use "Internet of Things" technology to keep their students safe. They can lock down a facility and cut off key card access with the click of a button while sending and receiving communication to other faculty and arriving police–all from a smartphone app.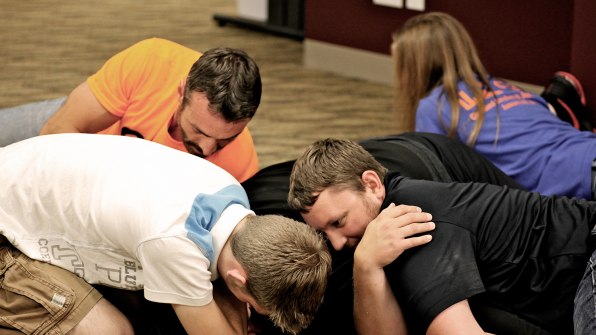 The tech is a manifestation of a larger new consensus: that active shooter situations are often over before police can arrive. "When in a lockdown situation, which can go on for hours, up until now information from the outside isn't getting into the classrooms," says ELERTS CEO Ed English.
Before new national guidelines were released in June 2013, protocol for teachers used to be simpler: Lock the classroom doors, turn off the lights, and hide until police arrived. Today the response includes "Run, Hide, or Fight," and encourages staff and students to use one or more options based on their own judgment.
Massachusetts Governor Deval Patrick recently announced new school safety guidelines in all Massachusetts Schools that suggest "each school should have a system for school staff to communicate with each other as well as first responders during an incident." The guidelines push schools to consider using smartphones because they "cannot always depend on the school's public address or internal phone system."
That moment of decision is when the ELERTS Lock-It-Down system is designed to come into play, allowing designated staff to initiate the lockdown of a facility. Access to this kind of security tech isn't just handed out to teachers: that's why ELERTS partners with the ALICE Training institute.
The idea behind ALICE–which stands for Alert, Lockdown, Inform, Counter, Evacuate and which is used in school districts and law enforcement agencies across the country–is to educate the educators.
A teacher or students inside a locked down building is "really the first responder," says Frank Griffith, ALICE Training Institute's executive vice president. Griffith says that when a teacher has been prepped to think about their options it increases their chances of survival. All of this follows new national guidelines released for school safety in 2013 in response to the Newtown shootings.
Though shootings can be over in minutes, lockdowns often go on for hours, and the ELERTS system can help teachers better navigate that often traumatizing time.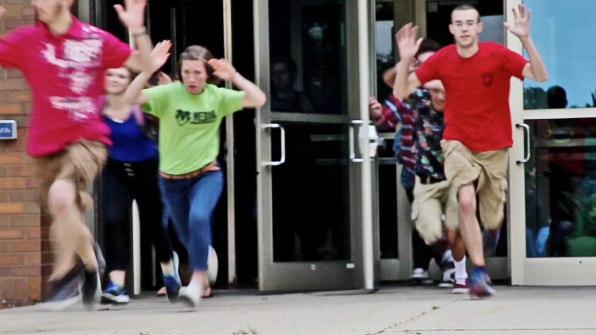 English says the national average is 10 minutes for police response time to get to an urban school setting. In a shooter situation, teachers with information, "can quickly type it in, take a picture, and hit Send. And it can auto-broadcast to teachers in other parts of the school and police," English says.
"The local police department can start participating immediately," English says, instead of when they arrive.
Through the app they developed (in a partnership with Tyco Security Products), ELERTS also allows teachers to disable all swipe cards except for local law enforcement. The system brings up a Google map that allows a school administrator to define a field of view for each camera outside the facility. "When a person is in the perimeter of the threat camera we use the GPS on the phone to see where the person is," English explains.
It's important to note that ELERTS and ALICE Training are about preparation, not prevention. Griffith says the concept of prevention is just not something his company talks about too much because you can't prevent an active shooter situation from happening. They're just trying to improve the status quo, which English says really needs improvement.
"It's a matter of reducing risk," he says. "It's nearly impossible to say with a hundred percent certainty that there's any building that can't be breached."
Nor is hacking a school security system like ELERTS unimaginable, though English says that would be an extremely remote possibility. "Our data is all encrypted, we don't make it easy for someone to get access to it," he adds. (Wired.com recently reported that last year a hacker proved he could take control of "highly automated" hotel rooms in a five-star hotel in Shenzhen, China.)
Building on he company's "See Something, Say Something" app developed for the Massachusetts Bay Transportation Authority and adopted by several major cities in the U.S., ELERTS developed a product which allows school and corporate campuses to use the same functionality — ELERTS Campus. Modifications to that product led to the development of ELERTS Lock-It-Down solution. In all, ELERTS school safety apps are in use in dozens of schools and colleges in several states and will soon launch in Puerto Rico.