You may not have heard of Joe Zeff before, but if you've picked up an iPad edition of PC Magazine, Fast Company (full disclosure!), or Time's 9/11 memorial, you've likely seen his work. His studio has developed some of the earliest visions of interactive magazines on tablets. But now, he's closing up shop to join the enterprise-focused mobile development platform ScrollMotion as vice president and executive creative director.
At ScrollMotion, he'll be building apps for corporations to use in-house and facing consumers–basically leveraging how tablets can fit into more business contexts–as well as guiding how the ScrollMotion platform itself should be iterated to entice developers to build apps through it.
"It's the opportunity to get on the right elevator," Zeff tells Co.Design. "The publishing business has been an elevator that continues to move down. This is the chance to get on an elevator moving up. Or maybe not just elevator. Maybe a rocket ship."
However beautiful iPad magazines may be, they have been a a massive failure for the print-based publishing industry. It was once thought that the success of iPads, with their colorful, full-motion screens close to the size of paper, could usher in a new golden age for print publications facing extinction. As Rupert Murdoch put it during the hopeful launch of his (failed) iPad newspaper the Daily in 2011:
Our challenge is to take the best of traditional journalism…and combine it with the best of contemporary technology. 360 degree photographs, graphics that respond to the touch are unthinkable in either print or television. The iPad demands that we completely re-imagine our craft…We can and we must make the business of news gathering viable again.
That vision didn't play out. (If it did, maybe you'd be reading this article in Fast Company's iPad magazine instead of on Co.Design). And Zeff isn't shy about pointing out the slew of reasons why a product category his studio has been so known for failed to ignite.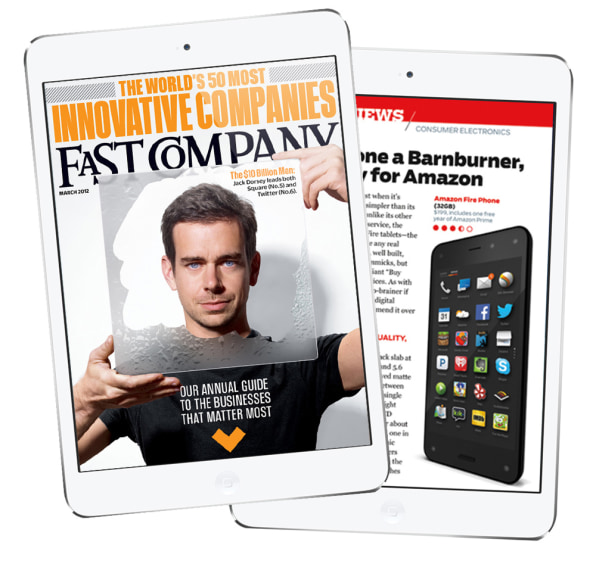 The App Store is an all-around lousy place to buy a magazine, requiring several steps to get reading. Modeled after a paper product, interactive magazines generally aren't that interactive (Zeff points to a common "animated brochure" feeling). Sharing tablet magazine content over social networks is more difficult than sharing webpages. And, of course there's the rise of smartphones–the usage of which has just topped that of PCs–Zeff insists that we consume information differently than on a bigger screen.
"I think the phone is really a place where you're getting short bits of info. To use a food metaphor, it's where you get your snack," Zeff says. And people have become very accustomed to snacking on articles–surfing Twitter for headlines rather than sitting down with a richer, more immersive tablet experience, which he calls "much more of a meal."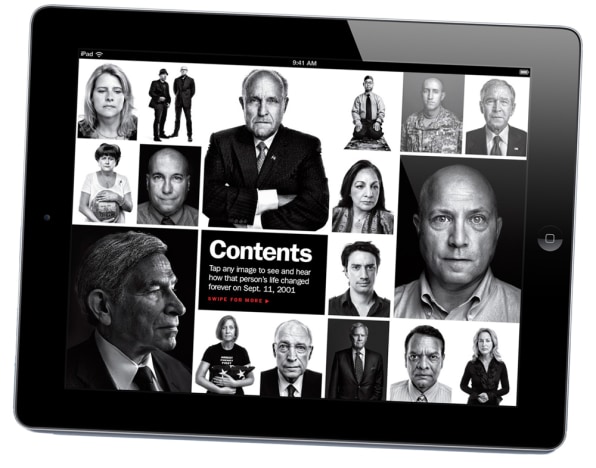 Meanwhile, the enterprise market–everything and anything built for businesses–is where Zeff sees the opportunity to feed people tablet meals, the sorts of rich multimedia experiences that can be built once, but used again and again in a fresh and relevant way.
"From my experience in working with Fast Company and other magazines, if you put a digital magazine on an iPad and you hand the iPad to somebody, you have the opportunity to make them say wow. If you expect the same person to find that magazine, pay for that magazine, and download that mag, that's asking for a lot!" he says. "But that's what businesses can do, put an iPad in your hands at the points of sale or a meeting room, and get your [attention]. That's the game changer here."
Zeff points to examples like, if you walked into a jewelry store and wanted to learn about the differences between two diamonds, a clerk handing you an iPhone would feel pointless and even off putting, whereas a tablet would be something you could really explore gemstones on. Similarly, a factory worker learning a new position on the line might need a tablet to study the intricacies of machinery, where a mobile screen would be too small.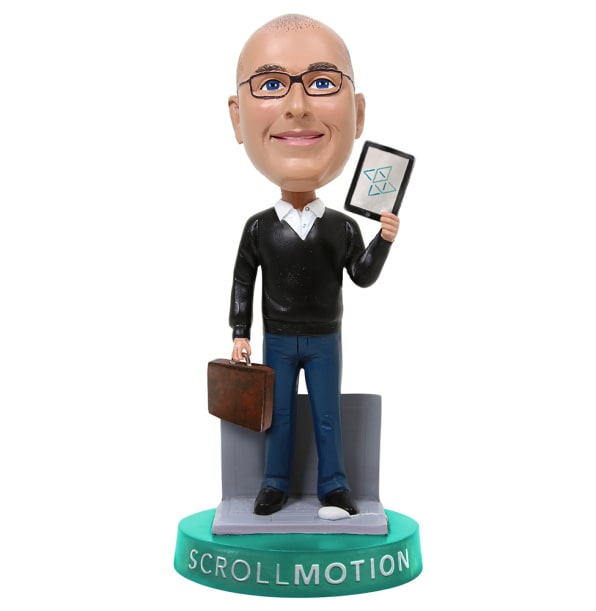 His phone vs. a tablet view is convincing in these individual use cases. But what about hardware that blurs the distinction between phone and tablet? Some Android phones border on iPad mini screen sizes–you've heard the term "phablet," right?–and even Apple is rumored to be releasing bigger iPhones this fall, which will create a gradient of screen sizes across their mobile product line. In classifying phones and tablets as discrete devices, are we drawing distinctions between platforms that is being erased as we speak?
"Until the two converge, which could happen as soon as next month, we need to take their differences into consideration when designing user experiences that suit the device and its intended use," Zeff insists. "ScrollMotion has experience on screens of all sizes. We're ready to pivot when the marketplace demands it."