If you read New York magazine, chances are you flip to The Approval Matrix first to see whether the latest developments in pop culture–ranging from highbrow to lowbrow–rank as despicable, brilliant, or somewhere in between.
Created by Emily Nussbaum, a former New York editor who is currently the television critic for the New Yorker, a decade ago, the ingenious chart remains one of the magazine's most popular features. And, now, the concept has made its way to television via The Approval Matrix. Produced by Ish Entertainment, the show debuts on SundanceTV August 11 at 11 p.m. ET/PT.
Packaged in the form of a talk show and overseen by showrunner Rory Albanese, formerly executive producer of The Daily Show, The Approval Matrix is hosted by Neal Brennan, a comedian, writer, producer, and director, and finds him guiding four panelists through a discussion and debate of various pop culture subjects. He also conducts separate one-on-one interviews each episode with celebrities the likes of Amy Poehler, Jon Stewart, and Chris Rock to get their opinions.
In the first of six episodes, Brennan and a panel made up of comedian and actress Whitney Cummings, TV Guide television critic Matt Roush, comedy writer and performer Julie Klausner and Today co-anchor Willie Geist dive into a dissection of television, with topics ranging from whether we have entered the golden era of television to the value of reality TV.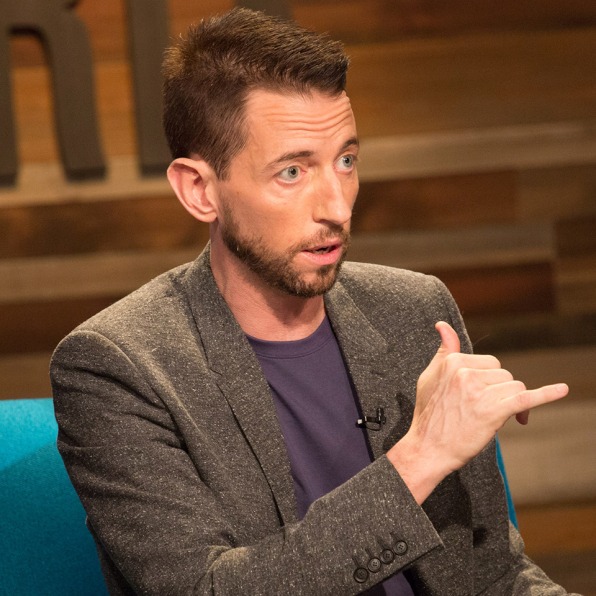 Brennan, who co-created Comedy Central's Chappelle's Show and, more recently, has directed episodes of Inside Amy Schumer, loves leading the discourse, noting, "I am just naturally very argumentative and opinionated."
Just to give you a sense of where the host stands, in the first episode, Brennan categorizes Louie as lowbrow and despicable. In Brennan's mind Louie is the kale of television–everyone says they watch it, but do they really?
While Brennan isn't shy about expressing his opinions (he actually opens each show with a monologue), he does a good job of making sure his panelists also get to have their say. "If I'm taking up all the oxygen, then we don't have much of a show. It's in my best interests to be generous, but, believe me, I hate it," he jokes. "As far as I'm concerned, everyone's entitled to their own opinion unless it's about television, in which case, how dare they?"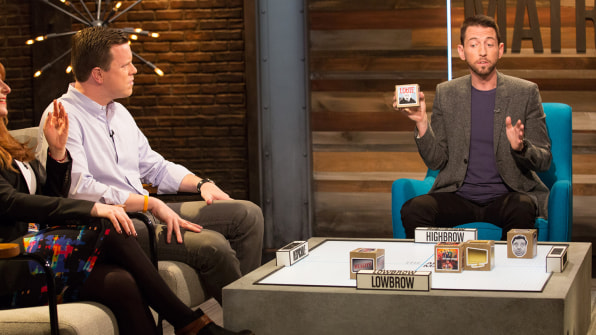 Future episodes find Jason Biggs, Entertainment Weekly editor-at-large Dalton Ross, Sirius Satellite Radio host Frank DeCaro and comedian Kurt Metzger convening to talk about fame, and transgender porn star Bailey Jay, comedian and actor Sherrod Small, Judah Friedlander and writer and image activist Michaela Angela Davis getting together to delve into the shame cycle created by social media.
"Choosing the panelists was a process that went all the way up to the last minute," says executive producer Michael Hirschorn of Ish Entertainment, "and I think it was crucial to have a mix of comedians and people who were more thoughtful because the danger with any show of this sort is there is a temptation to make every moment completely hilarious, and that leads to a manic quality on these shows. So we wanted to balance people who we thought were just yuk, yuk funny with people who could make thoughtful points."
The Approval Matrix is an integral part of the show, of course, brought to life in the form of what looks like an over-sized board game. Brennan and the panelists sit around The Approval Matrix and constantly interact with it throughout the show, placing wooden blocks (the magazine version uses dots) representing the people and things they're talking about on the board in the areas where they think they belong. Not everyone agrees, and as the debates go on, the blocks get shuffled all over the place. "It's a fun device that allows us to have a different kind of conversation," Hirschorn says.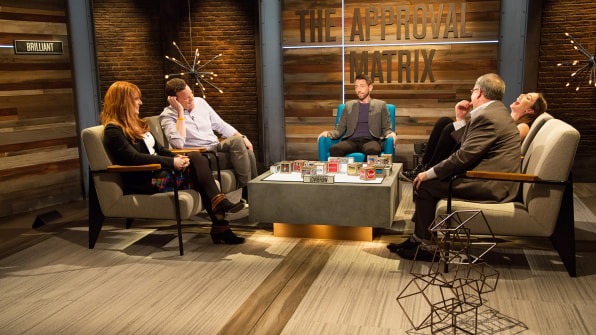 That said, it took awhile to settle on how to bring The Approval Matrix chart to life on television. "It was actually the single hardest thing to figure out in doing the show," Hirschorn says. There were all sorts of ideas pitched, including a digital incarnation of The Approval Matrix that would hang from a wall. "Then someone on the team came up with the idea of having a board with Playskool-type blocks."
Brennan says that the board and the blocks are more valuable than he could have ever predicted. "As rudimentary as the block thing is, there's something that works about it. It's super visual," Brennan says. "It's literally like, 'I disagree as represented by this block of wood!'"
New York editor-at-large Carl Swanson, who currently edits The Approval Matrix for the magazine, attended a taping of the show and also thought the board and blocks worked well. "It was like a bunch of friends sitting around a board game holding forth," Swanson muses.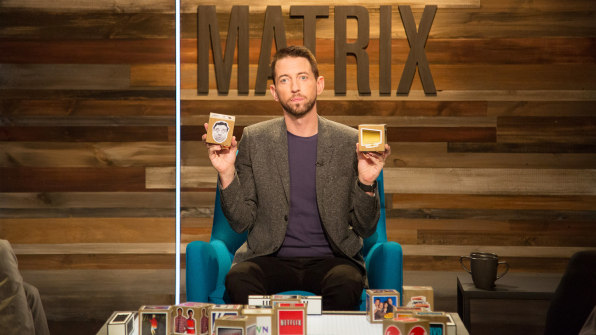 Noting the inherent challenge of translating a magazine feature into a TV show given the varied natures of the media, Hirschorn credited New York with allowing the production team to take necessary liberties. (FYI: This isn't Ish Entertainment's first attempt to adapt The Approval Matrix for television. The production company produced a pilot that aired on Bravo in 2011 as a special.) "I used to work at New York magazine, and I write for New York magazine," Hirschorn says, "so there was a history there and a level of trust, I think, that allowed us to have more license than we might have had otherwise."
Ultimately, Hirschorn says the goal was to adapt The Approval Matrix so that it would work on television but stay true to the essence of the magazine feature. "The Approval Matrix has a certain kind of tone and approach towards culture, and we wanted to take that from it," Hirschorn says. "It's a more intelligent take, a slightly sardonic take and a slightly more distant take on pop culture than you might see on E! or Entertainment Tonight. Everything is put through a filter of analysis about how culture works."