One minute you're on Wikipedia, reading up on the Simpsons episode that Michael Jackson secretly guest-starred on; three hours whiz by, and suddenly your whole night is lost and you're staring at an alphabetized list of French Impressionist painters, to say nothing of the 23 other tabs you haven't even clicked on.
Wikipedia's strange ability to warp time and space to send you down a rabbit hole has been a central part of its long-term success. And now, those attention-gobbling superpowers are coming to its newly redesigned iOS app, which is available starting today.
The new Wikipedia app for iOS was designed, first and foremost, for two things: speed and curiosity. "The app is really fast and responsive," interaction designer Vibha Bamba tells Fast Company. "We spent a lot of time making sure we have a solid framework."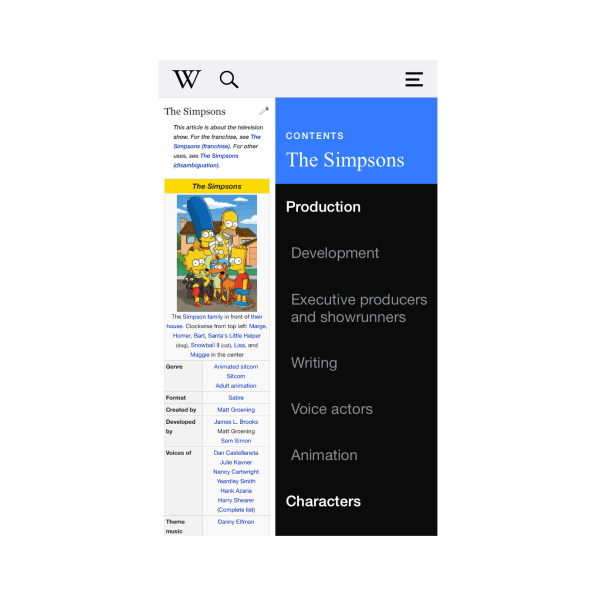 Like its Android counterpart that launched a few weeks ago, the new app for iOS was built over a six-month period using Objective-C. If you were an avid user of the old app, the first thing you'll notice is that a lot of the ornamentation and superfluous navigation buttons are gone. It's surprisingly lightweight, with speedy little animation flourishes that give the app its noticeable zip.
The search bar up top is still there, but you'll spend most of your time tapping on the hamburger in the upper right corner. This calls up a sidebar that lets you navigate through the article's sections. "We understand that readers love reading on Wikipedia, but they don't often get past the first section," says Bamba. "They read two sentences, and then they hit a link."
While one goal is to keep users knee-deep in browsing, for the first time mobile users will now be able to add changes to articles. "You can actually edit Wikipedia now," says Wikipedia product manager Dan Garry. "There's actually no other way to edit anonymously on your mobile device"–third-party Wikipedia apps included. (Many of them you have to pay for.)
Arguably the best new feature, though, is the ability to "save" articles to read later, a la Instapaper or Pocket. I've been playing around with the new app for the last few days, and found this feature to be a nice surprise. Saved articles are, well, saved to your phone, so you can read them when you're waiting in line at the post office or commuting on public transit.
And while the company could not give me usage figures for the old iOS app, it did say that its recently relaunched Android app saw over 10 million installs.
Of course, the elephant in the room was whether Wikipedia can make money off of it, namely as users flock to their phones. Will we see solicitations in the app? Can we expect to see the faces of Wikipedia's staff asking for donations in unintentionally hilarious banners? "We've talked a little bit about the possibilities of fundraising on our mobile apps," says chief communications officer Katherine Maher. "But Apple sets the terms and conditions for fundraising on iOS. It's something we're really interested in. At the moment, though, it's not something we're currently offering."
For now, the goal is to deliver Wikipedia nerds a fast user experience that makes it sublimely easy to shore up for any forthcoming trivia nights. "We don't believe in design that is gimmicky," adds Bamba. "We want you to jump around the article to find different entry points. We wanted to support curiosity in a design sort of way."