We take fluency in digital imagery for granted, circa 2014. A pixelated face conveys foreboding anonymity. Emoji color the plain text of our messages with personality. GIFs, with their noisy loops, have the power to ratchet up the emotional volume. Add it all together and the result is a visual cacophony, devoid of process or provenance.
All of which makes a new show featuring the early works of conceptual artist Charles Gaines–laboriously constructed grids that chart mathematical regressions, faces, California landscapes–a modest revelation. Gaines subverts our simplistic visual shorthands, revealing the complex questions they purport to answer.
The 75 works on display as part of "Charles Gaines: Gridwork" at the Studio Museum in Harlem date from the '70s and '80s, decades before megapixels count became a proxy for image quality. But in Gaines's exploration of identity and subjectivity, through rule-based artistic processes, there are echoes of the issues of iconography we face today. Through his lens–that of the black artist–the debate over emoji diversity, for example, takes on new weight.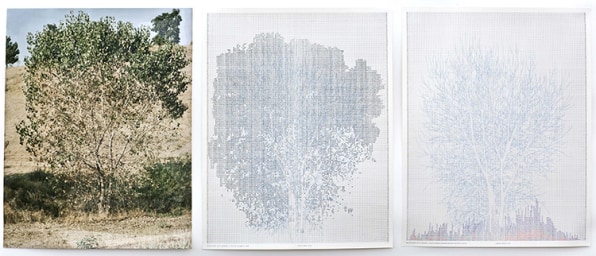 Born in 1944, Gaines grew up in New Jersey and studied jazz drums before becoming interested in visual art, eventually graduating from the MFA program at the Rochester Institute of Technology. He moved south in 1967 to teach at historically black college Mississippi Valley State, but following the assassination of Martin Luther King, Jr., and the ensuing campus riots, he took a teaching job in California and has remained there to this day.
In his years in Fresno and Los Angeles Gaines has continued to develop as an artist, often in correspondence with his East Coast mentors and contemporaries. Unlike many black artists in the '70s, whose work was deeply influenced by America's history of racial tensions, Gaines' work more closely aligned with conceptualists such as Sol LeWitt, whose "Paragraphs on Conceptual Art" became the foundational treatise of the conceptual movement. In the eyes of some, such as Studio Museum assistant curator Naima J. Keith, Gaines's gridworks are "radical gestures" that "take a detached approach to identity."
"There's this whole relationship to the digital that you wouldn't expect," says Keith. "The grids, the numbers, the pixelation." Moreover, Gaines "programmed" himself in order to create the number-filled grids that distinguish the works in the show, in ways that both anticipate and frustrate the viewer's "programmed" response. The result is an almost prophetic critique of our own unexamined production and consumption of digital images. Our carefully curated information streams and carefully constructed online profiles are borne of a similar impulse to control–and Gaines reveals that sense of authorship and authority to be an illusion.
In Faces, for example, a series of triptychs, Gaines presents first a black-and-white headshot, photographed in the same objective style as a government ID. In the second image, he turns the headshot into a "negative," rendering a face with a grid of numbers, serving as a kind of shadow image of the original. Then, in the final panel of the triptych, he transforms the "negative" into a "positive" layered composite of the previous two faces in the series. As the viewer "loops" through the triptych images, with faces of multiple races given this treatment, it becomes harder and harder to ignore the absurdity of trying to use systems, with their seemingly unbiased science, to achieve an objective, post-racial perspective. The differences between the faces blur and dissolve, but never disappear.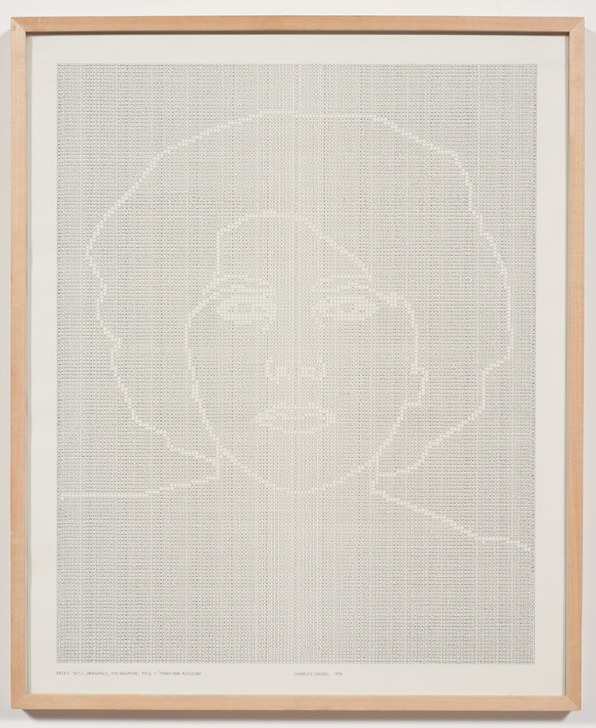 Gaines challenges viewers steeped in the gospel of big data to reexamine the idea that there is an inherent "goodness" in large volumes of information. "On the one hand, that information is generative and determining, and on the other, there is less and less of it, less specificity, less transparency," critic Howard Singerman writes in the exhibition catalog. "From panel to panel, it echoes and decays."
In Gaines's digital world, identity emerges through the passage of time, in contrast to the insistent "now" of the Internet. Gaines gives objects like walnut trees and houseplants the time and space to grow, cast shadows, and fade to a ghostly death. In the series Falling Leaves, Gaines plots time through triptychs that capture trees growing bare as summer transitions to winter. Later, in the series Numbers and Trees, he collapses time in a single layered image: a tree photograph serves as the background, overlaid with an acrylic sheet painted with a grid of color-coded numbers that follow a set arbitrary rules, if any rules at all. Grids and charts typically suggest the presence of an "answer," and images in series typically suggest an intentional narrative, but Gaines challenges both those preconceptions.
"One thing that made me different from other conceptual artists is that I was not shying away from language or meaning or content. Those things are part of the art," Gaines said in a 2001 interview. And yet like his fellow conceptualists, Gaines is after the viewer's intellect above all: "Art should interrogate the social and cultural ideas of its time."
For anyone with an Instagram account, the Studio Museum exhibition is a convincing argument Gaines's early career still holds that power. As our lives become increasingly virtual, and by extension increasingly visual, Gaines would have us question whether our framed and filtered selves bear any relationship at all to our true identities. And chances are that Mark Zuckerberg won't like your answer.
"Charles Gaines: Gridwork 1974–1989" runs through October 29 at the Studio Museum in Harlem.