Not words you want to associate with your grilled cheese sandwich. Or anything edible, really. Nevertheless, they were adjectives that fit the fare of The Melt, a high-end San Francisco-based sandwich chain, whenever it tried to deliver hot grilled cheeses to hungry lunch customers. How were office-goers going to get their hangover cures?!
So in September 2013, The Melt, which was launched by Flip founder Jonathan Kaplan (he sold his video camera company in 2009 for $590 million), put together an internal team of problem solvers charged with finding a way to extend the sandwich's woefully short shelf life. They discovered that each Melt had about seven minutes before going cold, leaving the cheese to congeal and making for a subpar grilled cheese-eating experience.
Unable to bend the laws of physics to speed up delivery times, the team looked far and wide for a food transport box that could maintain just the right temperature while striking the right balance between moisture and crispiness for 30 to 60 minutes at a time–a true Goldilocksian conundrum.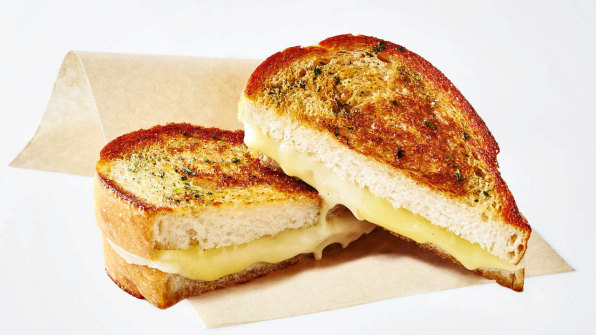 Sadly, such a magical food-delivery contraption did not exist.
So, as you may have already guessed, the team at The Melt set out to build their own. "We want to ensure the best product experience for our guests whether in store, at the office, or for any occasion," said Kaplan in a statement. "We just couldn't find an existing catering delivery solution that could do the job, so we invented one ourselves."
They finished building their first Smart Box by that December, but it was a far cry from the rolling, Skymall-worthy piece of machinery pictured above.
"They basically had a cardboard box with holes in it, and in one of those holes they shoved a hair dryer," VP of Operations Greg Hernandez tells Fast Company. "But what we realized is that if you maintained the temperature, and you had even airflow, and a way to get some of the moisture out of the product as it sat in the box, that it can hold a Melt for over 20 minutes and still meet temperature, moisture, and crispness guidelines."
Kaplan and Co. tapped a team of consultants who had done work for NASA to help them build a box that could fulfill a delicate set of conditions: The box had to maintain a temperature between 190 and 200 degrees Fahrenheit. Moisture levels had to ensure that the bread would stay crispy while the cheese stayed appropriately melty. Yet, for any of this to work, the air had to circulate around the sandwich so that the heat surrounding it was constant, like a convection oven with size restraints.
By the fourth iteration, the team had come up with a Smart Box they felt good enough with to formally reveal to the public. Here's how it works: It uses a hot plate made out of aluminum to keep everything warm. But since direct heat can burn its contents, it's covered with a shield while an internal fan ensures proper air circulation. The whole system is sensitive, so inside are sensors that monitor the environment for precise heat and humidity levels. A microcontroller is used to make small adjustments automatically, ensuring that the grilled cheese arrives at your door or desk nice and toasty. (Unfortunately, Fast Company has not yet been able to test the machine in order to verify these claims firsthand.)
But if the Smart Box can make something as fussy as a grilled cheese deliverable, who knows what it can do for other foodstuffs? Though the company declined to say how much each Smart Box costs, Hernandez admits that it may be possible to one day license its proprietary technology to other restaurant vendors. "We're gonna focus on our initial goal: taking care of our catering clients," says Hernandez. "But we feel like there's other uses for it down the road. We put pizza and hamburgers in it, and it did an amazing job."
For now, though, it's all about getting impeccable grilled cheese sandwiches into the soon-to-be-greasy hands of consumers as fast as technologically possible. The future is here. And it is delicious.