For one of the most discussed products in the country, there's a lot we don't know about marijuana.
That's beginning to change. Leafly, a Seattle-based company that claims to be the largest online resource and community for cannabis, released a document that offers a whiff of the data it has collected about the domestic legal marijuana business, estimated to be growing at 68% a year. As far as market data goes, Leafly's infographics (above and below) offer the public pretty basic stuff: the average price of a gram in several states, the most common medical conditions users hope to relieve and the most sought-after effects, including "euphoric" and "giggly." But accurate, wide-ranging information about the marijuana business is almost impossible to find anywhere else.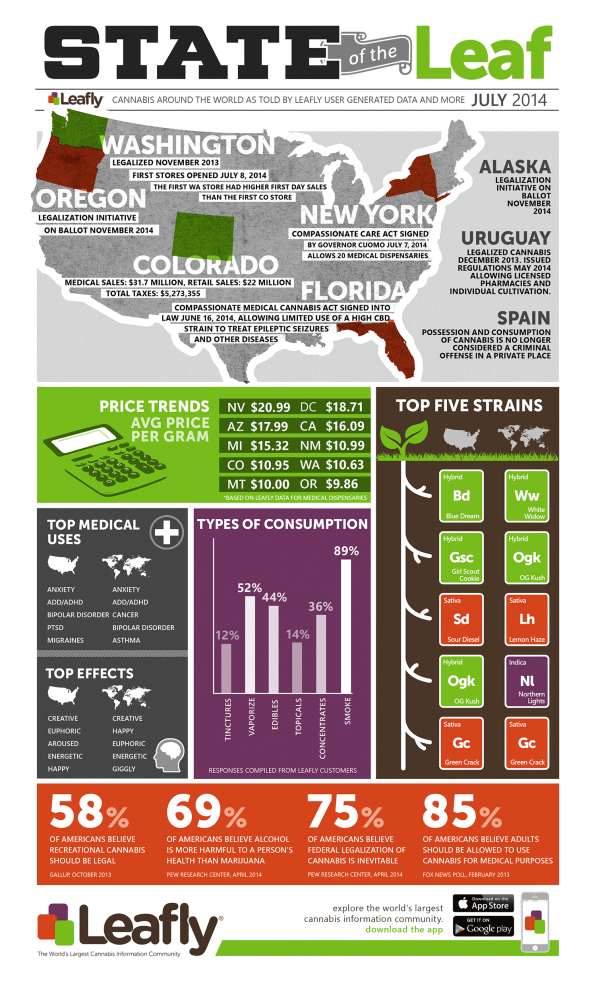 Leafly has been called the Yelp of pot by Fast Company and others for its wealth of information about marijuana, including the menus of about 1,500 dispensaries and descriptions of hundreds of strains. (These notes edge as close to self-parody as any wine list. Hollywood OG, for one, "is an indica-dominant hybrid that delivers strong cerebrally focused effects with a sweet, earthy flavor. A subtle floral aroma sits underneath the dominant smell of lemon and diesel.")
The company says it makes $300,000 a month primarily from a Google-like system which gives favorable site placement to client dispensaries. As consumers browse the site and educate themselves, Leafly accumulates valuable data about the industry as it approaches legitimacy. Co-founder Cy Scott says Leafly can provide its dispensary customers with far more specific consumer data, like what strains local customers are searching for.
Leafly, which is owned by Privateer Holdings, a private equity firm dedicated to the cannabis industry, is one of the new breed of companies eager to shed marijuana's tie-dyed stoner image and make it palatable to as broad an audience as possible. Part of this makeover involves presentation–Leafly's site design is as dull as any insurer's–and part is about gathering as much information about customers as possible.
"We've never seen a new industry come above board in the age of big data," says Troy Dayton, CEO of The ArcView Group, a San Francisco firm that connects investors with cannabis-centric start-ups.
But the rush to transform a crop into an industry is complicated when the crop is illegal. While two states have legalized marijuana and more than 20 allow medical marijuana, the federal government classifies marijuana as a schedule I drug, with no valid medical uses.
But as the legal market grows, cannabis companies are employing the kinds of big data tools that established consumer brands rely on. A better understanding of their audience could facilitate marketing efforts and the creation of standardized, branded products.
One way this might work is to scrap anecdotal evidence and stoner slang in favor of products as predictable as an over the counter medication. For instance: Medical marijuana is said to relieve headaches, but if a user searches Leafly for headache remedies the site produces more than 170 different strains, including Jack the Ripper, Nebula, and Matanuska Thunder Fuck. These names mean nothing to all but the most enthusiastic connoisseurs. The abundance of choice speaks to the ingenuity of growers, but someone with a headache just wants the headache to go away.
Right now the community of marijuana users is a "living database of subjective experience" says Dayton. With better data, he's suggesting that the user experience doesn't have to be so subjective. In this less than precise climate, advocates compare the spread of medical marijuana and the information obtained in repositories like Leafly to the largest ever clinical trial, albeit one that's being crowdsourced rather than overseen by one company or governing body.
If a company understands what about a specific strain relieves headaches, it might be able to create a cannabis product designed to treat headaches. Privateer, the PE firm, has already begun to do this: It owns a growing facility in British Columbia that ships medical marijuana products across Canada, where it is legal. Search for "headache" and it recommends a handful of varieties. Each lists the content of THC, the best-known psychoactive ingredient, and cannabidiol (CBD), which is thought to have medicinal properties.
Better, clearer branding can be applied to recreational marijuana users as well. Dayton mentioned Ebbu, a Colorado company that raised money with help from ArcView. Ebbu is developing processed products that will have unambiguous names (think descriptions like "energized" or "creative") that will let users know what kind of high to expect.
Combining hydroponics with Internet of things-style sensors is already big business. "Cannabis is going to be leading agriculture because there's so much fuss paid to every bit of minutia around the plant," Dayton says.
As the legal barriers continue to dissolve–Oregon and Alaska voters will be the next to decide on legalization in November–cannabis is looking to become an increasingly mature market. To some extent, succeeding in this once secretive industry will depend on understanding the information that's newly available.