CEOs, leaders, and entrepreneurs rely on many tools to improve their businesses, especially one of the most widely used and well-known tools, Google Docs.
In short, Google Docs is Google's office suite that enables you to create documents, spreadsheets, and presentations that can be shared and edited in real time across groups of people. While many businesses use Google Docs as intended–to collaborate on file production and maintenance–some businesses mistakenly use the service for a critical business process: setting and tracking goals.
Just look at the quarterly uptick in monthly Google searches for "Google Docs Templates" below; leaders are actively searching for new ways to use Google Docs for their business.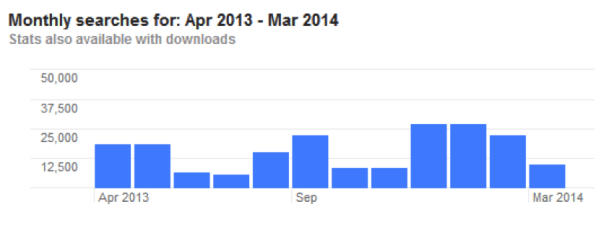 There is plenty of research suggesting your employees don't clearly grasp your business goals, strategy, or vision. A study by Chris Zook at Bain shows that only about 40% of employees understand their company's goals and what's expected of them in order to help achieve those goals.
Is it okay that less than half of your team knows the next play? Absolutely not. It's less than okay. It's a nightmare. And after talking to hundreds of company executives over the past two years, I know why this is happening: Google Docs.
It starts innocently enough. During the executive offsite meeting at the beginning of the year or quarter, someone decides to use Google Docs to capture all of the shiny new business goals that have just been whiteboarded, massaged, and agreed upon. The document is then shared with the executive team so each member can layer in employee objectives in support of the overall goals. Now your team has one shared document where everyone can view all of the business goals, employee objectives, and recent status updates.
Well, at least that was the idea.
The reality is that your team will not give a second thought to that document. It will remain locked up in Google Docs Purgatory until the next performance review cycle, which will go pretty much like this:
"How did you do on your individual objectives and team goals, Bob?" you ask your direct report.
Confused, Bob replies, "Uh, you mean the ones we set back in January and haven't talked about since?"
Goals and objectives don't belong in a document or spreadsheet because they will rot, and the stink will stretch across your business. Here's why:
"Shared" doesn't mean "social." It really means "looked at once and never again."

Trapping performance data inside a document is analogous to attaching a GPS device to your couch. It's not going to help you get anywhere.

Goals, objectives, and their related updates should be recurring and core to how your team communicates. When they are not, you risk having Bob update you on the important things like how many emails he's answered during a week.
The time has come to set your company strategy free by placing goals and objectives front and center with the team.
You took the time to create the goals, so inject them into the fabric of how your team communicates. And we all know that teams don't communicate effectively inside of a document.
It's not enough to chart your team's path for the quarter and only show them the way once. You need to embrace a process and system that improves transparency, focus, accountability, and coordination. The second you do, you'll be glad. Your company will be awesome, and your team will not look at you with the stink eye when you ask them how they've done against your most important goals.
—Brett Andrew is CEO and cofounder of StatusPath, an online software platform that improves how businesses achieve goals and objectives through an integrated status solution.