Walk into a shopping mall food court, an airport, and other culinary wastelands, and there's a good chance Panda Express is not far away. The chain has made a successful business out of selling sweet-crunchy chicken, fried rice, and egg rolls to the masses. There are now 1,658 Panda Express locations and counting in the United States and Puerto Rico, and a growing international presence.
But the newest outpost to open in Pasadena, Calif., could help the company re-imagine the brand. Beside the standard rice-and-orange chicken steam table fare, there are scallion pancake burrito wraps and customized salads. A Chipotle-style assembly line lets diners choose from an array of vegetable toppings and sauces. At the end of the line comes the biggest surprise of all: A well-appointed bubble tea bar with colorful splashes of fresh drinks.
Called the Panda Express Innovation Kitchen, the restaurant–which opened earlier this month and is decorated in a decidedly more lingering-friendly manner that's closer to a Panera than your typical food court staple–is a combination test kitchen, marketing experiment, and corporate showcase. Solicitous employees ask customers about almost every meal.
This space, located in a typical suburban strip mall locale, is where a company long associated with mass market Chinese food is addressing a huge, fresh challenge: Attracting new customers to its brand while battling Chipotle's entry into the Asian food space (a healthy dollop more on that later). Many of the guests who wandered into this Panda Express one recent afternoon at first looked a bit bewildered, but soon appeared pleased with the results. Adding to the marketing vibe, there are plenty of signs in the neighborhood advertising the new Panda Express–but it's only when customers approach the front door, and see a sandwich board encouraging guests to Instagram their meal, that they get a hint anything's different here.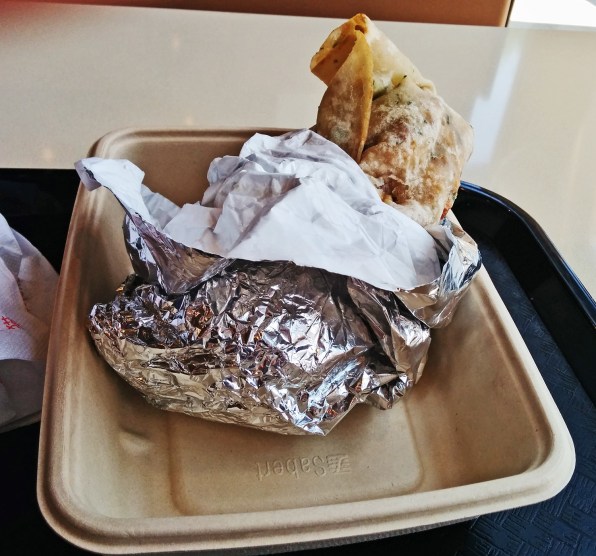 Panda Express is opening two more "innovation kitchens" over the next month. A bubble tea-only location will be opening in Honolulu, and a second, full-menu restaurant is slated to launch in Irving, Texas. The two locations have plenty in common: They're prosperous suburbs with streams of office park lunch traffic, access to nearby highways, and above-average numbers of younger and Asian-American customers already familiar with bubble tea.
"You can either continue to innovate and grow or lose market share," Dave Wallinga, Panda Restaurant Group's vice president of guest marketing, tells Fast Company. "For us, it's a question of what we can do in our position to stay relevant and attract the next generation of Panda customers. We track trends just like everyone else in industry and see the opportunity to become a choice more often with more people. Bubble tea drinks give people another reason to come into the store, salads give people a reason to grab something at lunch while they might think of us as dinner food, and it's the same with wraps–something more handheld might attract guests who are moving quickly."
I have to admit, I've never actually eaten a scallion pancake burrito before. But I assembled one on the spot in Pasadena from orange chicken, grilled chicken, sauteed broccoli, papaya slaw, and a green onion sauce that wouldn't be out of place on Hainanese chicken rice. It was served up quickly and tasted pretty delicious, guilt be damned.
Panda Express is already the United States' largest fast food Chinese chain. Wallinga said that the company primarily sees their competitors as other restaurants in the fast food space rather than Chinese or Asian chains. Panda Express's parent company, Panda Restaurant Group, is a family-run business still controlled by founders Andrew and Peggy Cherng, who opened the original Panda Inn in 1973. The chain's closest competitors are Pei Wei Asian Diner and Pick Up Stix, which combined have less than one-fifth of Panda Express's U.S. presence. But times and tastes are changing–and Chipotle is on the move.
That's why the Pasadena test spot is also meant to position the self-described "American Chinese" chain to ward off Chipotle's entry into Asian food. ShopHouse Southeast Asian Kitchen is a Chipotle spin-off with a similar ordering model to Panda Express, and has been test marketing in the Los Angeles and Washington, D.C. markets. One of two experimental concepts being considered by Chipotle (Pizzeria Locale is the other), ShopHouse is in the middle of expansions in both of those markets. The food at ShopHouse is a bit spicier and focuses on Vietnamese and Thai flavors primarily, but the two chains resemble one another, from menus to decor to ordering process.
ShopHouse currently has seven locations, and is expected to have 10 to 12 open by the end of 2014. According to a recent Motley Fool analysis, Chipotle is embarking on a slow expansion of the chain based around a "test-and-learn" strategy. Customers in Chipotle-saturated markets like New York, Boston, and Chicago will have to wait to sample the goods.
While Chipotle prepares their expansion, Panda Express is experimenting with more than just bubble tea and bao sandwiches. Ongoing rebranding efforts at Panda Express extend to changes to its logo and interior design. The chain also recently debuted online ordering. And this fall Panda Express will begin letting customers order by smartphone. Customers using the currently available web-based online ordering and upcoming Android/iOS apps are able to order and pay for their meals online. Back in 2012, the chain began reconfiguring their menu items to use higher quality ingredients and focusing on opening freestanding locations with parking rather than inside-mall food courts. Offering grilled chicken on top of salad greens or Kung Pao steak wraps is a relatively low-overhead way for the brand to continue to attract new customers.
Importantly, the menu allows Panda Express to appeal to adventurous and novelty-seeking eaters–the exact kind who fuel a massive Instagram and Yelp subculture of food reviews with a disproportionate influence on restaurant profits–while still having traditional menu items that appeal to their core audience. The usual orange chicken and honey walnut shrimp are still on the menu, but guests can also get their meals with sambal paste, crispy shallots, and green papaya slaw. Adding brown rice and extensive vegetable options doesn't hurt either.
Wallinga says there are no plans at this time to open additional Innovation Kitchens outside of California or Texas, and that successful concepts from the locations will be implemented in the chain's operations.
In the meantime, if you want a scallion pancake orange chicken burrito, a trip to Los Angeles or Dallas might be in order. And, as far as at least one diner is concerned, bubble tea goes great with Kung Pao sauce.