Finalists of the 2014 Shed of the Year awards have been announced. At first we wondered if "shed" meant something else across the pond. Another coy Britishism for toilet, maybe. But nope. A shed's a shed. And Britons have built some pretty damn impressive ones.
According to the Shed of the Year's website, a record-breaking 20,000 people voted in this year's competition celebrating the best British sheds, whittling down 2,000 entries to the top four sheds in eight categories: Normal Sheds, Eco Sheds, Cabin/Summerhouse Sheds, Workshop/Studio Sheds, Garden Office Sheds, Unique Sheds, Pub Sheds, and TARDIS Sheds–built to resemble Dr. Who's time machine. There is an incredible number of such sheds.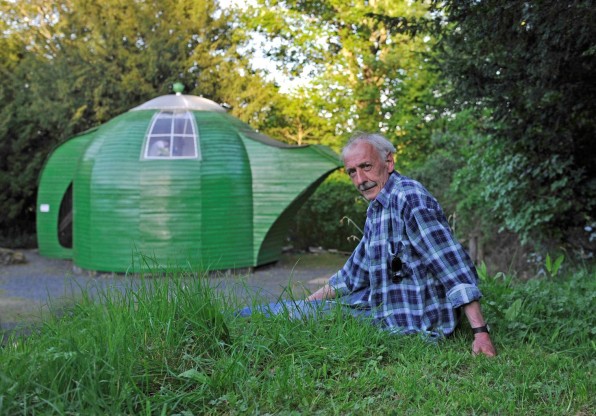 Among the finalists are a shed shaped as a teapot, built entirely from reclaimed materials; a hobbit-hole like domed hut; a retro diner-themed shed, whose owner has an affinity for poodle skirts; and an arcade-themed shed with a working ferris wheel and ticket booth. The winner will receive £1,000 courtesy of sponsors Cuprinol, a British gardening brand, along with a wooden plaque, £100 worth of Cuprinol products, and a giant crown for his or her shed. Finalists will get 15 minutes of fame on a new TV program, called "Amazing Spaces Shed of the Year," debuting July 24.
The head "sheddie," the term for shed enthusiasts (why not "shed heads?"), is a guy named Uncle Wilco of South Wales, who launched the competition in 2007, with a sponsorship by Cuprinol. Judges include industrials designers, architects, and craftsmen. "A garden without a shed is like a man without a beard!" says judge William Hardie on Cuprinol's shed blog. "I love a good shed-based workshop," says another, Max McMurdo. "An inventor's shed is his castle."
Click the slideshow above to see 11 of the 32 finalists.
[H/T The Telegraph]