Back on July 20, 1969, Neil Armstrong, Buzz Aldrin, and Michael Collins went to the moon for the very first time. It was a monumental feat of science and technology that to this day captures the imaginations of Earth-bound stargazers. The culmination of work from NASA, its astronauts, and many technology partners, that first step was enabled, in small part, by a relatively innocuous but significant substance: silicon rubber. Created by General Electric, that high-tech material was able to withstand extreme temperatures and was used in the astronauts' moonboots, effectively enabling them to walk on the moon.
To commemorate the 45th anniversary of the moon landing, GE has released a limited-edition moonboot. Or, more accurately, a sneaker. It's called The Missions and like its symbolic forebear the shoe is chock full of cutting-edge materials such as stabilized carbon fiber, thermoplastic rubber, 3M Scotchlite reflective material, and hydrophobic (that'd be waterproof) coating.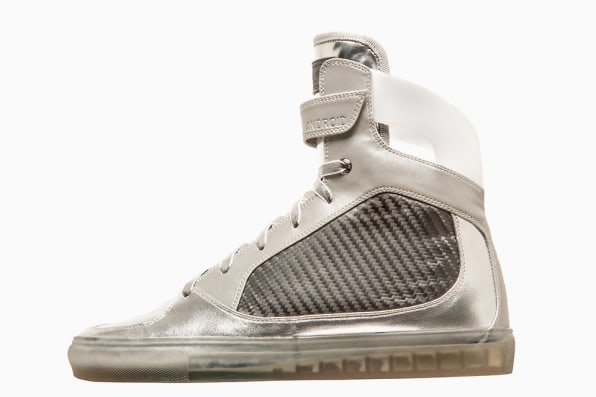 A GE sneaker might seem like a head-scratcher to some. After all, GE is an industrial manufacturer rather than a consumer-facing brand, for the most part–and a shoe is among the most ubiquitous consumer products. But in fact, the company has a long legacy of inventive projects that tell the company's story in interesting ways, and has in recent years, been telling its own story in more interesting ways through a range of content marketing initiatives. And now with The Missions, GE is looking to highlight its ongoing innovations in advanced materials.
"If you draw a line from 1969 to the present, we are as passionate and committed to new types of technology, particularly new advanced materials as we were 45 years ago," says Linda Boff, executive director, global brand marketing at GE. "This was a wonderful way to highlight something that today is very important for us–finding new materials that can make an impact in all kinds of industries."
Via a creative partnership with online men's retailer JackThreads and luxury footwear company Android Homme, only 100 pairs of The Missions will be released and they'll go on sale at 4:18 on July 20 (the exact moment of the moon landing) for an amusing $196.90.
Part of GE's goal with unexpected projects like The Mission is to speak to a broad audience, though with the JackThreads partnership the primary audience here is young men. "The challenge–and opportunity–is staying relevant," says Boff. "The people we connect with might be thought leaders but they might be students who we hope will one day work at GE or people who will one day invest with us. Helping people relate to GE in a way that's approachable and human is an important part of what we try to do in our brand and marketing efforts." In this case, Boff says the compelling angle is that the marketing is a form of commerce. "But it's commerce as storytelling, as marketing. We find that when we are able to be very human, and that might be something like a sneaker or it might be through a great storyteller, it gives people a way in."
In order to draw people in any story has to be compelling. And if your story happens to be a shoe, it needs to be pretty fly. Boff says that when creating The Mission with JackThreads and Android Homme, they "really sweated the details to make sure that there are elements of this shoe that really relate to the work that we're doing."
Take the stabilized carbon fiber, a super lightweight material found in GE jet engines and wind turbines, favored for its role in greater energy savings and low emissions, for instance. It's not the kind of material you'd find in a pair of kicks, but its inclusion brings it to the fore. "Putting stabilized carbon fiber in the shoe is a good way to talk about something that has a big industrial application but a more unusual retail application," says Boff, noting that the intent is not to create a path for these materials in consumer goods, but is "symbolic of a moment."
As for the design, it's at once modern and seemingly in step with sneaker trends, but also evokes the nostalgia of the gear of the Apollo 11 astronauts. "We thought there are people out there who would love the opportunity to own something like this so we wanted to design something that people would treasure," says Boff. "You can't do all this stuff and create a clunker."
To spread the word of this ultra-exclusive shoe, GE is releasing the images of The Mission on SnapChat, which Boff says is in keeping with the brand's quick adoption of new platforms (GE had a hit last year with its #6SecondScience campaign–a mini science fair–on Vine). The GE account will be sending out sneak peeks of the shoe leading up to the launch of the boots, and on launch day, Buzz Aldrin will take over the account.
"GE is about innovation and pushing the limits and solving tough problems. Advanced materials are at the core of what's next for industry and manufacturing. This is a fun way to bring it to light and highlight those materials," says Boff. "And it's great that we're able to do around a moment that mattered so much. Whether you were around when it happened, or not, I think there's still a great reverence for what that moment was about."