Hey Kermit, try being red. Now that's not easy.
That's the conclusion sisters Stephanie Vendetti and Adrienne Vendetti Hodges reached, growing up as natural-born redheads. In so many ways, the world just wasn't built for them, says Adrienne. "For prom, we'd go get our makeup done, but no one knew how to do a redhead's makeup. Our skin was so sensitive, it was hard to find products." They'd go to the store to buy hairpins, but everything was made for those much larger markets of blondes or brunettes.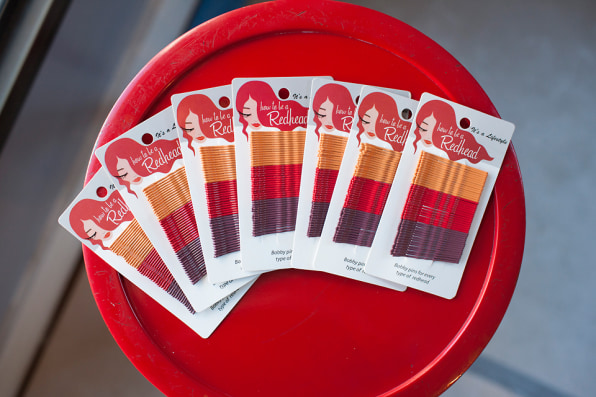 Worst of all, though, Adrienne remembers, was the bullying. In their small Rhode Island town, the Vendettis were the only redheads in their school. "The bullying starts early, around second or third grade," recalls Adrienne. "There are so many different names people call you: carrot top, freckle face. They make fun of your pale skin." One teacher took to calling the sisters "Red" and "Little Red," terms of endearment, for sure, but irritating. For Stephanie, the bullying and unwanted attention became so great that she chose to dye her hair blonde through high school.
"You start thinking, maybe I'm not pretty," recalls Adrienne. "Redheads are outcasts for being different," she adds. "It's almost like they're a minority."
Oh, how times have changed (reports that redheads are going extinct be damned. )These days, the sisters' site "How to Be a Redhead" has turned into a full-fledged brand. About 25 writers contribute, with items ranging from the serious to the light. Recent items include both "Scientists Warn: Redheads Could Face Extinction Due to Climate Change" and "12 Reasons Why Every Redhead Should Love Lucille Ball"; posts come tagged under such categories as "Hair," "Confidence," "Healthy Living," and "Redhead Celebrities." They have 120,000 social media followers (recently breaking the 85,000 mark on Instagram alone). Their site garners 75,000 unique visitors and 200,000 unique page views per month.
But success didn't always look guaranteed. One day, when the sisters were still kids, their mother gave them a piece of advice. She said, "If you just have confidence, the others will think it's cool to be a redhead." When trying out beauty products at a department store with a friend shortly thereafter, Adrienne tried putting on that air of confidence. As they left, her friend said, "I wish I was a redhead." Later, when a boy she liked asked her to dye her hair black, Adrienne said no. "I never talked to him again," she says now.
By their twenties, the Vendettis finally felt they knew, as they liked to say, "how to be a redhead." They knew which skin-care and hair-care products were "redhead-friendly." They knew what to wear to complement their coloring. They knew how to be proud of their unusual look (some 10% of Americans are redheads). In late 2010, Stephanie was a senior in college, while Adrienne was working at a law firm in Boston and had just taken the LSATs. One day the sisters conferred: Why get 9-to-5s, when their passion was right in front of them?
"We dropped everything," recalls Adrienne. They launched a very simple blog, "How to Be a Redhead," but "we instantly knew we had an audience," says Adrienne. "People were saying, 'Can we be your writers?'"
They worked hard, with Stephanie juggling her last semester of college with the burgeoning brand. (A whiteboard from that time, kept unerased for posterity, shows two columns: their business's acronym "H2BAR," and "School Work.") Adrienne focused on business development, while Stephanie doubled down on social media. Within six months, they had enough revenue to make "How to Be a Redhead" their full-time jobs, just in time for Stephanie's graduation.
Soon the money came rolling in–not reams of it, but enough to grow. L'Oreal Paris teamed up with the Vendettis to help promote a hair care product. They began to work with other brands, too, if they deemed their products "redhead-friendly," often pitching them in clearly labeled sponsored posts. Adrienne says she hopes to build the brand to a point where manufacturers will ask to include a "How to Be a Redhead" logo on certain approved products, much the same way that revered food bloggers put their stamp on products at Whole Foods, or that Oprah Winfrey tells you what's okay to read.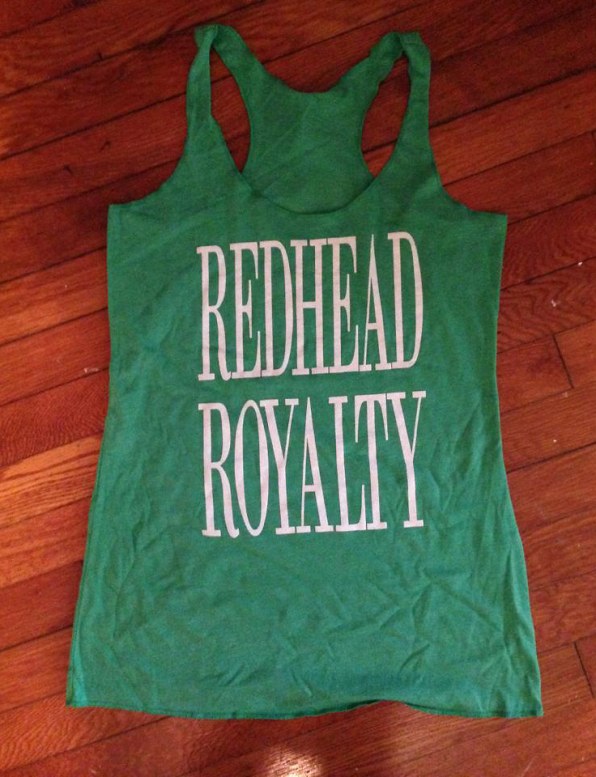 The most profitable part of the business to date was an event. Held on Saint Patrick's Day last year in New York's TriBeCa neighborhood, the first "Rock It Like a Redhead" event welcomed 300 redheads and their sympathizers, for five hours of ruddy conversation and camaraderie. People came from all over the country just for the event, and one New Zealand couple vacationing in America timed their stop in New York in order to attend. The Vendettis are now planning a five-city tour in early 2015. "Our goal is to get the events to be making at least $100,000 each event," says Adrienne.
The Vendettis are also branching into product design: they've recently launched hair ties and bun makers, as well as bobby pins in three shades of red: "ginger red," "true red," and "midnight red." (Some sets of these, plus a pair of T-shirts, run $99 on their webstore.)
"We say that red hair is more than a color, it's a lifestyle," says Adrienne, who, along with her sister, signs off her emails with the valediction "Red Wishes." She most enjoys getting emails from young redheads who write to say "Thank you. Your website gave me the confidence to go to school and talk back to bullies."
Adrienne tells them what she's found to be true: that those bullies themselves often have a change of heart down the road. That boy she used to know, who once told her to dye her hair black? "Last time I checked, he's dating a redhead."