Amidst the constant debate about workplace design and the merits of cubicles and open-office layouts, it's imperative we don't lose sight of the fact that there are proven strategies to help organizations create workplaces that both empower people and transform business.
Leaders truly seeking to strengthen their business need to leverage workplaces as tools to improve their organization. Merging business goals with design thinking and careful research can absolutely improve communication, innovation, employee engagement, culture, and other performance metrics.
Several organizations are currently investing the time and research necessary to drive transformation. Here is a look at some of the best practices, strategies, and ideas every organization should be considering.
There is no way to develop a strategic workplace without fully understanding the organization through extensive research. Zurich North America recently committed to a full exploration of the firm's culture, aspirations, values, brand, current work realities, and future work aspirations on every level. This research will lead to the creation of a visionary new work environment that reinforces Zurich's brand, strengthens its business, and improves the professional lives for the company's 2,500 Chicago-area employees.
Research requires asking hard questions about a company's ability to create a rewarding work environment, be socially and environmentally conscious, allow for flexibility, and empower people and ideas. Those organizations willing to ask those hard questions undoubtedly gain strategic insight relative to their business.
Data is only powerful if it is then leveraged into design solutions. After collecting extensive data from its employees, Follett created an innovative new headquarters that consolidates three previously separate facilities.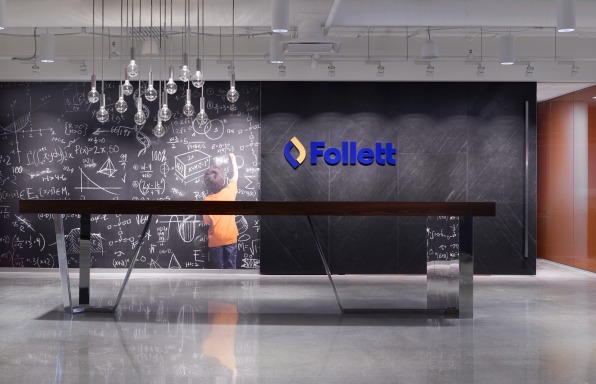 "We sought an environment that could not just contain how work gets done, but be a catalyst [to evolve] the business," says Follett CEO Mary Lee Schneider.
Follett's research revealed critical insight that needed to be addressed by the new headquarters including:
Only 45% of Follett's employees were happy with the previous offices. This is 25% below the average American workplace score of 60% satisfaction

65% of Follett employees said they'd take advantage of alternate places to work away from their desks if available

We learned the previous Follett offices offered just four meeting rooms for every 100 employees (the new headquarters offers 11 to every 100)

25% of the company's employees could not see any other team members from their seat in the previous offices.
Follett listened to its employees and changed these realities through the creation of a headquarters with different workplace settings integrated into neighborhoods. At the center of each floor–linking the company's space in the tower–is a hub of flexible workspace.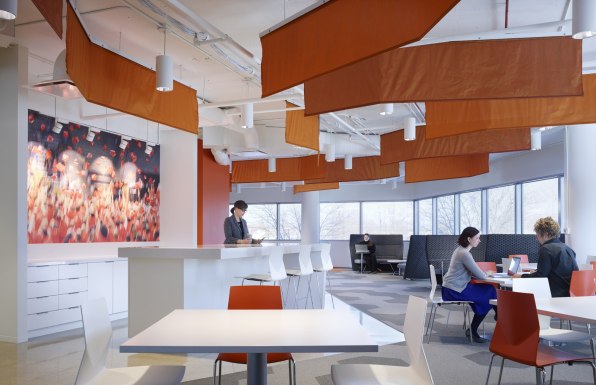 Each hub has a unique character to give floors identify while also responding to collaborative work that may take place. Ultimately, the typical floor offers 10 different types of settings to choose from and encourages communication, collaboration, and employee experience.
Follett also understood that simply creating a new workplace and opening the doors to its employees wasn't enough to ensure successful adoption and transformation. Schneider and her team committed to a comprehensive change management program including a communications and engagement schedule, manager meetings, and employee training. Every Follett employee received a Change Management Playbook that responded to FAQs and also detailed the benefits and advantages of the new headquarters and its dynamic spaces.
Organizations often overlook the importance of a change management program but it ensures employees fully leverage new or renovated workspaces. Follett's investment in change management led to its employees understanding how to fully utilize their new headquarters from day one.
Organizations making significant change to their workplaces should also commit to performance measurement. Our team will work with Follett and Zurich to gather performance metrics for their new workplaces six months after opening to understand their impact on the intended business results.
Upon the relocation of CannonDesign's Chicago office in 2012, CannonDesign took the opportunity to implement this exact same process to develop an appropriate workplace strategy.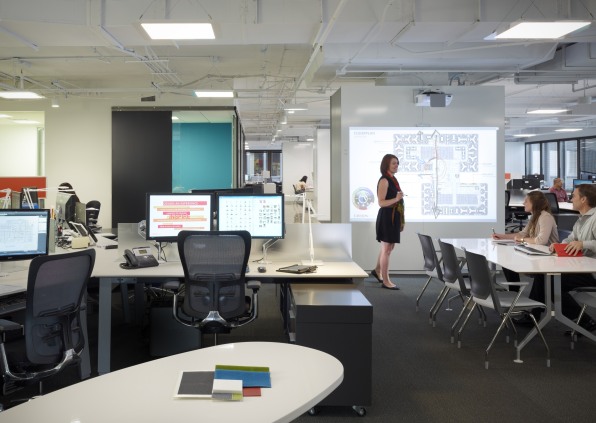 The solution moves 99% of our staff, regardless of rank or title, to open offices and provides necessary teaming and collaboration spaces throughout. The new strategy has increased employee satisfaction by 40% and has also improved employee concentration (32%), ability to meet face-to-face (31%), ability to hold phone conversations (22%), and individual work in private areas (14%).
We continue to test and measure our workplace in Chicago and the results are undeniable proof our workplace strategy is improving performance and employee experience.
There's no one-size-fits-all solution for workplaces but there are real ways for organizations to improve their business through design. Those organizations that recognize the value of research, strategy, change management, and measurement will best position themselves moving forward.
—Meg Osman is the executive director of CannonDesign's Corporate/Commercial Practice, focused on helping businesses design solutions that turn challenges into opportunities for success.