More than a few seriously violent shows were nominated for Emmys this year, but that's nothing compared to the brutality of choosing the Best Actor in a Drama Series. That heated contest is likely between Bryan Cranston in his final performance as Walter White, and both lead detectives in the breakout HBO series True Detective, which resets each season, leaving no hope of seeing Matthew McConaughey or Woody Harrelson reprise their roles.
In addition to True Detective, which was nominated for 12 awards, the big story this year is the burgeoning dominance of Netflix at the Emmys. This year, the online streaming juggernaut's original programming earned more nominations than Fox, where Golden Globe winner Brooklyn Nine Nine scarcely racked up any nominations at all. Among Netflix's nominations: outstanding drama series for House of Cards, outstanding comedy series for Orange Is the New Black, and outstanding lead actor and actress in a drama series nominations for House of Cards leads Kevin Spacey and Robin Wright. Ricky Gervais has been nominated in the lead comedy actor category for Derek, and Taylor Schilling has been nominated in the lead comedy actress category for Orange Is the New Black.
Look for Netflix to continue gaining steam in the years to come, and possibly get some competition from Hulu and Amazon, who have yet to nip at its heals, but are damn sure trying. In the meantime, here are this year's nominees, along with Co.Create's interviews with some of the creators and stars behind them.
"The Big Bang Theory"
"Louie"
"Modern Family"
"Orange Is the New Black"
"Silicon Valley"
"Veep"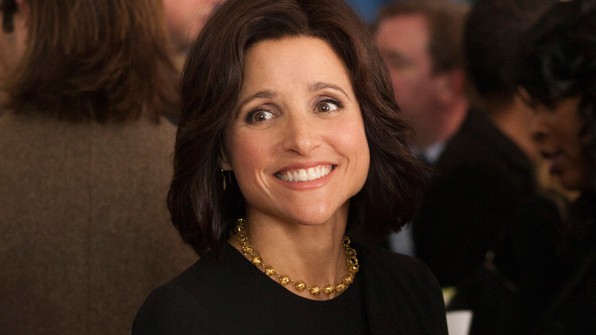 Lena Dunham, "Girls"
Edie Falco, "Nurse Jackie"
Julia Louis Dreyfus, "Veep" (Read our Master Class with Julia Louis-Dreyfus on creating an unforgettable character.)
Melissa McCarthy, "Mike & Molly"
Amy Poehler, "Parks & Recreation"
Taylor Schilling, "Orange Is the New Black"
Jim Parsons, "The Big Bang Theory"
Ricky Gervais, "Derek" (Hear how Gervais learned to write in our Creation Stories video.)
Matt LeBlanc, "Episodes"
Don Cheadle, "House of Lies"
Louis C.K., "Louie"
William H. Macy, "Shameless"
Andre Braugher, "Brookiyn Nine-Nine"
Adam Driver, "Girls"
Jesse Tyler Ferguson, "Modern Family"
Ty Burrell, "Modern Family"
Fred Armisen, "Portlandia"
Tony Hale, "Veep"
Mayim Bialik, "The Big Bang Theory"
Julie Bowen, "Modern Family"
Allison Janney, "Mom"
Kate Mulgrew, "Orange Is the New Black"
Kate McKinnon, "Saturday Night Live"
Anna Chlumsky, "Veep"
"Breaking Bad"
"Downton Abbey"
"Game of Thrones"
"House of Cards"
"Mad Men"
"True Detective" (Fukunaga talks about conjuring the show's Louisiana noir here.)
Lizzy Caplan, "Masters of Sex"
Claire Danes, "Homeland"
Michelle Dockery, "Downton Abbey"
Julianna Margulies, "The Good Wife"
Kerry Washington, "Scandal"
Robin Wright, "House of Cards"
Bryan Cranston, "Breaking Bad"
Jeff Daniels, "The Newsroom"
Jon Hamm, "Mad Men"
Woody Harrelson, "True Detective"
Matthew McConaughey, "True Detective"
Kevin Spacey, "House of Cards"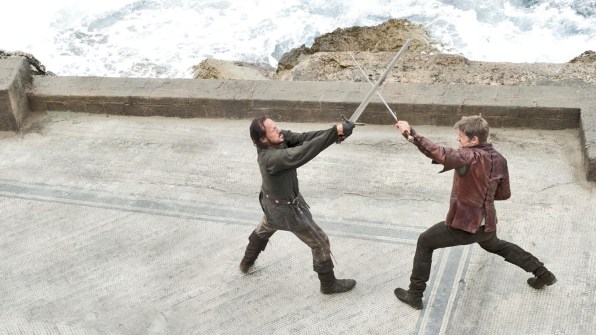 Aaron Paul, "Breaking Bad"
Jim Carter, "Downton Abbey"
Peter Dinklage, "Game of Thrones"
Josh Charles, "The Good Wife"
Mandy Patinkin, "Homeland"
Jon Voight, "Ray Donovan"
Anna Gunn, "Breaking Bad" (Gunn talks about playing the character in our interview here.)
Maggie Smith, "Downton Abbey"
Lena Headey, "Game of Thrones"
Christine Baranski, "The Good Wife"
Christina Hendricks, "Mad Men"
Joanne Froggatt, "Downton Abbey"
"American Horror Story: Coven"
"Bonnie & Clyde"
"Fargo"
"Luther"
"Treme"
"The White Queen"
Jessica Lange, "American Horror Story: Coven" (American co-creator talks about how to tell scary stories on TV.)
Sarah Paulson, "American Horror Story: Coven"
Helena Bonham Carter, "Burton and Taylor"
Minnie Driver, "Return to Zero"
Kristen Wiig, "The Spoils of Babylon" (Spoils creators talk about parodying the epic miniseries.)
Cicely Tyson, "The Trip Bountiful"
Chiwetel Ejiofor, "Luther"
Martin Freeman, "Fargo"
Billy Bob Thornton, "Fargo"
Idris Elba, "Luther"
Mark Ruffalo, "The Normal Heart"
Natasha Lyonne, "Orange Is the New Black"
Uzo Aduba, "Orange Is the New Black" (Read our interview with Aduba who talks about creating the show's breakout character.)
Laverne Cox, "Orange Is the New Black"
Tina Fey, "Saturday Night Live"
Melissa McCarthy, "Saturday Night Live"
Joan Cusack, "Shameless"
Bob Newhart, "The Big Bang Theory"
Nathan Lane, "Modern Family"
Steve Buscemi, "Portlandia"
Jimmy Fallon, "Saturday Night Live"
Louis C.K., "Saturday Night Live"
Gary Cole, "Veep"
The Colbert Report
The Daily Show with Jon Stewart
Jimmy Kimmel Live
Real Time with Bill Maher
Saturday Night Live
The Tonight Show Starring Jimmy Fallon