Square, the payments startup from Twitter cofounder Jack Dorsey, has prototyped a Square credit card. The plastic card is all black, and save for the card holder's name emblazoned on the face, features no logos–not even Square's. Over the past year, multiple sources indicate Square employees have been carrying the card–seen here below, partially blurred to protect the card holder's identity–around in their wallets.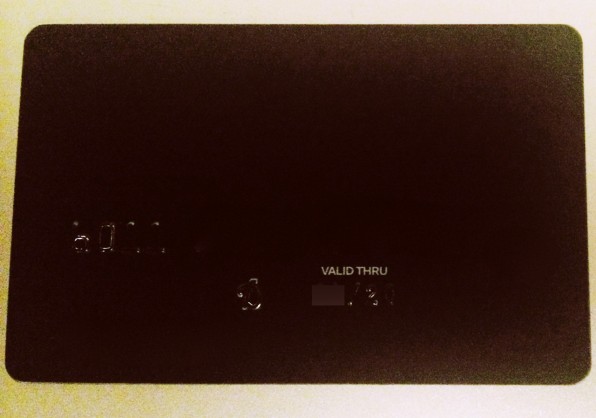 However, despite buzz about the potential of a Square credit card, other company sources indicate the project was recently killed.
Details of the rumored prototype came to light during reporting for Fast Company's profile of Square, published this week. As Square seeks to unearth new sources of revenue beyond its core business of payments processing, the company has launched a slew of new products, including Square Market, Cash, Feedback, Invoices, Capital, Dashboard, and on Monday, August 11, Appointments. Some insiders expected the Square credit card would be a promising addition to the mix, potentially opening the company up to a swath of lucrative consumer loyalty and rewards services. But after pressing the company multiple times about the project, Square finally confirmed that it's not launching a credit card. Or, should we say, the company is no longer launching one. And the reason why highlights the difficulties Square faces in the immensely complex financial space.
The idea for a Square credit card bubbled out of a hackathon a number of years ago. The company had already launched a successful credit- and debit-card reader that could plug into a range of mobile devices, enabling merchants to accept payments with little or no hassle. The next step was to "own both sides of the counter," according to one former employee, so the company could one day "cut out the credit-card companies altogether." Its first crack at this ambition was Square Wallet (initially called Card Case), a digital wallet app that allowed consumers to open a virtual tab with a nearby shop and then pay for items merely by saying their name at the store. Wallet received glowing reviews from the press but not enough merchants accepted it, in part because few customers paid with it, a chicken-and-egg problem that's doomed similar products before and since. Wallet was later discontinued.
The company eventually realized a digital-only solution might be too ahead of its time, so Square began considering whether it could bring innovation to plastic bank cards instead. The benefits were obvious: The company could bring its design savvy to the space, attracting new consumers to its platform to gain more payments data while up-selling them on rewards programs, which have long been a boon to the bottom lines of credit card companies (not to mention hotels, airlines, and other credit card partners).
After the idea gained momentum with the leadership team, Square created its concept Square credit card: a non-branded, black plastic card. The design, while befitting of Dorsey and Square's spare aesthetic, was actually a happy accident. The team building it prototyped a black, stealthy card so employees could flash it outside Square's offices without anyone knowing what it was. But when employees got their hands on it, one insider says, they found it "extremely appealing," and felt the same design could be just as "alluring" in the consumer market.
How would Square differentiate from other credit cards in the market? Anyone who has used a Citibank or other credit card knows what a hassle it is not only to keep track of purchases, but to keep up with statements and rewards. Square's long-term aim was to simplify and clean this process up, with payments tracked through simple digital receipts, notifications, and so forth. What's more, thanks to what the company knew from its data and risk team, Square felt that traditional metrics (such as FICO scores) were outmoded; if Square could tie a card directly to a bank account, it could essentially create a bank card with credit card-like benefits, but that would act as a debit card, to lower risk and liability. And unlike Square Wallet, Square's plastic card would be accepted everywhere that takes debit cards, increasing the likelihood of consumer adoption. Members of the leadership team found the idea compelling, says one source, and "Jack decided to move forward with it."
When I press Square hardware lead Jesse Dorogusker in mid-June about the Square credit card, he only says, "You're on it. There's a lot there." Cryptically, he adds, "We're always searching for something better. I definitely won't deny it but I definitely won't announce anything." Is there a prototype Square credit card? "I'm not going to answer that," he replies with a wide grin, a response similar to the one Dorsey delivers to me with a hardy laugh. ("I can't say everything that we're building in the company!")
Yet weeks later, the company, while declining to confirm that a Square credit card ever existed, confirmed to me that it is not launching a credit card, with no further explanation. Multiple sources indicate there are two reasons why that might be the case: a Square credit card would likely alienate Square's financial partners, and it would also have myriad legal implications for how the company operated. "You can only fight so many battles at the same time," one source told me.
Interestingly, it appears that Square made the decision to not pursue its own credit card without even asking its partners in the space. When I ask Bill Gajda, Visa's global head of strategic partnerships, about the Square credit card, he tells me, "I don't know whether Square is planning on issuing a Square branded card or not." But he says, ultimately, it would be a "positive" for Visa (a Square investor), because it would bring more volume to its payments processing business. "If Square decided to do that, it would need to be backed up by a bank, so they would have to issue what's called a private-label card or co-branded card, just like United Airlines and Marriott Hotels do," he says. "Then it's just another participant in the payment network."
Gajda seemed unaware that Square seemed intent on bypassing that network eventually.
Square has long depended on a number of financial institutions, which fluctuate between acting as collaborators and competitors. The issue comes down to Square's core payments processing business. With each swipe of a credit card through Square's card reader, the company takes a 2.75% cut of the transaction value. But the vast majority of that fee goes to Visa, MasterCard, and other intermediaries that handle risk and additional financial services. Square, as it is said, is built on the traditional banking system's "rails." That's how it presently generates the bulk of its revenue. Or as one former top banking executive, who has worked closely with Square, put it, "If there were no credit cards and debit cards, there would be no Square."
So with each new product, Square must consider how it might affect its relationship with its financial partners. Will it rankle them? It's clear the Square credit card would likely ruffle feathers. The banking source breaks down the problem: "When the payment company starts to take over the consumer relationship, that's where the networks would be like, 'Wait a minute, your business was built on the back of our credit and debit cards, and now you're trying to get people to not use our cards but rather link their checking account to yours?' The way to think about it is, what does the consumer think he or she paid with? If the attribution goes to Square instead of Citibank or Chase or MasterCard, that's when the banks or card companies start to say, 'I'm becoming separated from my consumers.' They're a utility at that point, and consumers don't feel passionate about utilities."
Another source suggests that a Square credit card would also become too much of a headache to create and maintain. Square would have to start working with regulators, and likely need to register as a bank and adhere to banking laws.
Regardless, the dynamic calls into question how disruptive Square can truly be if it has to deal with so many roadblocks and gatekeepers. The financial space is entrenched precisely because there's so much complexity and its legacy infrastructure hasn't changed much in 50 years. If Square needed to kill the Square credit card, what other innovations will it have to kill in the future?
For now, the company is developing other consumer-centric digital products, such as Square Order; the recently acquired Caviar, a Grubhub-like ordering system for restaurants that don't normally deliver; and Cash, a money-transfer service. Perhaps, coupled with Square's promising merchant services, these applications could one day turn the Square credit card into a reality.
Check out our profile of Jack Dorsey's Square in the September issue of Fast Company.