"You only get one chance to make a first impression."
You've heard the tired adage countless times. But just how long is that one chance? Studies have indicated that it's only about 100 milliseconds–a snap judgement made on your likability, attractiveness, trustworthiness, competence, and aggressiveness.
Those quick scans and judgements have long been the subject of psychological studies on biases, even spawning an online crowdsourcing quiz that determines whether we're ageist, racist, or sexist based on how we answer a few simple questions courtesy of Harvard's researchers. This kind of "implicit association test" has historically leaned on the milliseconds it took to click and render a gut reaction, proving that the less time we have to think the less likely will deliver a self-edited response.
This wasn't quite enough for Jonathan Freeman, a psychology professor at New York University and founder of the Freeman Lab. During his own graduate research, Freeman started developing software that would track the trajectory of that decision-making process by analyzing the millimeters of movement of the respondent's mouse, along with the time it took them to answer.
Although Freeman doesn't have formal training in software development, he says he's no stranger to coding; as a millennial, he's done it since childhood. The aptly named MouseTracker started out as a tool for his own graduate projects which began at Tufts in 2007 and continued through Freeman's time teaching at Dartmouth. "Development of the software coincided with new capabilities that I needed in my own research and others that I was sensing in the broader research community," he says.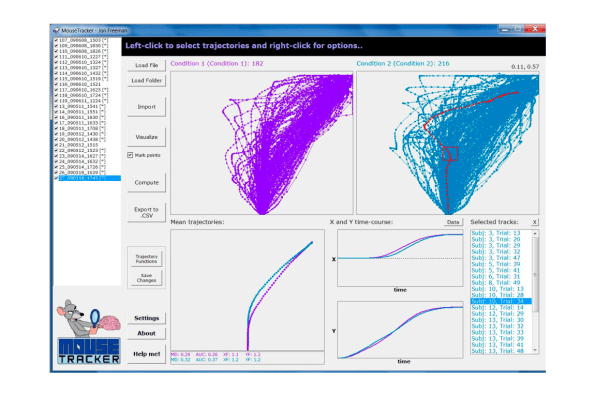 Inspired by other data analysis packages, Freeman maintains he just wanted to make it easier for researchers to use the tool to analyze mouse movements because, "Some areas of psychology are tech proficient and others are not."
Now with the help of a dedicated research tech, Freeman's MouseTracker is a complete software package in which researchers can design and run experiments and analyze data in an easy, graphics-based way. It's free for scientists to use, but there is not yet a commercial iteration.
Though brands have yet to tap the potential of MouseTracker (and Freeman demurred when asked about such plans for this product), market research could take on a whole new dimension with the software's analytics, says Freeman. One possibility, he posits, is that two recognizable products–say Coke and Pepsi–appear on each side of the screen. By varying characteristics slightly but still asking study participants to choose their preferred beverage quickly, the curvature of the choice, might be predictive of their behavior. "A partial attraction," he says, "Could be predictive of how they might purchase," rather than what they say. Choosing between a cupcake and a banana, he says, could be illuminating to participants, too. "Those individuals might be purchasing unhealthy food and some might not have awareness of food they truly desire."
So far, over 1,700 researchers have used the tool, according to Dartmouth, including Freeman's own studies. And while analyzing millimeters of movement may sound tedious to all but the most dedicated scientists, MouseTracker is opening an innovative window onto how people make up their minds about people, financial decisions, or deciding what to eat. The implications for the future of politics, retail, banking, recruiting, restaurants, and other industries are enormous.
In one study, Freeman says, "380 milliseconds is significantly predictive of elective success." He's talking about the research which asked participants to identify a candidate's gender as quickly as possible. The mouse movements to land on a gender were matched against the candidates' win-loss records. Female politicians with more feminine–as described in the study having "large eyes and rounded features" were winners. Those with "prominent upper brows" were voted out. You can watch a video of the trajectories here:
What influences our decisions and biases is a bit less clear. "Response trajectories revealed by MouseTracker are highly sensitive to many psychological factors," Freeman says, "including an individual's current emotional state or the context in which information is encoded."
If this sounds familiar, there's a good reason for it.
When asked about Facebook's grand news feed experiment to influence the moods of over 600,000 users, Freeman says there was "no major, specific tie."
He did say the software's sensitivity makes it a powerful paradigm. "In a hypothetical MouseTracker experiment that might examine how individuals arrive at a decision about particular products," he explains, "the mouse trajectories could potentially reveal certain biases including individuals' current emotional state, perhaps due to emotional contagion effects."
The key, Freeman maintains, is looking at how such decisions evolve in real time, over fractions of a second. It's there, he says, that "we can get a sense of other tentative, 'hidden' commitments toward other options that are not revealed in an individual's explicit, conscious response. And we are only beginning to understand what the implications are of these 'hidden' commitments."