Among the thousands of beers that will be drank near Fort Bragg this Fourth, there will be at least one that got its start in the war zone of Iraq. Working as medics in a Baghdad hospital, becoming numb to the wounds of war that they treated around the clock, Gerald Montero and two other medics spent their downtime talking about all the beer they would drink and make upon their return. When Eric Whealton, Tito Valenzuela, and Montero all finished their tours and arrived at Fort Bragg, they found a community perfect for launching their inaugural brew, Dirtbag Ales.
A "dirtbag" is defined by Urban Dictionary as a person who is a committed to an extreme lifestyle to the point of abandoning societal norms. There is some of that in this trio of veteran brewers, and in many of the military veteran brewers across the country. An exact count of the number of veteran brewers doesn't exist, but Small Business Association figures indicate that veteran-owned businesses are rapidly increasing as the wars of the past decade draw down, and breweries in particular are popping up. You can find them dotting America's military landscape: Young Veterans Brewing Co. serves the multiple bases near Hampton Roads, VA; U.S. Army Rangers at Hunter Army Airfield and Fort Stewart, GA run Service Brewing Company; Red Leg Brewing Company of Colorado Springs pour for Fort Carson and other nearby installations; Warfighter Brewing Company serves the Presidio. There are many more.
In talking to veteran microbrew founders, it's clear that while there is no underground network of military-owned brewers, vets have a couple of advantages: experience with results-oriented leadership, the support of other military communities eager to see small businesses succeed at a time when vets still have a much harder time finding a job, and access to thirsty, young social communities.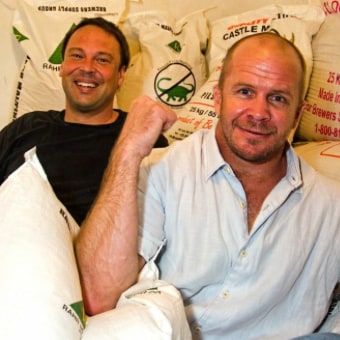 Alcohol has always been a part of American military culture abroad and at home: Soldiers were brewing bootleg alcohol and early versions of home-brewed beer years ahead of the Prohibition boom in hooch. Today alcohol is strictly prohibited in war zones and is punishable by court-martial, but the generals recognize the importance of allowing troops to enjoy two beers during holiday feasts and the Super Bowl. The success of non-alcoholic "near beer" sales at Afghanistan bases points to the fact that, even when alcohol is scarce, beer culture remains strong among fighting men and women.
When they return home, vets are often surrounded by alcohol. According to a 2013 report conducted by the National Institute of Health, 27% of returning troops develop alcohol addiction, a figure greater than the one in five soldiers who suffer from post-traumatic stress disorder.
The trio who created Dirtbag Ale realized they might have a business when, at party after party, they were getting requests for Tito's German-inspired homebrewed beer. Each of the men brought different strengths to their brew business. Tito, the creative visionary and brewmaster started off like many–brewing beer right out of his garage from a kit re-gifted to him. Eric, the whisky-now-turned-craft-beer snob fronted some cash and sampled the recipes, as Gerald, the business-minded number-crunching vet enjoyed wrapping his head around business plans and marketing ideas.
"We have been working on our plan for years and at some point it becomes a leap of faith," shared Montero. "You have to believe in your product and just go for it."
Not all veteran-owned breweries began as wartime fantasies. Railhouse Brewery, sitting between the humble training areas of Fort Bragg and the fairways of ritzy Pinehurst golf course, was founded in 2010 by two friends working as managers in the corporate world: former drill sergeant Mike Ratowski and U.S. Navy nuclear propulsion chemist Brian Evitts. Serving up over 50 North Carolina craft beers, including their award-winning ale, the kitschy brewpub offers regulars custom-engraved growlers and their own personal mug hanging on a wall.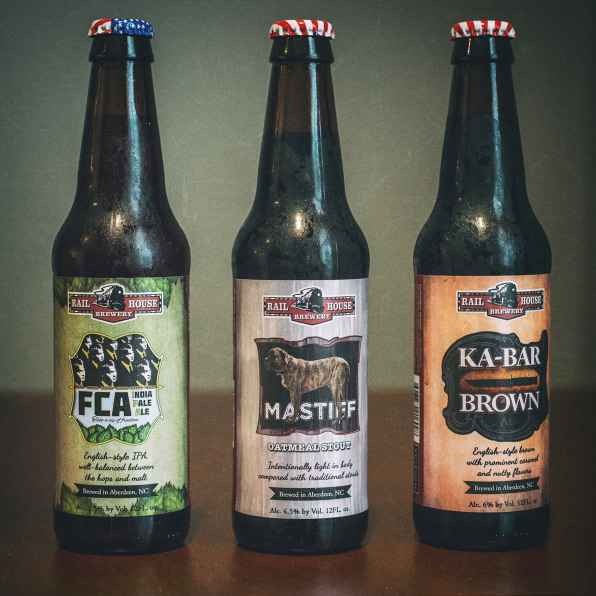 Railhouse Brewery's beers–all created by Siebel Institute-certified beer scientist Evitts–are shelved at major supermarkets across the Tar Heel state, and the brewpub is ranked number 59 on Foursquare's top 100 breweries. "Our continued expansion has been carefully planned, but we have exceeded our own expectations," says Evitts, co-owner and brewmaster.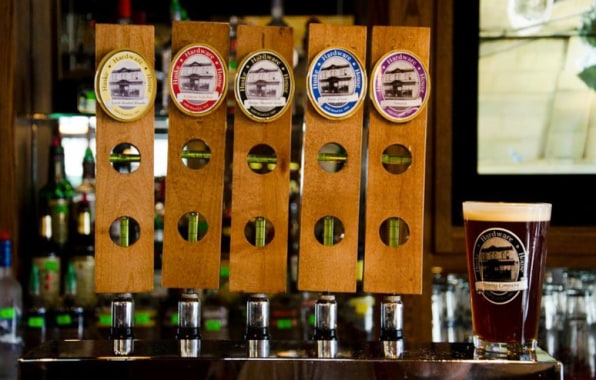 Josh Collins, a former Green Beret, founded his brewing company, Huske Hardware, in 2005. His seasonal Watermelon Wheat ale, made with 30 pounds of pureed local watermelon in each batch, is currently is sold out all over Fayetteville. With its central location, inside the historic 109-year-old Huske Hardware building located near Fort Bragg, the brewery makes it deliciously easy to support a returning vet.