Exactly four years ago I found myself sleeping in strange places. Couches. Chairs. Occasionally I even caught a few winks while leaning against a wall. It was 2010, and I was one of many at ad agency 180 Amsterdam living at the office in order to bring the massive Adidas World Cup campaign to life.
As exhausted as I was, I loved it because we were doing something bold. The films we were creating brought together some of the world's finest athletes and pushed new boundaries in special effects. The online experience we developed offered in-depth daily game interactions throughout the month-long tournament. Every day new films were shot and edited to tell the captivating stories coming out of South Africa. Those films were distributed through a carefully orchestrated social media plan.
It was a campaign worth losing sleep over. Because it felt brave.
I think bravery is what the World Cup represents for many of us. And Nike's new World Cup campaign captures that spirit with the perfect tagline: "Risk Everything." It is such a great example of marketing that celebrates the foundation of what it is selling. Nike understands that the story of the World Cup is not soccer. The World Cup story is about finding courage.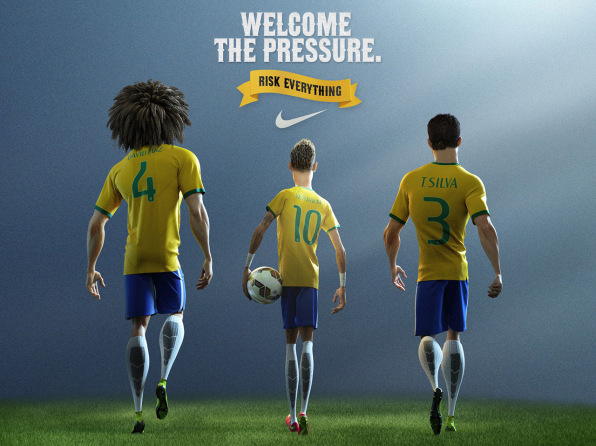 Nike expanded on this idea with the brilliant line, "There's no greater risk than playing it safe." This is as true in advertising as it is in sport. Risk is what kept me in the office all night back in 2010 in Amsterdam, and taking that risk is how Nike already has a huge win with the 2014 World Cup.
So why are most brands so afraid of taking risks when time after time we watch Adidas and Nike wow the world? Nike and Adidas have learned how to take the risk out of risk by following some very simple rules of engagement–rules that we can all learn from in an effort to leverage this World Cup passion.
Here are a few lessons from their World Cup playbook:
The World Cup is a global event, and these massive campaigns have to work across many languages, going beyond national, geographical, and cultural boundaries. The ideas that best demonstrate this are based on universal truths that transcend verbal language.
Everyone in the world instantly gets "Risk Everything." Frankly, it is a sentiment that goes beyond sport. We immediately know what statement they are making and the challenge they are throwing at both the athletes and at us. In two seconds, they have us on board.
Attaching a brand to a basic, and intense, human feeling is seen in nearly every memorable World Cup campaign. Nike sells personal achievement. Coke sells happiness. McDonald's sells fun.
Nike's "Write the Future" campaign in 2010 tapped into the human truth that athletes are driven just as much by the fear of failure as they are by the promise of success. This was a powerful idea that they knew would connect with athletes.
Once they had established this connection they were allowed to take risks in how they delivered that campaign. They were free to experiment and take risks. They brought in celebrities and athletes from other sports. They boldly required that people "like" them on Facebook before seeing the film. They were able to ask a lot from fans with their digital and grassroots activations, which challenged people to write their future and ultimately spend a lot of time with the brand.
Whether with words, images, or a shared experience, you need to tell a story. One of my favorites within the World Cup archives is the 2006 Adidas +10 campaign. This was an amazing display of storytelling with very sparse use of words or dialogue. The story resonated with a rich emotional connection to youth and the memories that all sports fans have of being a kid and dreaming of the big game.
Whether listening to a story from your grandfather's knee, watching a riveting television series, or reliving past sports glories, there is nothing that grabs us harder than a good tale. Brands that have succeeded at the World Cup all use this power of storytelling to their advantage. Whether it is the story of an underdog team or sports phenomena, the smartest brands know that if the story is worthwhile, they can take more risks in how they deliver it.
The World Cup playbook is not something to be pulled out every four years. These are fundamental rules of modern marketing. Just like in football, or soccer if you like, knowing the fundamentals is 80% of the job. And just like in football, after the fundamentals are in place, the focus can shift to using creativity, originality, and style to be bold enough to push boundaries–and that is where those sleepless nights come in.
So if you, like me, are finding yourself feeling jealous of the amazing work you see supporting the 2014 World Cup, know that taking more risks is something we all can do, World Cup stage or not. We just have to follow the rules that make it safe to risk everything.
—Joe King is Group Account Director at mono advertising and branding agency.