Last week, the U.S. Supreme Court struck down a Massachusetts law allowing for a 35-foot buffer zone outside clinics offering abortions. The law, which builds off of a similar one in Colorado, went into effect in 2007 and provided a fixed, no-go zone around women's reproductive health clinics. The buffer zone, which was supported by local law enforcement, limited the proximity of pro-life protestors to the women and the staff entering the facility, thus diminishing public safety concerns.
And public safety is a serious concern. While Roe v. Wade remains legally intact and secures the right to an abortion in the United States, clinic violence represents one of the greatest deterrents to women and to providers. The National Abortion Federation (NAF) has tracked reported cases of violence against clinics since 1977, and the long list of incidents includes eight murders, 17 attempted murders, 42 bombings, 181 arsons, as well as thousands of cases of criminal activity like kidnapping, stalking, and a rash of attacks using butyric acid. Add to that the daily affronts of picketing, obstruction, and intimidation, and you can understand why Vicki Saporta, president and CEO of NAF, said in a statement last week that "buffer zones work" in protecting people.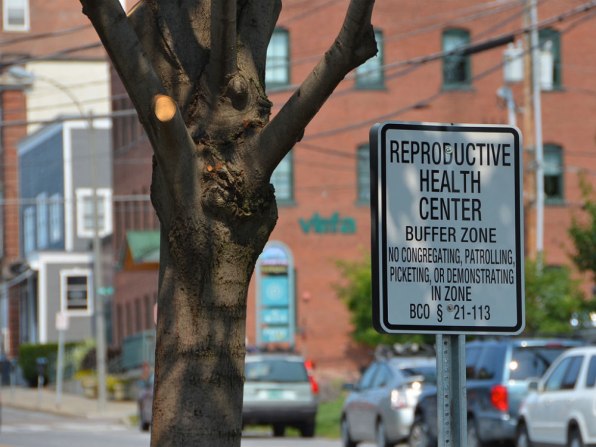 The SCOTUS ruling serves yet another blow to those hoping to provide safe and accessible reproductive health services to women. While other building types have benefited from the expertise of architects when addressing public safety issues–think, for instance, of the architectural interventions around safety, wayfinding, and crowd control at hospitals, federal buildings, courthouses, and stadiums–reproductive health care clinics rarely see that kind of design support. Clinics are left to fend for themselves and, as a result, are forced to create ad hoc buffer zones where architectural and legislative options have failed to deliver.
On a cold Friday morning in December of 1994, 22-year-old John Salvi dressed in black, packed a .22-caliber rifle and several hundred rounds of ammunition into a duffle bag, and went to a stretch of road in Brookline, Massachusetts, known to pro-life activists as "Abortion Row." Located near Boston, Brookline had three women's reproductive health clinics in close proximity and Salvi was able to enter two of them. He walked inside and shot indiscriminately, murdering two women who worked as receptionists and injuring five more. Salvi's rampage in Brookline continued a troublesome escalation of violence against abortion clinics, including the death of two physicians and a clinic escort earlier that year in Florida.
With McCullen v. Coakley, pro-life advocate Eleanor McCullen said that the Massachusetts law impeded her ability to pass out pamphlets and quietly "counsel" women about their decision. In a surprising unanimous decision, SCOTUS agreed. Writing for the majority opinion, Chief Justice John Roberts stated that the fixed buffer zone hampered the freedom of speech of those hoping to talk to women about pro-life options (though he doesn't seem to mind the buffer zone around the Supreme Court). The Court supported Massachusetts's right to protect women using the clinic, but held that the state went too far in making it a crime for speakers to "enter or remain on a public way or sidewalk" within 35 feet of an entrance, exit, or driveway of a reproductive health care facility.
As Lawrence Hurley reported for Reuters, "The case pitted the free speech rights of anti-abortion protesters against public safety concerns raised by women's health care providers." Public safety lost out, even though law enforcement supported the Massachusetts law, citing its effectiveness in curbing violence and maintaining the peace. (Those interested in the legal nuances of this decision should check out the SCOTUS blog.)
As a building type, women's reproductive health care clinics in the U.S.–and those states and municipalities who support and protect patients and workers–face a series of insidious challenges. Lori Brown, an architect and an associate professor at the Syracuse University School of Architecture, outlines several of these issues in her 2013 book Contested Spaces: Abortion Clinics, Women's Shelters and Hospitals. Brown was interested in understanding "to what effect varying degrees of legislation impact the landscapes of reproductive health care access," as she writes in the book.
Brown visited clinics around the country and learned that many were forced to rent or buy facilities not originally designed for medical procedures. Clinic owners often ended up in less-than-ideal buildings owing to local politics, legislation, and other restraints. "Often people would not rent or sell to abortion providers," Brown writes, "so once providers find a location that can be made to work . . . they typically jump at the property."
.
A 2013 survey of NAF members found that 92% of responding facilities were concerned about the safety of patients in the areas near a facility. Because clinics run on shoestring budgets, Brown learned that many resort to clever architectural hacks to help safeguard against protesters. "It was really interesting interviewing clinic owners, particularly in the Southern region where they have so many protests, and hear about the creative ways that they try to create separation," Brown tells CoDesign.
One clinic uses a sprinkler system as a kind of water "fence." Another blares classical music to drown out the shouts from protesters. Yet another blasts industrial fans inside for white noise. One clinic cultivated a tall privacy hedge at the border of the public sidewalk until local police insisted the nonprofit cut it down for fear it would be an easy place to hide a bomb.
It is the failure of architecture to protect patients and providers that particularly flummoxes Brown, who is a licensed architect in New York. While her research began by looking into the design of abortion clinics, she quickly realized that design was practically nonexistent. "Architecture is absent in these types of spaces," Brown says. "They can't afford architects or architectural services, they believe architects won't work with them, and they are often in existing spaces that have been re-appropriated as a medical facility." Many clinics can be found in nondescript office parks or concrete strip malls (Brown wrote that she sometimes drove right past them, particularly on the days when protestors weren't outside marking the location.) A lack of funds coupled with security concerns means that the interiors can resemble bunkers.
Anne Fougeron, principal of Fougeron Architecture, is the rare architect dedicated to designing safe, humane reproductive health clinics. After the shootings in Brookline, Fougeron was compelled to do something in her town of San Francisco. "I offered my services to Planned Parenthood Golden Gate after the Boston incident because I felt that it was important to stand up for the rights of women," Fougeron says. "They said that what they really needed was an architect to help with security upgrades."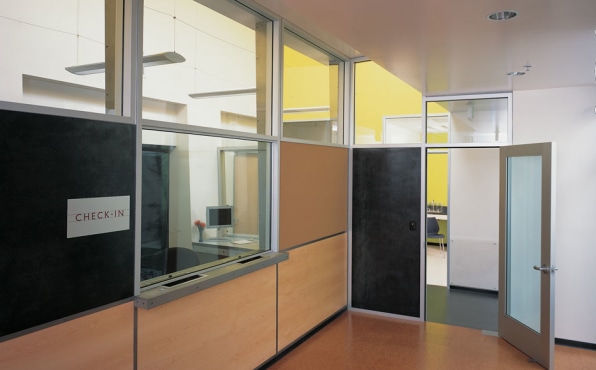 For more than a decade, Fourgeron designed the nonprofit's offices, call centers, and new clinics, as well as upgraded existing clinics. With little budget, Fougeron offered her expertise pro bono or at a fraction of her regular rate. "You had existing conditions where you couldn't afford to tear the whole thing down, so it was about dealing with what was there," she says. "There were a lot of upgrades for security, like finding a better way of entering the clinic, creating better flow, adding bulletproof glass."
Fougeron also worked to make these environments, where women receive a host of health services beyond abortions, welcoming. "Eighty percent of what happens inside has nothing to do with abortion services," Fougeron says. "It's prenatal care, it's check-ups. I felt that it was important that just because you were going in for a PAP smear that you weren't going into a prison."
If women can't always rely on legislation to support their cause, could they rely on architects? The architectural profession has rallied around politically charged building issues in the past. The group Architects/Designers/Planners for Social Responsibility was founded in the 1980s to advocate against nuclear proliferation and has, in recent years, supported an architectural boycott of prison design. Then there is the recent outcry from architects over the dangerous and exploitative building practices happening in the Middle East.
Brown says it's time for the design community to take a stand on women's reproductive rights. "Architects have to become more politically engaged in our built environment." To that end, Brown is helping organize a design competition that will rethink a privacy fence for Mississippi's only abortion clinic. (The details of that competition go live later this month on this website.)
Fougeron agrees that it is important for architects, particularly women, to take on this kind of work. "It remains a civil rights issue for women more than anything else," Fougeron says. "There are a lot of women who have gotten used to the idea that this is how it is and always will be, but they aren't seeing the writing on the wall. Frankly, I think the fight for abortion is being lost and the only way to regain it will be to take a stand."