Lakeland, Florida, is just off Interstate 4: A 129-year-old city of 100,000, it is now home to Florida Polytechnic University. This new university is anchored by a $60 million Innovation, Science and Technology (IST) building–a white, oval-shaped structure with 84 curved pergolas and shutters on the roof that follow the sun's movement–sitting amid the acres of farmland. It looks like someone tried to drop a shimmering bauble of Silicon Valley design right next to grazing cattle.
The cows may not be disrupted, but everyone else is watching Florida Polytechnic closely as it opens in August, as Florida's first and only university entirely focused on preparing students for careers in science, technology, engineering, and math (STEM). Florida Poly will launch in August with 50 full-time and adjunct faculty members and an inaugural class of 500 students, all of whom received four-year scholarships covering the more than $20,000 in-state tuition. In an atypical move, the university will not offer tenure to its professors, but rather multi-year contracts that administrators say will help it remain nimble.
The U.S. lags well behind other first-world countries in producing graduates with technical skills: STEM has become such a focus that President Obama announced an initiative to produce 1 million more STEM graduates in 10 years and proposed more than $450 million in funding for STEM programs in the 2015 budget. But critics in Florida and beyond argue that STEM-only institutions are big shiny band-aids, like dropping new iPads in a school with entrenched problems. American liberal arts universities are the envy of the world. So why, critics ask, would we want to abandon their model when we're trying to build a more tech savvy workforce?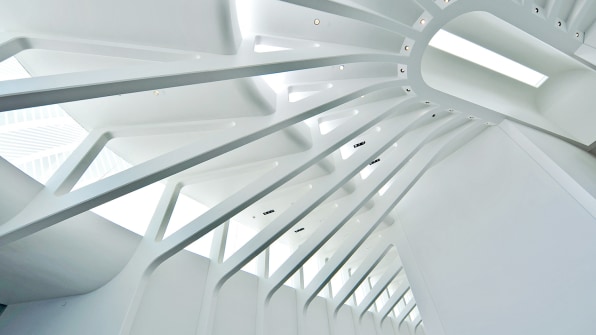 Lakeland already had a technical school: In 2012, Florida Governor Rick Scott signed legislation that closed the University of South Florida Polytechnic's campus in Lakeland and created an independent university, Florida Polytechnic.
"There was no institution that had a really singular focus on STEM. The legislature wanted to create something that would be good for the state and make it competitive," said Ava Parker, Florida Polytechnic's Chief Operating Officer. High tech companies are increasingly becoming a boon for Florida's economy. As of 2011, there were more than 11,000 companies in the I-4 high tech corridor–the 23-county area between Orlando and Tampa, including Lakeland.
Florida Polytechnic is hoping that every inch of its main 160,000 square foot building spurs innovation. The space is designed to provide students with hands-on learning experience. The facilities are more research labs than classrooms: there are supercomputers, a lab where students can create gaming simulation technology, and data visualization and cyber security labs where they can develop products with real-world applications. With 55 3-D printers, the school also has the largest rapid application development maker's space in the country, which allows for faster product prototyping, said Tom Hull, the school's chief information officer.
"We're teaching niche skills that are transferrable into the marketplace," Hull said. "We're not going to get distracted with things that aren't going to solve social problems."
Florida Polytechnic also is working with more than 60 industry partners in the high tech space that have helped shape the curriculum. The partners, including the Harris Corporation, Lockheed Martin, Cisco Systems, and Microsoft, will serve on advisory boards, provide internships for students, and may participate in joint research projects and teaching opportunities. The school also will have an entrepreneur lab where students can collaborate on ideas that could be funded by venture capitalists.
Hull said the school's advanced technology and partnership model will resemble the creative environment of places like Silicon Valley.
"We're not going to be satisfied teaching run-of-the-mill computer science or engineering," he said. "Silicon Valley is all about tech startups, venture capital and innovation and that's what we're all about. We want to excite students to innovate and become entrepreneurs."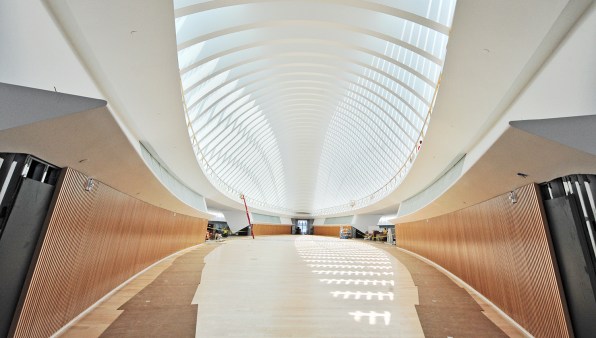 Florida Polytechnic has the feel of another startup, chasing the dream (pursued by New York City and others) of bottling Silicon Valley and bringing it to a remote city. As with most startups, sizable hurdles have presented themselves. The first: the school has until 2016 to achieve accreditation.
A regional commission will determine if Florida Poly receives accreditation based on comprehensive standards, such as whether its academic programs reflect its institutional mission. "Because we're so attuned to ensuring we have all the pieces in place, I feel we'll be very successful in the process," Parker said.
Then there's the issue of abandoning the tenure model. "What I know for sure is that it's going to be hard for them to attract certain types of faculty–research faculty–who have tenure track offers elsewhere," said Eric Eisenberg, Dean of the Colleges of Arts and Sciences at the University of South Florida–the university Florida Poly was carved out from.
"Will they be able to attract the type of faculty that I have at USF Tampa? Probably not. But will they be able to achieve certain goals? Maybe so, " he added.
So far, Florida Poly has attracted faculty from Rutgers, Cornell, and California State University, Long Beach and people who have experience in startups and STEM industries. Parker said the faculty is excited about "having a role in directing where the university takes higher education."
One hallmark of a Stanford education–the gold standard in molding American tech entrepreneurs–is the development of "T-shaped" students, who have a deep understanding of their (often STEM-focused) major while also understanding a breadth of disciplines.
The Association of American Universities launched a five-year initiative focused on undergraduate STEM teaching. According to Tobin Smith, the AAU's Vice President of Policy, findings so far indicate there should be more emphasis on improving STEM education through hands-on and engaged learning approaches, rather than simply expanding STEM focus.
"We make a mistake when we encourage people to be too narrowly focused in STEM," said USF's Eisenberg. "We kind of have to start with some basic questions about what it is we think we're investing in. If we focus individually on any single metric, we're going to get ourselves in trouble."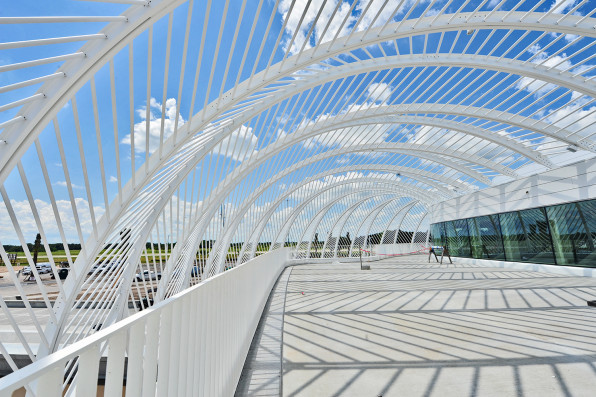 Eisenberg says that economic uncertainty has pushed students toward STEM majors–but he notes that employers still value non-STEM skills. A 2013 report by the American Academy of Arts & Sciences found that three out of four employers want workers with skills that are learned in the humanities: critical thinking, complex problem-solving and written and oral communications.
"Workers are going to need to have some STEM knowledge, but they're going to need to be very broad in their training," Smith said.
Perhaps the most important people in this experiment, Florida Polytechnic's first class of freshmen, have all the optimism and certainty the university could hope for.
Kristyn Ardrey, an incoming freshmen from Plant City, Florida, said she was nervous about "coming to something that wasn't official," but she's excited about the school's hands-on curriculum. "We're working in what we're actually going to be doing after college," she said.
"It's exciting," said Karim Rezk, an incoming freshmen from Toledo, Ohio, "because we're a part of helping with the transition to the future."