There comes a time in the life of a mobile app when a hard, honest look in the mirror becomes unavoidable. Is my feature set bloated? Are people even using these bells and whistles? Where can I cut the fat?
For the folks at SoundCloud, that moment of truth arrives today. The popular audio streaming platform is launching a radically overhauled version of its iPhone app. The new SoundCloud iPhone app sports an immersive, more minimal design that focuses on consuming audio rather than discovering or creating it. Indeed, quite a bit of fat has been cut here.
"It's a complete interaction overhaul," says SoundCloud director of Product Design Brian Yeung. "The way that you experience the player, the way that you experience music. We rethought everything from the ground up."
With this new app, SoundCloud is moving away from the standard iTunes-esque interface typically employed by music services. It's less about albums and collections and more about social feeds, follows, and favorites. In terms of its user experience, SoundCloud now feels more like Twitter than Spotify.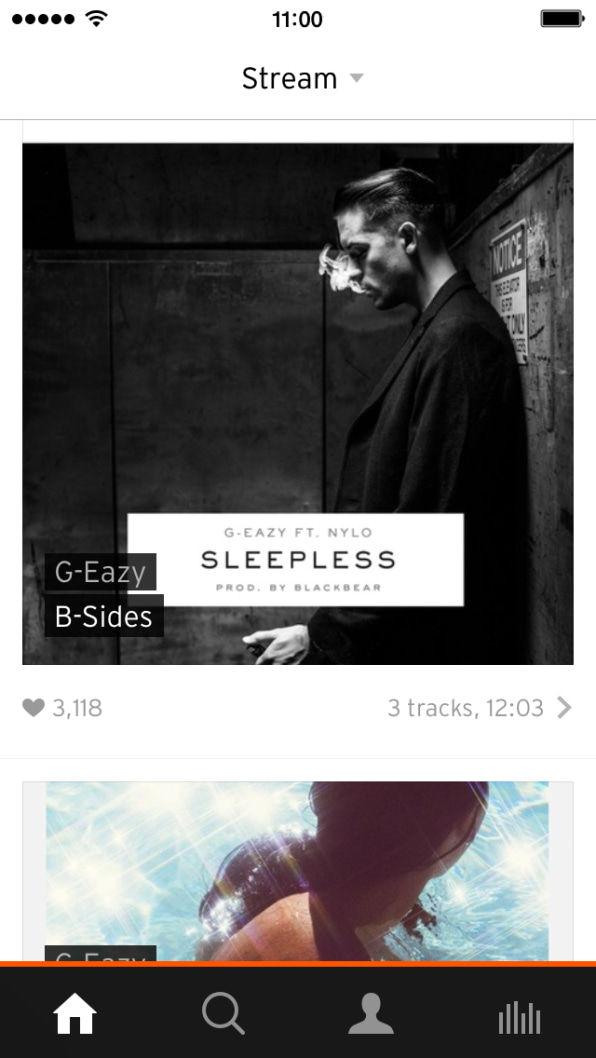 The new app is big on imagery and animation: The main feed is peppered with wide, screen-spanning thumbnails, and scrolling through them produces the sort of 3-D "parallax" effect so popular in interactive design these days.
Perhaps the most dramatic visual difference is the audio player interface. In a shift that defies convention in an almost jarring way, the player doesn't even have a play button when you first launch it. Instead, the visual focus is on the track's imagery–the thumbnail that gets uploaded with the audio–and the iconic SoundCloud waveform, which glides to the left as the track plays. It's only when you tap that orange waveform to pause the audio (yes, that's how you pause the audio) that the player controls reveal themselves. This may be a little disorienting for some at first glance, but it's also refreshing to see somebody rethink how audio playback should function on mobile devices.
"If you think about what the experience is like on a mobile device, most people are on the go," says Yeung. "They're not looking at their phone directly." In other words, most users are interested in listening, rather than creating or interacting. And as Yeung explains, "If you want to focus on the listening experience you've got to pare everything down and simplify."
And simplify they did. Indeed, what many hardcore users will notice more than the sleek new UI is what's missing. Several features from the existing SoundCloud apps have been removed, most notably those centered around interaction and creation.
Features like playlist creation and SoundCloud's famous timed comments–which let users leave comments at specific timestamps on the audio–are not included in this version of the app, although Yeung says they're looking at how to best adapt features like those for a mobile context.
One notable feature that's not likely to find its way back into the SoundCloud app anytime soon is audio recording. For years, Android and iOS users have been able to record, edit, and publish audio files from inside the SoundCloud app. The feature lent itself to publishing rudimentary field recordings and interviews, but nobody's going to produce an NPR-quality radio show or a song worth listening to without more sophisticated audio editing tools.
"Generally speaking, if you have an application that focuses on one thing, you can have a much cleaner experience," says Yeung. "We looked at other people who were focusing just on the recording functionality and we looked at our high-level priorities. We wanted to focus on keeping the app really simple, so we decided to take the recording functionality out."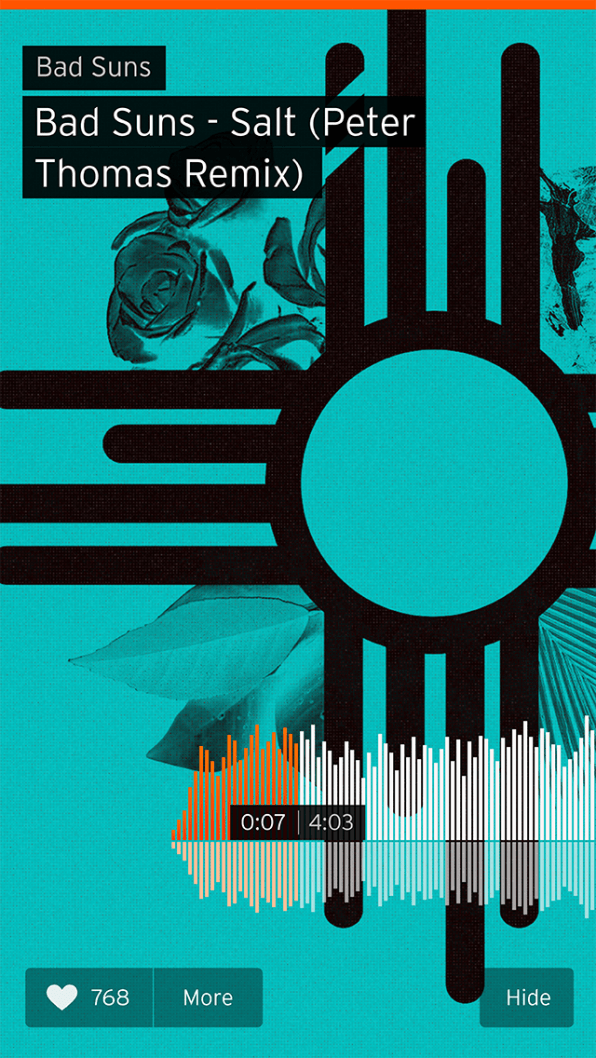 After experimenting with mobile audio production, SoundCloud is now content to leave that functionality to third parties in favor of its own simplicity. Plenty of audio and music creation apps for desktops and mobile devices can publish directly to SoundCloud, and the company will rely on partnerships like that for the audio creation side of things. To replace its outgoing audio recording feature, SoundCloud is officially endorsing an app called AudioCopy, which provides pretty much the same functionality to which some (but obviously not a majority) users had grown accustomed.
"A lot of the things that we had done in the previous version of the application were about enabling a user, be it a creator or listener, to do anything they wanted," says Yeung. "There's a lot of controls available. We said, 'Look, there's a lot of things that we could do, but it's not really clear what we should do.'"
As with any dramatic overhaul–especially one in which features get the axe–this update is sure to ruffle a few feathers. But while the recording feature may be dead, other missing features will find their way back into SoundCloud's iPhone app once its designers find the most elegant way to include them. Playlist creation, comments, and offline caching are reportedly toward the top of that list.
Luckily for SoundCloud's engineers, these types additions should be easier to make than they were before.
"The codebase has been completely re-architected and our software development processes have changed so that we can iterate and continue to push out features at a faster rate," explains Yeung. "The codebase has been designed to be quite modular and isolated into layers of responsibilities. We've put a lot of effort into our build pipelines and development and testing tools to ensure that we get fast feedback as to when problems exist in our app."
Like any overhaul worth the time and money expended on it, this redesign is as much about future-proofing the app as it is about wowing the user. Don't be surprised to see another update before too long.