Fred Kahl is one of those special characters, but one of the things that makes Kahl special is that he isn't a clever young mind. At 49, he's one of those rare brains that can latch on to the cutting edge technology of the moment and not get stuck in the technological amber of their younger days.
That's no small thing. For Millennials, two things come naturally: technology and individuality. My generation considers it self-evident that you can make an app, create an album, or shoot a film by yourself. Kahl went to NYU's Interactive Telecommunications Program in the mid 1990s. When he goes back, he says, "I'm always blown away by the student showcases there, because all the tools they have to work with are so much more capable."
But Gen X'ers have watched as creative work went from teams of minds with pen and paper, to teams with digital tools, to (somewhat suddenly) such powerful tools that individuals can start companies worth tens of millions of dollars in a relatively short time. Without computers to augment a single person's skills, design by committee used to be the mandate. By comparison, today's "solo maker" movement has huge appeal. "Ultimately it's about the vision to apply the tools to create things that empower people," says Kahl.
But then the question is: What do you make with those tools?
Kahl is the former creative director at digital interactivity and gaming agency Funny Garbage. But today, he is the man behind the 3-D-printed, 50-foot-long model of Coney Island's Luna Park, now on display at the Coney Island Museum.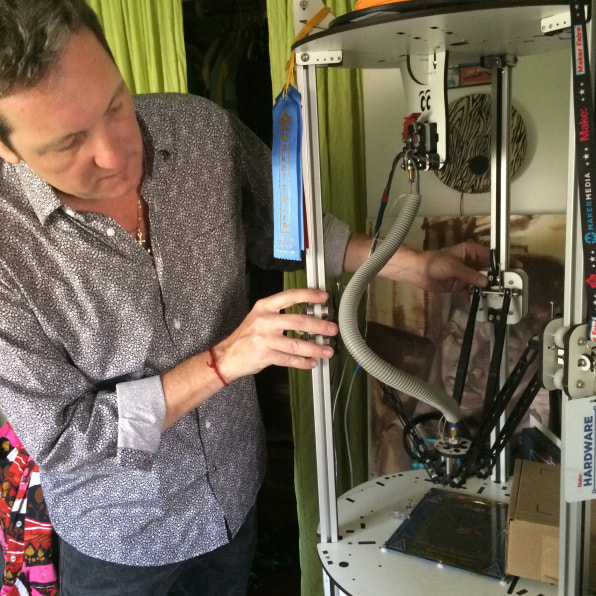 Kahl's first 3-D printer was one he built himself, and his 3-D scanning invention the Scan-O-Tron 3000 won nine awards at the New York Maker's Faire. The manufactured printers he uses have three axes–X, Y, and Z. But But Kahl also uses a Rostock design printer based on industry picker robots, which has all three axes moving in unison.
The exhibit features the towers and arches of the original Luna Park, 3-D printed with ornate detailing in an ivory color. A main feature of the project is what Kahl calls "The Characters of Coney Island," consisting of scanned and printed figurines of people who visit by Kahl's Scan-O-Rama studio on Coney Island.
"Coney Island is this magic place where people of all walks of life gravitate to it in a glorious melting pot," he says. "Luna Park is symbolic of society being transformed by technology in the guise of entertainment. These are themes which resonate today as we undergo the third industrial revolution." I'm pretty sure he's talking about the web.
If Kahl seems oddly self-aware about the transformation of art and society, it's because he's trying to help it along. "What makes me tick is wanting to make art that is affordable and approachable to the masses," he says, "and not the 1%."
That journey lead him first to glassblowing, then to sideshow work as a magician and sword swallower. It was only later that he began making interactive entertainment at Funny Garbage, creating a sexy TV gameshow called Thisorthat.tv, which Comedy Central declined to buy in the aftermath of Janet Jackson's Super Bowl, uh, revelation. Later, Kahl helped build the first Cartoon Network homepage, along with the first sites for VH1, Comedy Central, and IFC. More recently, Kahl worked on the Cartoon Network iPad app called Watch and Play.
His newest endeavor is the Scan-A-Rama, a 3-D scanning studio. He calls it the portrait studio of the future, and envisions families crowding in for photos the way they used to at the photo stalls in Sears or Kmart.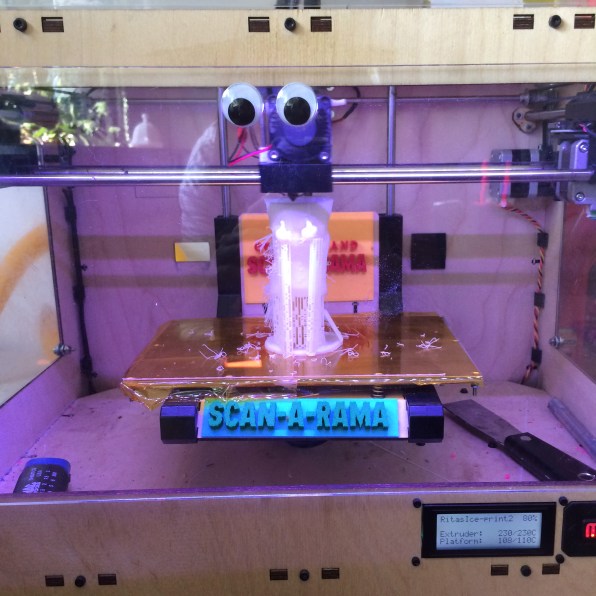 The problem? No one had figured out a great process for scanning a 3-D body and reprinting a scale model. "Before I did this, there were multiple methods for 3-D scanning," he says. "People would scan someone with two mirrors at 45-degree angles and then painstakingly put the faces together–which is like a lot of software production work." Another time-intensive version of scanning involves anywhere from 24-60 cameras in a circle coupled with a cloud computing service that determines the best model.
Kahl's solution is like a pottery wheel: The portrait subjects stand on a simple turntable while an electric motor spins it slowly around. "It's kind of the daguerreotype all over again because you kind of hold still," Kahl says. An Xbox Kinect controller scans in infrared to capture the image. It's a work in progress, he says. "The biggest problem with this right now is there's only a manual brake. My worst nightmare is that it banana-peels out from underneath someone."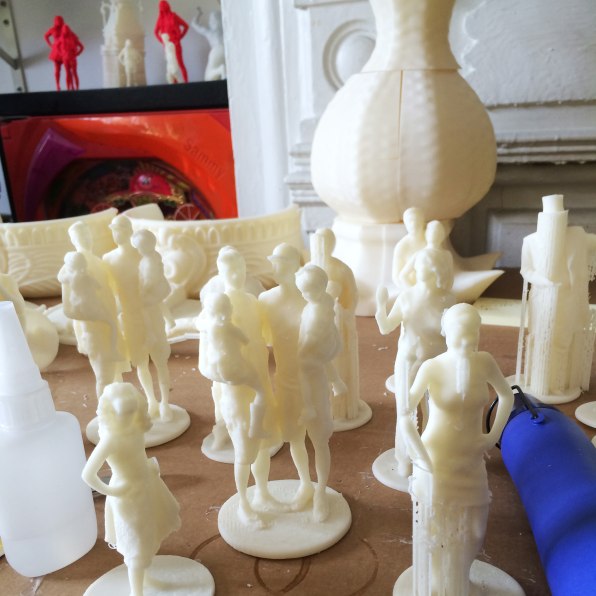 Once the 3-D model has been sent to the printer software, Kahl can play around with the file some more to fix imperfections. He shows me a model of Neil Patrick Harris, his husband, and his kids, who were restless during their visit to the Coney Island portrait studio. "I had to totally reconstruct them," says Kahl. "You can see like how noisy all this shit was… there's no leg at all here, so I totally rebuilt this."
Kahl represents a quiet but disruptive seismic shift in the technology world. Look at the ages of the creators of the most popular Kickstarters, and you won't find many college-aged kids among them. People like Kahl may someday be part of a pool of (hardware) technology icons who don't wear flip-flops.