BreakingNews.com and its app have been a gold standard for news aggregation for years: Among news brands, they're often the first mover on Twitter, which is why 6 million people follow them. And now, with the latest update to its iOS app, this independently run business within NBC News Digital is following their audience back.
Last week, Breaking News unveiled "proximity alerts," meaning the app will send users a push notification on their mobile device when news breaks near them–no matter how far from home they may be. On June 13–a day after the update hit the app store–those in the Baltimore area would have gotten a breaking news alert about a tornado, or if you were in Thailand for business the app would have let you know the moment a standing curfew was lifted.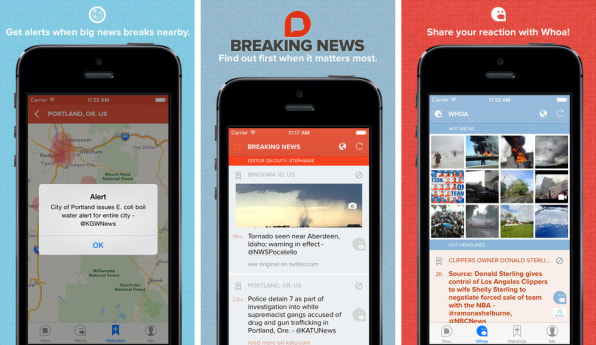 As the company's GM Cory Bergman explains, "The intent is to look for stories that have a tangible impact for people nearby." The update also allows for a personalized breaking news alert system based on a particular user's interests, from politics and sports to just about anything since there are 38,000 topics to choose from. "There's really interesting ways to use it," Bergman says.
But it's the proximity alerts, and more specifically how they are delivered, that Bergman considers a game changer. Every story is now geocoded, and a team of experienced editors–"more than a dozen but less than 20," as Bergman describes them–have the final say in what goes out, when, and to whom.
"I would be concerned if it was just an algorithm," Bergman says. "We're marrying technology with editorial judgment."
Through built-in functionality in its content management system, the geocode algorithm spits out a location, but the editors must then accept or refine it based on their discretion. They can pinpoint a neighborhood or an entire state. In a way, Bergman, who was a TV newsman before he cofounded Breaking News, says his team is diving into a new dimension of editorial judgment: determining the geographic impacts of breaking news.
"I think people will be most impressed when they see it in action," he says.
During testing, Breaking News sent out a proximity alert to beta testers in New York City when a building collapse in East Harlem brought Metro-North service to a halt. Confirming Twitter reports before other national outlets wasn't new for Breaking News, but being able to then make a targeted push directly to the New Yorkers who were affected by the chaos following the collapse was.
Breaking News is the first news app to tailor its news to a user's location. (If you get your news from Twitter, you're probably used to arriving at a local news site and being told "This website would like to use your current location." That's usually the website targeting ads at you, not news.) But wider applications are easy to imagine.
Take the New York Times' app which, like its dead tree counterpart, offers users two interfaces: a U.S. edition and an International edition. Tailoring its front page for people who live near the global events it covers could address one of the problems identified in the Times' much-discussed "Innovation" report: that while the company creates a huge number of articles from far-flung correspondents, only a minority find real traction.
At the local level, news consumers are increasingly relying on local alerts directly from municipal sources. "Timely, important local information–school cancellations, delays and early dismissals, road closures, power outage restoration efforts, emergency shelters, missing person alerts–already gets directly to residents through reverse 911, Code Red alerts, even Facebook and Twitter accounts operated by police and emergency responders," writes Michael Dinan, founding editor at Connecticut's NewCanaanite.com.
The possibility of pulling all that noise together and pushing it out through a local news app could be a big opportunity for a local player–some non-news apps are already making waves in that space. Bergman says that's not Breaking News's play. "It's not going to be a substitute for local news organizations," he says. "We look at ourselves as an amplifier of local media." On its website, Breaking News touts the fact that it sends about 200,000 clicks every day to news organizations.
Bergman is a relentless champion of the idea that increased mobile adoption will transform the news business. Unlike many major news outlets, Breaking News is not interested in increasing readers' time spent on the site. Rather, Bergman says, the service is designed to save people time and not annoy its users. Bergman said there was a "big spike" in app downloads following the update's debut and subsequent industry buzz, though he wouldn't say more. An Android version is scheduled to follow "soon."