As we enter high iced-coffee season, three South Korean companies are ready to satisfy your thirst.
South Korea is a coffee-mad country, with one of the world's highest consumption rates and one of the world's highest rates of cafes per capita–nearly 15,000 coffee shops for a population of approximately 50,000,000. Now some of South Korea's most successful coffee chains have set their sites on a new market: The United States. Or what you might think of as Starbucks Country. Using a combination of wider menu offerings than Starbucks and better customer service than Dunkin Donuts offers, they're betting that all Americans, and not just Korean expatriates, will see something in their offerings that domestic chains don't deliver.
But can they ever truly compete with the company that once inspired this funny-because-it's-true headline?
Three of South Korea's biggest coffee shop chains, Paris Baguette, Caffe Bene, and Tom N Toms, have all embarked on American market expansion over the past several years, and are intent on doing just that. Bene and Paris Baguette, especially, play down their Korean origins–and are planning to ramp up even more U.S. market expansion over the next two years. In a vivid example of 21st-century globalization, both chains are bringing South Korean-style customer service and corporate organization to the United States–except they are serving French- and Italian-style pastries and sandwiches instead of Korean food. All three chains offer a similar look and feel to a Starbucks or Panera, with their Manhattan locations catering to office workers and college students in search of a mid-day latte. The only nods to the chains' Korean origins are a few stray menu items like Bene's misu drinks.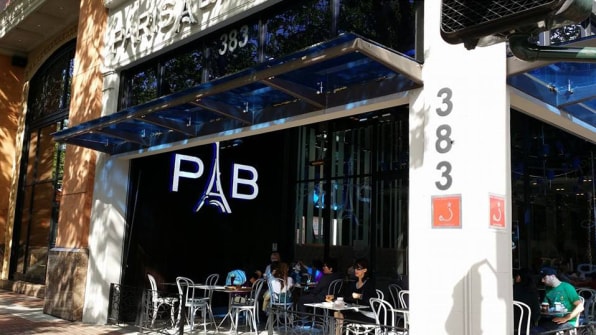 Caffe Bene, which has 945 Korean outlets, opened in the United States in 2012 and now has more than 80 American locations. Jasmine Yang, Caffe Bene's business and operations manager, tells Fast Company that in the United States, the company focuses more on gelato, waffles, and coffee beverages. Because the American market is more ethnically and culturally diverse than the South Korean market, they also see an opportunity to add conspicuously non-Korean menu items like sangria and Thai-style iced tea.
Similarly, Paris Baguette emphasizes that their brand's differentiation from American competitors like Starbucks, Dunkin' Donuts, or Panera is the breadth of what they offer. Jessie Sou, Paris Baguette's director of marketing, said that her brand's 35 American locations focus on offering a wide variety of items, with a doughy focus on pastries and sandwiches. The company's menu has the mildly exotic (sweet breads stuffed with apple and cream cheese), the trendy (an in-house version of the cronut), and custom-made mall food (baguette pizzas), with the width of variety of a more upscale Dunkin' Donuts. Both Paris Baguette and Caffe Bene are aiming squarely for the fast-casual restaurant market–the domain of Paneras and Chipotles.
The two chains are also expanding into the United States as part of a wider international push. Caffe Bene already has locations in 12 countries including more than 200 Chinese branches and four coffee shops in Saudi Arabia. Paris Baguette has branches in China, Vietnam, and Singapore alongside their American restaurants. When I spoke with representatives for both chains (Tom N Toms has a smaller American footprint, concentrated mainly in the Los Angeles area), Caffe Bene and Paris Baguette both emphasized the enormity of the American market. The sheer number of coffee drinkers here, they feel, makes an American expansion irresistible.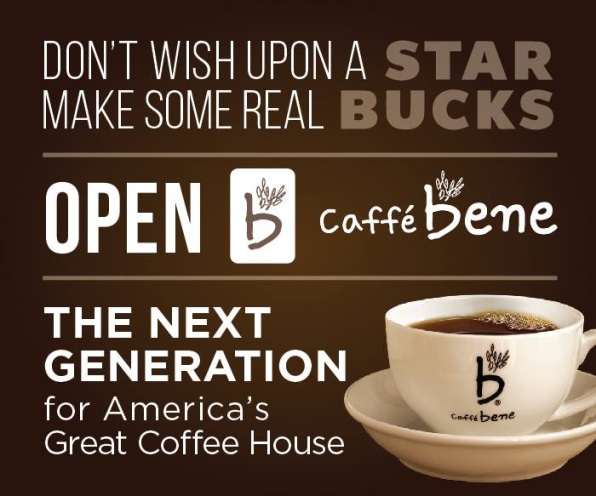 Caffe Bene and Paris Baguette first opened American operations in New York, beginning with locations in areas with high concentrations of Korean-Americans like northern New Jersey and southern California. But both chains are planning national expansions over the next two years–with Caffe Bene even taking out ads in the New York Times seeking potential franchisees–aimed at the entire country. Paris Baguette–whose American locations are currently owned by two divisions of their Korean corporate parent–is preparing to begin franchising in late 2014. Bene and other roasted players, Tom N Toms included, are looking for a chunk of the extremely lucrative American coffee market. Starbucks, the highly caffeinated 800-pound industry gorilla, made a staggering $3.87 billion net revenue in the first quarter of this year. Dunkin' Donuts, which is concentrated in the northeast and has less profit margin on their foods than Starbucks, still earned an impressive $172 million net revenue over the same time.
John Barry, Caffe Bene's director of franchise development, said he feels his company gives patrons a much better customer service experience than Starbucks or Dunkin' Donuts, with friendlier employees and locations designed to linger (though Yelp and Foursquare reviewers criticized customer service at their New York locations). Paris Baguette's Sou said that a major issue for her company's early American locations was getting used to the quirks of different local markets–Manhattan storefronts, with their narrow interiors, posed challenges to the company while Los Angeles customers preferred more spacious interiors for lingering. For both chains, the name of the game is importing a Korean cafe culture which depends on solicitous customer service, such as employees greeting customers as they walk into the store, and offering full meals, to the United States. Even though many Starbucks locations encourage customers to linger, grab-and-go coffee is still the rule Stateside; the Korean model (which many other countries share) of offering an extensive food menu alongside coffee is still relatively new.
I've visited Caffe Bene and Paris Baguette locations in New York, Los Angeles, and the Bay Area, where they have busy shops in all three locations. Their challenge is establishing a brand identity, however. It's not hard to do brisk coffee and pastry sales when you're located outside of New York's Fashion Institute of Technology or in downtown Palo Alto, but building distinctive menus and atmospheres that connect to a broader consumer base is a different, trickier matter.
While South Korea is hardly the only foreign country with strong traditions of cafe culture and chain restaurants, they're among the first countries whose coffee shops have made strong inroads with American customers. While other overseas coffee chains have gained a foothold in the States, notably Italy's Illy Cafe and Israel's Aroma Espresso Bar, Korean coffee shops have been the first to successfully open at scale in the United States.
Because the cafe experience is so similar globally, thanks largely to Italian and French cultural influence, what customers expect is more or less the same in Seoul and New York. This means that South Korean restaurants can make big business by exporting their business model, while also serving a menu that's extremely familiar to American audiences.
It remains to be seen, however, if any company can be better at being Starbucks than Starbucks.